While rivals battle controversies, the low-frills carrier kicks off the new financial year with impressive accolades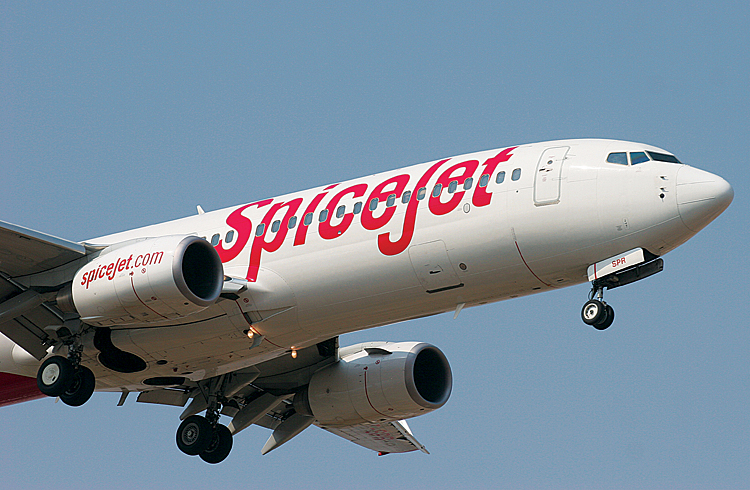 SpiceJet's Fortune
2017-18
Revenue
( in million)
Profit
( in million)
Q1
18,695.3
1,752.3
Q2
18,143.0
1,052.8
Q3
20,819.5
2,399.9
Another day, yet another accolade for Ajay Singh's low-frills aviation dream, SpiceJet. Indian aviation is predicted to have a 'robust growth' this year and it looks like SpiceJet is leading the way for that. According to the Directorate General of Civil Aviation (DGCA), Indian carriers carried 11.6 million passengers during the month of March 2018, up from 9.0 million in March 2017. And, the low-cost carrier has topped the list for flying with over 80 per cent of their seats full.
"Clocking 95 per cent occupancy in the traditionally lean travel month of March is an achievement that we are proud of. For three years in a row, SpiceJet has flown with the highest load factors in the Indian aviation market. For 35 months in a row, our loads have been in excess of 90 per cent — a feat unparalleled in global aviation history and a milestone that we are proud of," Shilpa Bhatia, Chief Sales and Revenue Officer at SpiceJet was quoted in a statement.
Domestic airlines posted a 28 per cent growth in passengers flown during March 2018 from a year-ago period, as per data released by DGCA. All the main scheduled carriers flew their planes with over 80 per cent of their seats full. Gurugram based SpiceJet maintained its pole position in terms of load factor by flying its planes 95 per cent full. Also, the carrier said it is the first and only airline to connect Delhi-Adampur with direct flights under the UDAN scheme.
FULL THROTTLE AHEAD
And the no-frills carrier seems to be investing in quality performance for the future too by snagging a pretty lucrative engine deal. SpiceJet recently signed a $12.5 billion deal with CFM to purchase LEAP-1B engines for their 155 units of Boeing 737 MAX airplanes as well as spare engines to support the fleet. The LEAP engine family, a product of CFM International joint venture between United States' GE Aviation and Francebased Safran Aircraft Engines, is steadily becoming a popular option with more than 14,300 orders received through January 2018. Under the recent $12.5 billion Safran-SpiceJet deal, 340 engines are to be supplied to power the airline's Boeing 737 MAX fleet as well as spare engines to support the fleet. The airline also signed a 10-year rate per flight hour (RPFH) agreement with CFM that covers all LEAP-1B engines powering their airplanes, giving a 15 per cent reduction in fuel consumption and CO2 emissions versus current engines, a 50 per cent cut in NOx emissions (Nitrogen Oxides), and compliance with stringent noise standards. RPFH agreements is a flexible aftermarket support offering by the engine makers according to which CFM guarantees maintenance costs for all SpiceJet's LEAP-1B engines on a pay-by-the-hour basis.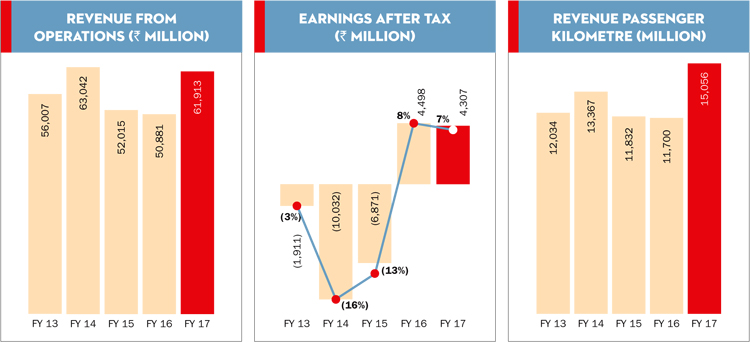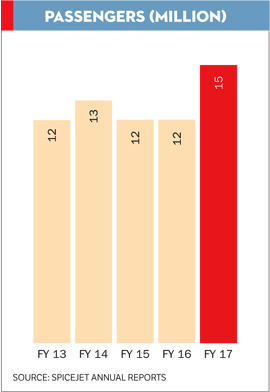 Not only engines, the airline is venturing into newer vistas such as the very-much-in-vogue seaplane operations. According to the Chairman and Managing Director, Ajay Singh, SpiceJet is also exploring the possibility of manufacturing seaplanes in West Bengal following their plan to bring small amphibious and land planes into operation in the next 12 months. These are expected to connect tourist hotspots in the state such as Gangasagar, Sunderbans, etc. And it seems that the airline's expansion plans are spelling major business for aircraft manufacturers too. They recently announced a deal for up to 205 Boeing airplanes that includes 100 new 737 MAX 8s, 13 737 MAXs and purchase rights for 50 additional airplanes in addition to their current order for 42 MAXs. Their current fleet includes 35 Next-Generation 737s and 19 Bombardier Q400s, and the airline plans to grow its operational fleet to 100 airplanes by 2020. Apart from this, in the latter half of last year, SpiceJet signed the largest ever order for the 90-seater Q400 Turboprop with Bombardier for about 50 aircraft. They currently operate twenty 78-seater Bombardier Q400 aircraft in their fleet.
Looks like SpiceJet is getting ready in full-swing for the forecasted boom in Indian aviation.
NEW ROUTES AND RCS PLANS
One of the most enthusiastic supporters of UDAN, SpiceJet has found a novel way for expansion through government's ambitious Regional Connectivity Scheme. Enjoying perks such as reduced VAT on ATF, no charges for aircraft parking and landing etc under the scheme, SpiceJet has plans to start servicing 20 UDAN routes. With its Hubli-Chennai and Hubli-Hyderabad flights launching soon, the airline will be the first and only airline to connect these areas as well as enjoy monopoly for three years connecting the second largest city in Karnataka. There are also reports doing the rounds that the air carrier has also won the bid to operate flights from Darbhanga airstrip, an Indian Air Force (IAF) base, while its flights to the tourist-hotspot rocky Leh region are slated to commence from May. A daily direct flight between Delhi and Adampur (Jalandhar) is also expected to commence from May making it the airline's sixth destination under the UDAN scheme.
ALL BOUQUETS NO BRICKBATS
Though SpiceJet's growing numbers speak for themselves, the man behind the airline, Ajay Singh, also received a concrete proof of his success. Singh was recently honoured with the BML Munjal Awards 2018 for Business Excellence through Learning and Development, making it another feather in their cap. Enhanced customer satisfaction and operational efficiency as well as focused initiatives like an emphasis on consistency in service delivery and customer retention and mostly, the airline's operational efficiency leading to a reduction of 2 per cent fuel burn per flight was commended. "I am honoured to receive this award. This is a recognition of SpiceJet's spectacular comeback and remarkable performance. We have achieved what very few airlines in the world have managed and I share this award with each and every SpiceJetter who has been a part of this magnificent journey," said Ajay Singh on receiving the award. And this isn't a first (and hopefully not the last), SpiceJet also walked away with the Best Domestic Airline Award at the aviation event Wings India 2018 recently held in Hyderabad. With Air Asia looking to challenge rival SpiceJet with cheap fares and more routes, and Indigo remaining an investor-favourite in spite of some troubles, it will be interesting to watch how well the airline handles the competition.