With a 300-million strong middle class, low air travel penetration and an increasing propensity to spend, India is targeting 500 million passenger trips in the next 20 years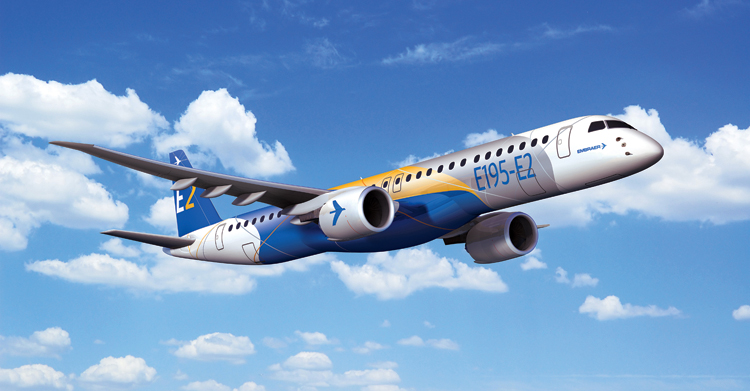 Regional aircraft fit in driving the pent-up demand for connectivity because it increases trade and tourism
A series of concurrent trends are forcing airlines the world over to revisit regional airliners. The trends include rapid urbanisation, reduced tourism, revival of cultural heritage, experiential travel and a growing ease of travel. Tiresome visa policies, terrorism and anti-immigrant sentiments overseas are further redirecting traffic towards domestic skies. There is a pent-up demand for connectivity and because it drives trade and tourism, this is a key area of focus for the government. It is also exactly where regional aircraft fit in.
MISSING CONNECTIVITY LINK
As an increasing number of travelers take to the skies, Tier-2 and Tier-3 cities are being integrated into airline networks. However, operations to these cities come with a unique set of challenges such as short runway length, limited demand, extreme seasonality, lack of navigational aids and operational restrictions – to name a few. Together, these make for a complex choice and challenging economics. Airlines can either choose not to serve these destinations or select an aircraft that can face these challenges. This is where regional aircraft provide the missing link in connectivity. Regional aircraft are smaller in size with 20 to 130 seats which can either be powered by jet or turboprop engines. These aircraft help connect routes that would otherwise not be viable for airlines. Indeed, the government's Regional Connectivity Scheme UDAN was formulated keeping this in mind and incentivising operators with subsidies, grant of monopoly status and reduction of input costs. This led to several new operators entering the market as also sizeable orders for regional aircraft by IndiGo and SpiceJet. Competing airlines and also new entrants are actively considering the augmentation of networks with regional aircraft.
KEY PLAYERS
The key players in the regional aircraft market include Embraer, ATR and Bombardier. While Embraer produces only jet airplanes, ATR manufactures only turboprops and Bombardier produces both jets and turboprops. Each of these companies was established for different reasons (for an in-depth look into Embraer, see SP's Aviation, January 2019). As of January 2019, Embraer leads the market share for regional transport aircraft while ATR is not too far behind. In an interesting development, Boeing has bought into Embraer via a joint venture while Airbus joined the Bombardier C-series programme which was renamed as Airbus 220. ATR is 50 per cent owned by Airbus. Other manufacturers such as RUAG and UAC largely cater to home country markets, but it is likely they will expand further as the regional aircraft find acceptance in emerging markets and the battle for regional aircraft intensifies.
JET OR TURBOPROP?
While choosing a regional aircraft, operators have the option to choose - jet or turboprop. In addition, there are operational considerations that drive the decision which include range, capacity, fuel burn and operating economics. As the mantra goes, in the airline business, success is determined by three factors - the right network, the right asset and the right cost.
The right network dictates the aircraft required and consequently, the operating characteristics of the aircraft are evaluated. These include a variety of inputs some of which are highlighted in the tables below.
The regional aircraft landscape in India has seen very few successes due to a number of incorrect decisions on the type of aircraft used
A point that is often confusing and one that invites debate, is that of price of the aircraft versus the life cycle cost. The price only involves the asset cost while the total cost is a fairly complex exercise which not only considers the price of the aircraft, but the total cost over the useful life of the asset. Items that are critical to the total cost over the useful life of the asset include liquidity of the asset type, financing environment, maintenance cycle, pilot training, technical requirements, part-out streams and automation. Each is examined in detail to arrive at the implications for the airline. For instance, counter-intuitive to traditional wisdom, aircraft with sophisticated electronic systems may be great for the airline, but the implications for total cost are higher. As trained manpower for such aircraft may not be as readily available, technical training would be an issue. Similarly, glass cockpits are undoubtedly wonderful, but in many cases, operational considerations including lack of navigational aids and purely visual flying calls for pilots that are comfortable in a stick-and-rudder environment. And such pilots may transition more easily to a non-glass cockpit environment.
Table 1: Estimated Market Share of Regional Aircraft Manufacturers
Name
Country
Aircraft Type
Aircraft Models
Marketshare Estimates
(2019 – 2024)
Embraer
Brazil
Jet
ERJs, E170/175, E190/195, E2 jets
est 20% - 25%
Bombardier
Canada
Jet + Turboprop
Q400, CRJs, C-series (Airbus 220)
est 20% - 25%
ATR
France + Italy
Turboprop
ATR42, ATR72
est 15% - 20%
Mitsubishi
Japan
Jet
MRJ 70, MRJ 90
yet to start production
AVIC
China
Jet
Ma69, Ma600
<5%
United Aircraft Corporation (UAC)
Russia
Jet + Turboprop
Su80, SS J100
<5%
Viking Air
Canada
Turboprop
Twin Otters
<5%
Dornier
India
Turboprop
Do 228
<5%
Table 2: Details of Aircraft Characteristics
Name
A/C Type
Range (NM)
Capacity
(Number of passengers)
Runway length required in metres
(Max Take-off)
Embraer
E190
2450
100 - 114
2100
Bombardier
Q400
1100
82-90
1425
ATR
ATR72
825
70
1333
Mitsubishi
MRJ90
2040
81-92
1740
Dornier
Do228
214
19
790
Table 3: Details of Airlines and their Fleet
| | | | | |
| --- | --- | --- | --- | --- |
| Airline | Aircraft Type | Type | In Fleet + On Order | Base |
| Indigo | ATR72 | Turboprop | 16 + 34 | Bengaluru, Hyderabad |
| SpiceJet | Q400 | Turboprop | 27 + 45 | Hyderabad, Delhi |
| Air India Regional | ATR42/72 | Turboprop | 17 | Bengaluru, Chennai, Delhi, Kolkata |
| Jet Airways | ATR72 | Turboprop | 14 | Delhi, Mumbai |
| TruJet | ATR72 | Turboprop | 5 | Bengaluru |
| StarAir | EMB145 | Jet | 2 + TBA | Hubli, Bengaluru |
| Air Deccan | Cessna 208 | Turboprop | 1 | Nasik |
REGIONAL JET AND TURBO-PROP LIFECYCLES
Regional aircraft also have unique characteristics in terms of life cycle. In several cases, a regional aircraft is used because the market demand is not sufficient. As the demand matures and more flyers take to the skies, it necessitates induction of larger aircraft. This has to be planned for as the airline is then left with a regional aircraft route that has to be replaced with a different route having similar characteristics. The business model has to incorporate this as well. Regional airline structures also have differences to account for life cycles.
The regional landscape in India is evolving and unfortunately, has seen very few successes
In the United States and Europe, there is a system of contract flying where an independent carrier flies the regional aircraft on a cost-per-departure basis. The tickets are marketed and sold by the larger "mainline carrier." For instance, Air Wisconsin operates routes that are marketed as United Airlines, SkyWest operates flights for Delta Airlines, ComAir operates flights for British Airways. Other models are ones that are wholly-owned subsidiaries, a franchisee model or white label flying where the regional fleet is separate and operates as an independent entity. Such models are yet to evolve in India.
REGIONAL AIRCRAFT LANDSCAPE IN INDIA
The regional aircraft landscape in India is evolving and unfortunately, has seen very few successes. This is due to a number of incorrect decisions further eroded by overconfidence and lack of proper planning and hubris. Financiers tend to discount the regional model as a failed model, but in time, regional aviation will surely evolve. The current landscape has major airlines flying the regional fleet, but the key players are largely IndiGo and SpiceJet – both of which fly turboprops.
OUTLOOK
With a 300-million strong middle class, low air travel penetration and an increasing propensity to spend, India is targeting 500 million passenger trips in the next 20 years. Forecasts estimate that India will be the third largest aviation market within the next six to seven years. While 60 percent of this traffic is currently concentrated in the metros, the demand for connecting Tier 2 and Tier 3 cities is only going up. And given the constrained operational environment, this demand can only be met with regional aircraft. Going forward, regional aircraft will fill a critical void in the market. In addition to opening up newer markets, they will also help airlines with dynamic capacity adjustment where demand can be matched with supply while not losing on precious airport assets such as slots and parking. And in a market as complex and competitive as India, this could indeed be a competitive advantage.
As the market matures and as aircraft get more sophisticated, regional aviation will indeed take off. And as it does, airlines will have to choose - between manufacturers, between competing economics and between turboprops and jets.

The author has held a variety of roles within aviation business, most recently as the Head of Strategy & Planning at Go Airlines (India). Previously, he was with CAPA.