The arrival of more ultra-long haul flights is ushering in a new era of more point-to-point service with smaller aircraft, a trend that is sure to challenge the mega-hub mentality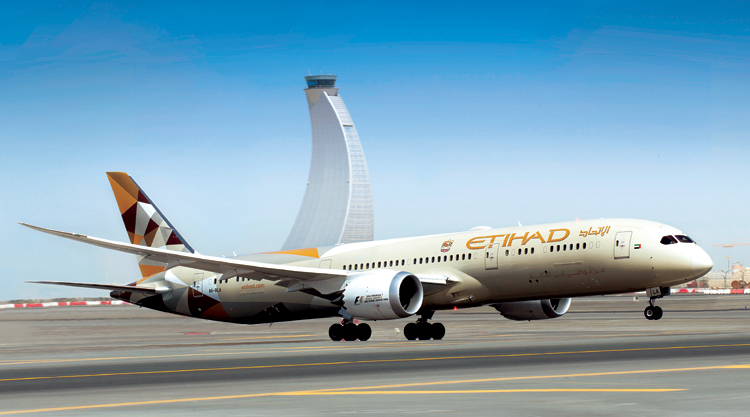 Etihad's Boeing 787 Dreamliner
Last October's QANTAS 19-hour 16-minute nonstop Project Sunrise test flight from New York to Sydney measured the viability of ultra-long-distance flights on crews, passengers and the B787-9 on the 16,200-km sector. The same month, Air New Zealand announced it will introduce nonstop service between Newark and Auckland next year. These are yet two more examples of the growing trend to ultra-long-haul travel. QANTAS, Singapore Airlines and Qatar Airways already fly some of the longest nonstop routes in the world.
A new generation of Boeing and Airbus jets with extended range has huge implications for airports and carriers in the Middle East. And it's not just technology that's changing the aviation landscape. Low-cost airlines are poised to make big inroads in a region that was once the benchmark of the premium travel experience.
BUCKING THE TREND - REVERSE GROWTH
For decades, Dubai, and more recently Abu Dhabi and Doha, have built their aviation fortresses by capturing a huge share of the enormous flow of traffic between Europe and Australasia. For some twenty years, those hubs have been growing thanks to robust demand, range-limited airplanes, and expanding networks that attracted connecting passengers. Last year, Dubai handled some 90 million passengers.
But the number of year-over-year international revenue passenger kilometres (RPKs) recorded by Middle East airlines hit a plateau over the last 12-15 months, and even declined 0.8 per cent in February, according to IATA data published by CAPA. While carriers in other world regions reported positive year-over-year RPK growth that month, only the Middle East saw a negative trend.
Two of the big three Gulf carriers responded to the stagnant demand by tempering capacity growth. Emirates added only 2.6 per cent more system seats in 2018 compared to 2017. Etihad cut capacity by 2.5 per cent during the same 12-month period. Only Qatar Airways continued to expand. It added 6.8 per cent more system seats, flew nearly 17 per cent more ASKs, and opened new routes despite the ongoing two-year diplomatic blockade that restricts the airline from overflying the UAE, Saudi Arabia, Bahrain and Egypt.
The oil industry drives economic activity in the region, including air travel. Demand will likely stay flat as long as the price of crude oil remains stable. The arrival of more ultra-longhaul flights is ushering in a new era of more point-to-point service with smaller aircraft, a trend that is sure to challenge the mega-hub mentality.
IS THE MEGA-HUB BUSINESS MODEL OBSOLETE?
The decision by Emirates to add B777s and B787s was the death knell for the A380 programme. It also signaled the preference for airlines to fly smaller, more efficient long-range airplanes on thin routes rather than mega-jumbos via a single hub.
Although Emirates Airline reported a $237 million profit last year, 69 per cent lower than the previous year, its profit margin was barely positive at just 0.9 per cent. A stronger US Dollar and higher fuel expense contributed to the weaker results. Revenue from Gulf and Middle East routes declined 3 per cent while all other regions saw year-on-year increases between 5 per cent and 9 per cent.
Low-cost airlines are poised to make big inroads in a region that was once the benchmark of the premium travel experience
Last February, Qatar Airways announced it will retire its fleet of A380s by 2024 and replace them with B777s. Declining traffic and additional capacity explain Qatar's record $639 million loss posted last March. The carrier's future fleet plan calls for only four types – B777s, B787s, A350s, and A321s.
Etihad is also reviewing its fleet decisions. It took possession of five new A350-1000 jets this year, put them immediately in storage, and deferred delivery of the remaining order. The airline recorded a whopping $1.3 billion loss last year and was seeking a $600 million loan to finance the acquisition of new, smaller-capacity jets.
But more point-to-point long-haul nonstop flights that overfly Dubai, Abu Dhabi and Doha is only one emerging trend. Another is the steady rise of low-cost carriers. Their influence is putting more pressure on premium fares sold by legacy airlines in intra-regional markets.
YEAR-OVER-YEAR INTERNATIONAL RPK CHANGE
February 2019 vs 2018
Europe
+7.6%
Industry
+4.6%
Latin America
+4.3%
Asia/Pacific
+4.2%
North America
+4.2%
Africa
+2.5%
Middle East
-0.8%
Sources: IATA Passenger Analysis/CAPA
TAPPING INTO THE VALUE-CONSCIOUS CONSUMER SEGMENT
In an effort to fill their front cabins and reduced costs amid declining traffic, mainline carriers have introduced strippeddown versions of their business class hard product. Perks like airport lounge access, advance seat assignment and ground transfers are now chargeable features or even excluded from discounted premium fares in recognition of value-conscious business travelers willing to pay less than the standard tariff.
That same price and value-sensitivity exists with budgetconscious travelers who are flying on low-fare, low-cost airlines in record numbers. Within western Europe, seats offered by LCCs accounted for nearly 44 per cent of all regional capacity last year. In parts of Asia, the percentage was even higher. Yet on intra-regional routes in the Middle East, LCCs provided only 17 per cent of seat capacity in 2018, up from 8 per cent in 2009.
The LCC proportion, however is set to grow. Last month, Etihad and Air Arabia announced the joint launch of Air Arabia Abu Dhabi, an LCC to be based in Abu Dhabi. The entity plans to finalise an order for at least 100 Boeing or Airbus jets in January.
Flydubai is adding to its in-service fleet of 47 B737s with an order for 237 more. It expects to take delivery of 100 aircraft by 2023, a date which may be at risk since the new orders are for the B737 MAX.
SAUDI ARABIA – THE SLEEPING GIANT THAT WILL TRANSFORM REGIONAL AVIATION
A new visa programme to encourage tourism and reduce the country's dependence on oil revenue is now in effect for nationals of 49 countries. The Kingdom has set a goal of welcoming 100 million international and domestic visitors by 2030. New projects, including transforming 50 islands and sites on the Red Sea into luxury resorts and building Qiddiya, an entertainment city of theme parks, a safari zone, and a motor sports area near Riyadh, will create one million tourism jobs.
It's an ambitious undertaking that will require plenty of airline seats to attract tourists from around the Gulf and Middle East. Accordingly, the Kingdom's two LCCs are adding to their fleets. The Saudi Arabian Airlines LCC subsidiary, flyadeal, has ordered up to 50 A320neos. Deliveries start in 2021. Flynas, with 32 A319s and A320s in service, has 117 A320neos on order. Those new aircraft will be in high-density, dual-class, 174-seat configuration.
The explosive growth in LCC capacity between Air Arabia, Air Arabia Abu Dhabi, flydubai, flyadeal and Flynas will ensure the Middle East remains an aviation powerhouse, even when the A380s are gone and more flights start bypassing the region's mega-hubs.

Byron Bohlman is a 39-year airline industry veteran and part-time consultant. He was a domestic airline pricing director for Air Canada and global marketing director at Bombardier and Embraer.