With the growing air commute scenario, the more convenient, innovative, and qualitative an experience can be provided to the aviation passenger, the more are the chances for the airline to last long as well as to make the highest mark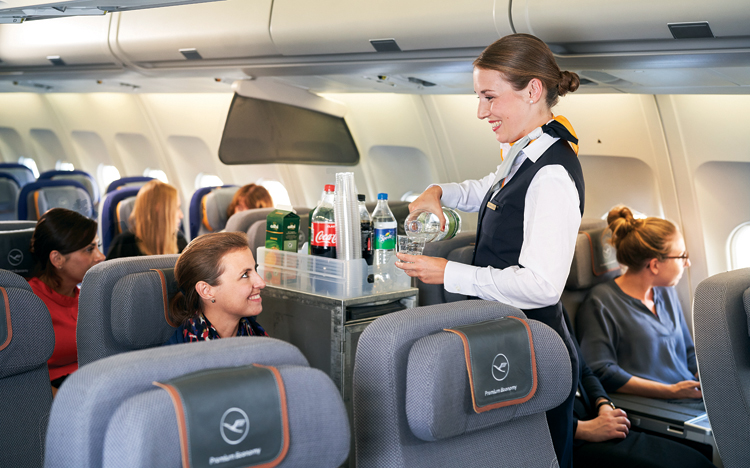 With the progressing time, the aviation passengers' expectations have enhanced with respect to the services that they are provided, onboard. Lufthansa Airlines has been renowned for their special focus towards inflight services and comfort.
We no longer live in the times when an airline can just gather the basic requisites and become one of the best in the business. We are in a period when it's no more about selling a ticket to reach a certain destination rather to sell a travel experience which starts with the airline. It cannot be stressed enough to make its mark in the industry nowadays, an airline has to ensure a remarkable and memorable experience for its passenger.
Be it any industry today, companies are under a constant scrutiny with the large spectrum of choice that the business and consumers have when it comes to products and services. So while each industry has to keep up with the competition to hold on to their customers, the aviation industry more than any other industry has to be on its toes. This is so because good customer experiences hold a great significance in the aviation industry as the airlines are directly dependent on their customers. Hence it becomes crucial for the airlines to be aware of their customers' needs and understand what they want in order to give them unique experiences.
SPOILT FOR CHOICE
The past decade has enhanced the aviation industry vastly and has also dramatically changed the expectations of the customers in the process. The competition for airlines is not just with other airlines any more but with any brand that offers a good consumer experience. With the progressing time, the aviation passengers' expectations have enhanced with respect to the services that they are provided. More than that the customers are well aware of the abounding options that they have at their disposal depending on comfort, prices, routes, and other services. To keep up with this increasing competition, the airfares have seen a decrease but the high fuel and labor costs have not really shown any mercy, which has taken a toll on the air carriers and deteriorated the levels of service to a certain extent.
DATA AVAILABILITY
Another change that the recent times have witnessed is the universal availability of data which is quite overwhelming. The presence of so much data and connected devices has been an opportunity for the airline industry that has brought with it benefits and convenience, but at the price of many additional challenges. However, if this data can be made use of, airlines can benefit pretty well in providing a quality experience to its customers through the available data.
From comfortable seats to chefdesigned meals, to providing required products and services in the air, airlines have evolved in their attempts to improve passenger experience
Emirates, for instance, has the 'Knowledge-driven Inflight Service', that allows the airline crew to review previous trips customers have taken with the airline and know about the customer's preferences and issues that might have occurred during their previous travels based on which a personalised service can be provided.
AIRLINES & AIRPORTS
What many airlines often miss is that passenger experience is not solely dependent on the flight but it starts right from when a ticket is booked and what the passenger experiences at the airport as well. If thoughtful customer-centric solutions are planned by the airlines in cooperation with the airports, passenger experiences can be significantly improved in all phases of air travel. This in turn can help the carrier in meeting their core business objectives, improve revenue generation, customer loyalty, and could even aid in eventually driving down costs which means more customers. Delivering the basics is no longer sufficient. With new investment and technological advancements in place, airports and airlines need to exceed through innovative customer-centric solutions. For instance, the New Experience Travel Technologies (NEXTT) programme consists of all the elements of the air transport industry from check-in until the plane is boarded. Airports and airlines should understand that they need to examine travel experience now through the same customer-lens and work collaborate to design and implement necessary creative solutions. This will also help them in reaping better financial benefits which is the highest incentive anyone is looking for.
FLYING IN 21ST CENTURY
From comfortable seats to chef-designed meals, to providing required products and services in the air, airlines have evolved in their attempts to improve passenger experience understanding that the power lies with the customer. But complaints still hover nudging for better attempts and more solutions. It's not just about the price paid for the ticket anymore but also the cost of negative travel experiences on employee productivity and mindset.
The modern-day travelers expect airline experiences to be innovative with their products and services like in any other industry and to cater to that, airlines and airports have to constantly work towards designing customer experiences from a comprehensive outlook, merging the online as well as the offline channels.
Thanks to the technical advancement, today's digitally-savvy customers look for personalised, on-time solutions. Just the addition of digital assets is not an enough solution, a seamless and delightful experience is what the new-age flyer expects. Thus today more than ever, airlines are under consistent pressure to work towards building on-demand, realtime, end-to-end solutions for customers. Once the balance is achieved, flying will revolutionise to enhance passenger experience and increase airline revenues. A distinctive and wellimplemented service certainly drives customer loyalty which inturn facilitates the finances as well.
Some of the aspects that the airlines can work on to magnify the passenger experience include:
OFFERS
Festive offers, drop in the fares, flight upgrades and club memberships do appeal as a good service to attract customers but airlines must ensure that what their poster reads is actually implemented and not used just as bait for customers to click. For instance, KLM's Flying Blue offers allows the customers to earn miles and reap the benefits each time they take a flight with KLM or even with its other partners as Air France. Some other airlines also give some special offers to their business and first-class customers like a complimentary drive to the airport and/or to the final destination.
STAFF
Staff training cannot be stressed enough for an airline to ensure a good passenger experience. It must be noted that the staff does not only include the cabin crew and the pilots but right from the issuing of boarding pass and the rest of the ground staff. A proper staff training is a necessity ensuring proper knowledge, skills, and abilities. How the customer is greeted, guided and given service to, all add on significant value to the passenger experience.
DIGITALISATION
We live in the times when everything is just a finger touch away from us and the airline industry is no exception. This has certainly made the customers get used to the convenience of getting the work done by just sitting at their homes. But even when everything is digitalised through websites, apps, and social media platforms these days, the passenger looks for the simplest, easiest and fastest mediums. Nobody wants to go through a congested and complicated website that involves a long, cumbersome process of searching, selecting and entering information. Having an error on the booking page after all the hard work is done is the most annoying thing that puts the customer off and must be ensured to not happen.
Some airlines are timely evolving and adapting the changes. For instance, too much information altogether can look chaotic. Minimalist page design with a clear display of options to choose from without any overwhelming presence is what will make your passenger come back to the airline. In the ever-growing digital marketplace, it has become essential to overcome the traditional ticket-seller mindset and generate the optimal experiential offer.
Almost all the airlines now hold a commitment to provide clear guidance to passengers with disabilities on their requirements for the carriage of mobility devices and medical equipment
As an example, AirAsia has done heavy investments in digital services. It also acquired a 50 per cent stake in online travel planning platform, Vidi (formerly Touristly), in order to expand its ancillary portfolio.
Along with the websites, the airlines should also focus on having easy mobile apps that will play a significant role when it comes to booking management in the present time.
PERSONALISATION
There is no surprise in guessing that no one minds some personalised care and services done to comply with the personal needs of the passengers be in the form of an offer, a favorite food item, some comforter, etc. Traditional services and products including airport services like lounge access, fast track security, priority boarding, and onboard additions consisting of extra legroom seats, enhanced meal options, and Wi-Fi are still a hit with the customers, irrespective of the fact that the customer is a frequent flyer or an occasional one. For example, special services such as entertainment for children during the inflight and the provision of complimentary strollers at certain airports are also provided by some airlines. With the current scenario, there is a lot that an airline can experiment with to personalise the passenger's experience through the arrangement of cab or hotel assistance, specialist pet care, a home-to-home baggage service or anything that an airline believes might bring value to the travel experience of the passenger. These might come across as investments initially but once the loyal customers are gained, these could be real revenue turners.
INNOVATION
Thanks to the exposure the internet has provided, no industry can anymore run without being innovative and creative to catch the attention of their target customers. Even the airlines who might have once thought it was sufficient to follow the steps and help the passenger reach from one place to another can no longer escape the dire need to be innovative with their services. In the times to come, innovation as well as automation will play even a more significant role in enhancing the passenger experience and further let the adhering airline rise higher than the rest. This year itself, successive editions of the annual International Air Transport Association (IATA) Global Passenger Survey (GPS) revealed that people traveling by air prefer an automated service at the airport even if partially along with a quicker, less intrusive service.
A good example of convenience, innovation as well as personalisation is Emirates' responsive calendar. It contains an 'Inspire Me' function which lets the user input selected information about their ideal trip, and then offers them many different options of destinations as well as prices.
COMFORT
When a passenger is putting their money and time into something, there is no denying that they look for the maximum convenient option. Convenience has another important angle to it when it comes to specially-abled people or elderly passengers who might need a bit of extra attention to have a comfortable journey write from when they are making the booking, to the airport as well as in the flight and thereafter. Almost all the airlines now hold a commitment to provide clear guidance to passengers with disabilities on their requirements for the carriage of mobility devices and medical equipment. Efficient staff aware of the passenger's need is also important to be there with such passengers all through the time for assistance.
FOOD
We all know it is no cakewalk to have the best of meals up in the air but it's no rocket science either nowadays. Airlines must keep a good variety of healthy, tasty and quality food items for their passengers to have them coming back for more in a reasonable price.
A WHOLESOME EXPERIENCE
Airlines have to target a dynamic environment as technological changes, regulatory revisions, and market developments all affect decision making.
In 2019, according to a ranking released by AirHelp, an online legal service for passengers' rights, Qatar Airways has been named the world's best airline. This has been possible not because of their perfection in any one phase of air travel but in fact due to an overall experience. The ranking measures airlines that provide the best service, fly on time and treat passengers fairly if problems occur, highlighting passenger experience on its list.
Hence, it is high time for airlines to make a note that it is no longer just about the products or the services that the airline offers but about an overall experience which is what makes the difference with the passengers and passenger experience is key for an airline to embark on the path of success both financially as well as for a long-standing lifeline in this competitive scenario.