With a usage spectrum way wider than that of a rainbow and technological advancement beyond imaginations, be it in India or across the world in the commercial air space, the unmanned flight is certainly going to be aviation's next big transformation.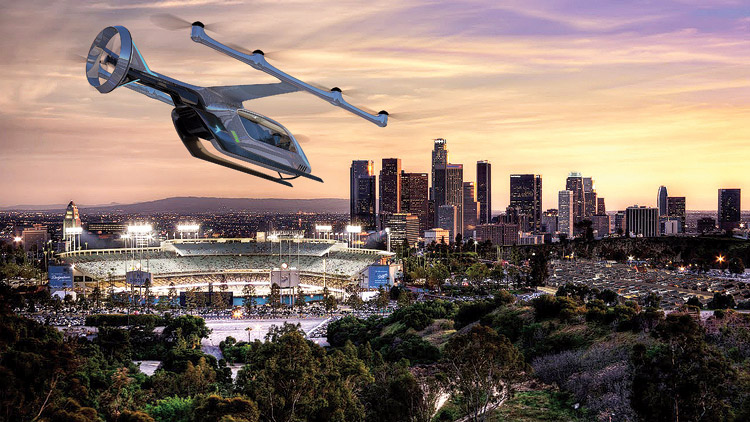 EmbraerX, unveiled its first eVTOL aircraft concept during Uber Elevate 2018, in Los Angeles, California
Technology is deemed as one of the biggest blessings of our time but the speed at which technological advancements are happening, it is surely exciting with a pinch of anxiousness. Technology is certainly transforming the way we lived. What Albert Einstein once remarked seems to hold all the more significance now, "It has become appallingly obvious that our technology has exceeded our humanity."
When it comes to technological advancements, the human mind has known no limits. Be it with the computer, the automobile, the airplane, or the mobile, human intelligence has only grown by leaps and bounds. The insatiable need for humans has often surprised the world with innovation and with each advancement, convenience just keeps getting more and more accessible. We have had automobiles and airplanes and even space rockets for quite some time now and the constant upgradation in technology and the advent of automation along with artificial intelligence is ready to change the transportation scenario in the world with self-driven cars, automated trains, unmanned cars, and now with unmanned flight concept that will soon transform sky transportation.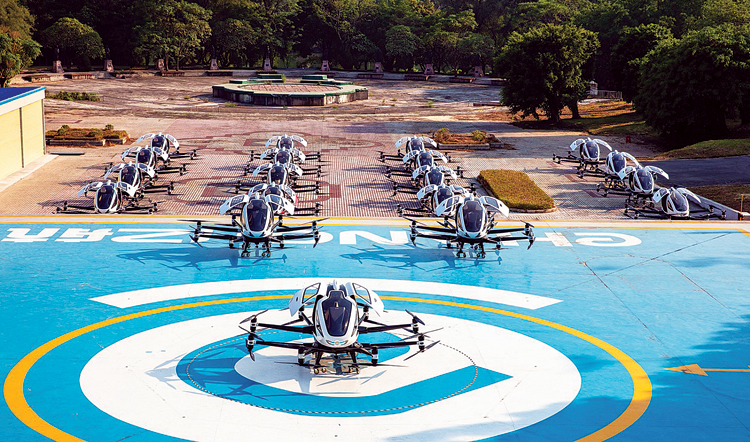 EHANG - the Chinese autonomous aerial vehicle (AAV) technology
In an attempt to make affordable electrically-powered air commute for shorter distances without and to mark the biggest transition that we have seen in travelling, the "flying taxis" of the future are almost here.
The most awaited unmanned flight concept in the form of drones is no longer an alien concept with their usage expanding from commercial to defence activities. But very soon humans could be flying around too without the presence of a pilot. The unmanned flying concept refers to unmanned aerial vehicles (UAVs) which, as the name suggests, are the aircraft that can fly without having pilots onboard. UAVs have mostly been known to either be controlled by onboard electronic equipment or through control equipment from the ground.Many large cities have already stepped up to cooperate with drone aviation innovators. Cities like Los Angeles, Dubai, Dallas-Fort Worth want to be the first one to welcome a passenger drone taxi. Several companies are already working to unveil this third dimension of transportation that could transform lives.
The most awaited unmanned flight concept in the form of drones is no longer an alien concept with their usage expanding from commercial to defence activities
To save from the honking endless traffic or to efficiently save time, unmanned passenger taxis are a near reality. As this decade nears its end, we can certainly see a strong change that awaits the aerial transportation with many exciting projects. Here we list down some of the most awaited unmanned passenger taxis that ready to turn around the sky scenery.
BOEING
American multinational aerospace conglomerate, Boeing's Flying Taxi, referred to as Boeing's Passenger Air Vehicle (PAV), is an upcoming futuristic aircraft whose prototype has made an appearance in some of the significant airshows in 2019 year like the Paris Airshow. The PAV is an eVTOL (electric vertical takeoff and landing) air taxi that is claimed to have the ability to autonomously transport passengers, plan routes, respond to contingencies and also detect as well as avoid unexpected obstacles. The independent research subsidiary of Boeing, Aurora Flight Sciences, is developing a twopassenger variant as well as a four-passenger one with cargo options, making sure to showcase PAV's potential in changing how people and goods move throughout the world.
Boeing NeXt, a division of Boeing which leads the company's urban air mobility efforts collaborated with Aurora to design and develop the aircraft. Boeing NeXt will continue tests for the reliability and safety of autonomous air transportation. Measuring 30 feet in length and 28 feet in width, the PAV prototype is powered by an electric propulsion system and is designed for fully autonomous flight from takeoff to landing. With a range of up to 50 miles, PAV's advanced airframe integrates the propulsion and wing systems to achieve efficient hover and forward flight.
In January 2019, the vehicle successfully finished the first test flight in Manassas, Virginia. The flight tested the vehicle's autonomous functions and ground control systems, where the prototype completed a controlled takeoff, hover and landing. With future flights, the company plans to test forward, wingborne flight, as well as the transition phase between vertical and forwardflight modes which is typically the most significant engineering challenge for any high-speed VTOL aircraft.
EMBRAER
The urban air mobility (UAM) subsidiary of the Brazilian aerospace conglomerate Embraer, EmbraerX, unveiled its first eVTOL aircraft concept during Uber Elevate 2018, in Los Angeles, California. The aircraft is envisioned to serve passengers in an urban environment, based on the key design drivers of safety, passenger experience, affordability and a very low footprint for the community, in terms of noise and emissions. EmbraerX, together with Embraer's ATM subsidiary, Atech, is working to enable the future of UAM with a new form of air traffic management.
The company marked that its global team is making use of design thinking to produce a human experience-centric eVTOL. EmbraerX is also simultaneously occupied in several projects that includes the development of eVTOL concepts through a cooperation with Uber and other companies to explore business opportunities.EmbraerX is expected to have an eight rotor system, which means less noise, and would be "progressively autonomous", i.e. will eventually lose the pilot. However, the focus of the company is not confined to developing an aircraft, rather to gradually look for upgraded systems and infrastructure that manage the airspace which would be required for such vehicles. For this, EmbraerX is also joining hands with key stakeholders to generate a new approach for how air traffic control is operated in order to create a more favorable operating environment for more aircraft to fly.
VOLOCOPTER
The German company Volocpoter already has its passenger drone, VoloCity, licensed for flight. In December 2019, the European Aviation Safety Agency (EASA) awarded the company Design Organisation Approval (DOA) after a series of thorough audits. This made Volocopter the first eVTOL startup on record to receive DOA with vertical take-off and landing (VTOL) as scope of work worldwide. With the VoloCity, the company is developing the first fully electric "eVTOL" aircraft in certification to safely and quietly transport passengers within cities. Volocopter also holds the claim of testing the world's first autonomous eVTOL flight in Dubai 2017. Quiet, safe, and comfortable, the VoloCity has the capacity of 2 passengers including hand luggage for a range of about 35 km with the maximum airspeed at 110 km/h. Looking like tail-less mini helicopter with a large circle framework holding multiple propellers instead of just one, the 18-rotor air taxi is powered by nine exchangeable, rechargeable battery packs that need a swapping time of just 5 minutes. It can be operated by a pilot or on its own and runs completely on electricity. Already having a permit to fly in Germany, Volocopter hopes to a Dubai's commercial pilot program in the early 2020s.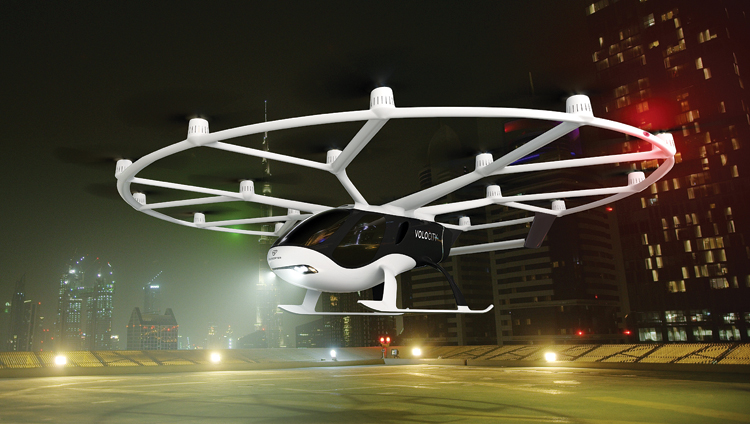 VoloCity is already licensed for flight
BELL
American aerospace manufacturer, Bell, is another in the list that has already displayed its own eVTOL vehicle, Nexus, at the annual Consumer Electronics Show, held in Las Vegas in January 2019. Bell Nexus is expected to make its way into the transforming airspace with various commuter comforts like video calling, WiFi, artificial intelligence and wireless charging and, like several others, it can be flown by a pilot, but anticipates being autonomous too.
Equipped with a 150-mile range and a top speed of 150 mph, the approximately 6,000 pound Nexus comes with expansive windows, an augmented-reality-enhanced flight experience. The interior of the aircraft will make use of six tilting ducted fans powered by a hybrid-electric propulsion system, with wings helping supplement lift in forward flight. The Nexus will rely on the six 8-foot-diameter fans for forward thrust. Flight information or sightseeing data is also expected to be projected on the windows or through goggles for passengers. While the Nexus on display at the show was a non-flying mock-up, the real one is said to be under progress at the company's headquarters in Texas and the flight testing is expected to begin in 2023.
UBER
American multinational ride-hailing company, Uber, is working with over five vehicle partners that include the likes of NASA, Boeing, Embraer and Bell and plans to launch Uber Air by 2023 in Dallas-Fort Worth/Frisco Texas and Los Angeles, with demonstrator flights planned for next year (2020). The team of Uber Elevate is working towards transforming the traffic troubles and make aerial ridesharing a reality soon. It is producing a shared air transportation between suburbs and cities. Uber had informed that they are working with their Elevate Network partners to launch fleets of small, e-VTOL aircraft (expected to be a four-passenger, helicopter like aerial vehicle) in Dallas, Los Angeles, and their first international market in Melbourne.
Over next few years, Uber plans to give riders the option of an affordable shared flight and intends to work closely with city and country stakeholders to create an aerial ridesharing network that's intended to be safe, quiet, and environmentally conscious, and to extend the reach of existing transportation options. A network of distributed Skyports is also being planned to enable Uber Air operations as the company wants to give riders the option to take shared VTOL aircraft as one leg of their journey, effortlessly riding between conveniently located Skyports, from ground to air to ground. Though Uber Technologies Inc. has named Melbourne, Australia, as the first city outside the US to host Uber Air services, India will be an important market for its futuristic flying taxi service, a top company executive said.
WORKHORSE
Designed by the American manufacturer company, Workhorse Group, the SureFly is a two-seat hybrid eVTOL aircraft. Looking like a helicopter, the SureFly can reach speeds of up to 70 mph for about two hours of flight and consists of eight independent carbon fiber propellers powered through a piston. Otherwise planned to be powered by a turbine generator, the aircraft also has a lithium-ion battery as backup to ensure safe landing in the rare instances if the generator going topside. There is also a ballistic parachute that works above 100 feet.
The company refers to SureFlyas a "hybrid-electric eVTOL multi-copter" with an octo-quad layout of four arms and eight rotors, which makes it look similar to drones. SureFly is called a hybrid-electric rotorcraft because the power for the 8 contra-rotating electric props is provided by an engine running on fossil fuels. Seating two passengers, SureFly can take a maximum payload of around 5000 pounds and a gross takeoff weight of 2500 lbs. Built almost completely out of carbon fibre, the SureFly is largely computer controlled.
However, despite flying one of the first hybrid eVTOLs, the two-seat SureFly, Workhorse has been battling losses and finally this year it agreed to sell its aviation division assets to American aerospace and defense company, Moog for $4 million in a deal.
LILIUM
The Munich-based startup, Lilium, is developing the most unique on-demand air taxi service. The five-seater air taxi prototype was revealed earlier this year and is undergoing test flights. The full-scale eVTOL prototype, which is controlled remotely from the ground, is powered by 36 allelectric engines, allowing it to take-off and land vertically, while achieving remarkably efficient horizontal, or cruise, flight. The company has been awarded one of the world's most prestigious design accolades for its work on the Lilium Jet. The safety and affordability of the aircraft is further ensured by the simplicity of its design with no tail, no rudder, no propellers, no gearbox and only one moving part in the engine. With a top speed of 300 km/h and a range of 300km, the Lilium Jet is claimed to be capable of completing much longer journeys than the majority of its competitors.
EHANG
The Chinese autonomous aerial vehicle (AAV) technology platform company, EHang, has been among the first ones to come up with drone taxis. In October 2019, EHang announced that it delivered the second batch of passenger-grade EHang216 AAVs to customers, three months after delivering the same aircraft. These deliveries have reached out to customers in Asia, Europe, and North America as informed by the company. These are likely to be used in tourism, medical emergencies and general transportation.
In August 2019, the company had also announced that it became the world's first company to achieve certificate of unmanned aircraft system (UAS) safety level II for AAVs through tests of the UAS fence. The certificate issued by the China Academy of Civil Aviation Science and Technology (CAST), is internationally recognized among member organizations of the China National Accreditation Service for Conformity Assessment (CNAS).
Bell Nexus eVTOL Air Taxi concept
The tests successfully displayed that the passenger-grade EHang 216 can automatically and precisely sense the UAS fence by alerting and avoid it by hovering, landing off or returning before entering the restricted area. The two-seater, 16-rotor vehicle is based on the previous generation, EHang 184 except that it now has eight arms while the previous one had four.
EHang could start flights for passengers as early as 2020 on its autonomous drones. A pilot project was announced by the company with the southern Chinese city of Guangzhou, in which it plans to set up three or four regular flight routes. This could make China the first country to have passengers travelling in unmanned autonomous flying vehicles. However, the company has been reported to have been under a financial crunch. In fact, the company also filed for bankruptcy in May, but according to Chief Financial Officer Richard Liu, that was merely an "internal strategic adjustment" to prep for the commercialization of passenger drones.
Other cities like Dubai are also ambitious about the project and are carrying consistent tests. Not just that, other companies are also nearing, making this game all the more challenging for EHang and interesting for the aviation market.
OTHERS
While the above-mentioned are the most prominent and the most awaited ones, the unmanned passenger taxis' concept is gearing up and has many more companies in the pipeline that are coming up with their own projects. While there is not much information about this one yet but Passenger Drone is a company making passenger drones, and their purpose is straight up for drone taxi services. They will offer piloted and autonomous flights in their two-seater craft.
Flyastro'sELROY is claimed to be one of the world's first fully functional autonomous aerial vehicles with its sleek, simple and environmentally efficient design. Equipped with high-end technologies like Adaptive Flight Control, Fiber Optic Internal Communications, Field Oriented Motor Control and Encrypted Communication Channels, ELROY can take off, land and perform all stages of flight maneuvering completely autonomously, guided securely via LTE (4G) network, or on board controlled. You can take over at any time via the Touch Flight Control or fly-by-wire joystick.
With these and many more unmanned vehicles ready to take the skies, it is certain that the change in air commute is very near and the process has started.