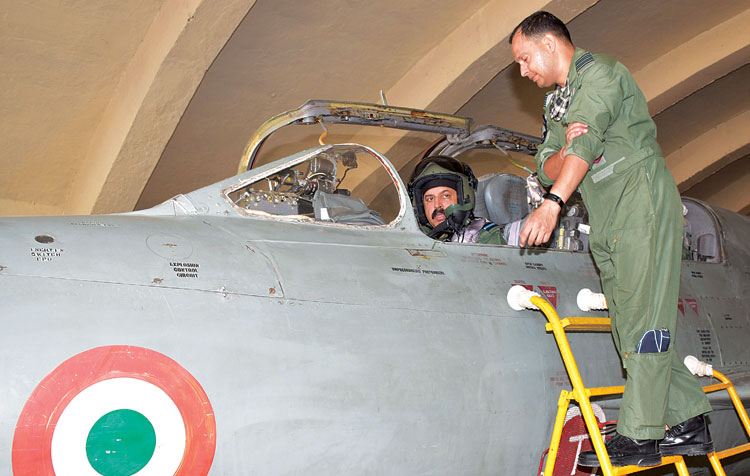 (Top and above): Chief of the Air Staff, Air Chief Marshal R.K.S. Bhadauria preparing for a sortie on MiG-21 Bison aircraft during his visit to a frontline air base in Western Air Command on August 13, 2020.
Air Chief Marshal R.K.S. Bhadauria, Chief of the Air Staff (CAS) visited a frontline air base in Western Air Command on August 13, 2020. On his arrival, the CAS was received by the Air Officer Commanding (AOC) of the base who briefed him on the readiness and operational status of the lodger units located at the base. During the day-long visit, the CAS reviewed the operational preparedness of the base and interacted with air warriors serving on the frontline. The CAS urged the air warriors to maintain the highest standards of readiness. He also appreciated their efforts in preserving IAF's combat potential during the ongoing COVID-19 pandemic.
Earlier in the day, the CAS flew the MiG-21 Bison with the resident squadron. In doing so, the Air Chief displayed "exemplary leadership" and boosted the morale of all the pilots. He also showed that MiG-21 Bison still a very capable aircraft. The plane had shot into prominence when it shot down a Pakistani Air Force F-16 during the aftermath of the Balakot air strikes by the IAF in February 2019.
Air Chief Marshal Bhadauria is himself a test pilot and after taking over, has clearly shown support for indigenous defence products by flying the under-development HTT-40 basic trainer aircraft and the LCA Tejas while also backing several important DRDO projects. He has over 4270 hours of experience on twenty seven types of fighters as well as transport aircraft and holds the unique distinction of being an Experimental Test Pilot, a Cat 'A' Qualified Flying Instructor and a Pilot Attack Instructor. He was the Commanding Officer of Flight Test Squadron at Aircraft & System Testing Establishment and Chief Test Pilot as well as Project Director of National Flight Test Centre on Tejas Light Combat Aircraft (LCA) project. He was extensively involved in the initial prototype flight testing on the LCA.