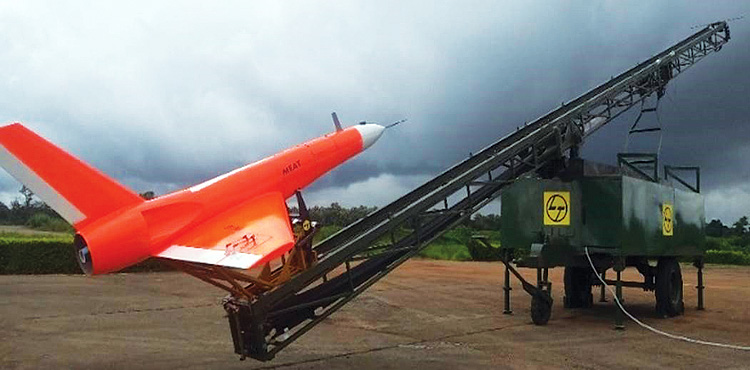 L&T's Indigenously Developed Manoeuvrable Expendable Aerial Target Undergoing Flight Trials
Modernisation of Indian Air Force is transforming it into an advanced network-centric force capable of sustained multi-role operations along the entire spectrum. L&T is proud to be a part of this transformation by contributing through the development of indigenous systems and technologies across domains – from Air Platforms to Air Defence.
L&T's advanced electronics design & manufacturing facility at Bengaluru manufactures state-of-the-art avionic LRUs for LCA, ALH, LUH and LCH programs. These include Environmental Control and Fuel Management Control Unit (ECFM-EU), Cockpit Interface Unit (CIU), Video Switching & Graphics Modules and Standby Engine Instrument (SEI). The company is also partnering DRDO in development of Integrated Life Support System (ILSS) with On-Board Oxygen Generation System (OBOGS), a technology available with only 5 countries worldwide.
Over three decades of collaboration with DRDO, ISRO and DPSUs, L&T has pioneered the indigenous development of weapon delivery platforms, fire control systems, radars and airframes. L&T is partnering BDL and BEL for IAF's AKASH SAM system, in the manufacture of missile airframes, launchers and ROHINI radar systems. In collaboration with global OEMs, the company also offers Air Defence FCR and 3D-ASR systems.
Close-in weapon system SUDARSHAN is L&T's latest Indigenous offering for the IAF. The advanced air defence system, comprising Search & Fire Control Radars and Anti- Aircraft Guns, is embedded with an Intelligent C2 system fully developed In-house, and can be integrated with existing surveillance and AD assets. Besides, L&T's JV with MBDA offers next-generation local and point missile air defence systems, anti-ship missiles and fifth-generation ATGMs.
Equipped with advanced R&D centres, L&T is aggressively foraying into development of futuristic technologies including Laser-based Directed Energy Weapons, AESA radar technologies like digital beam forming & wide band antenna array, unmanned platforms like tactical UAV and UCAV, counterdrone systems, and high-speed aerial targets. The company has invested in a network of world class dedicated defence manufacturing infrastructure across the country. L&T is focussed on developing indigenous solutions which can be seamlessly integrated with in-service systems and platforms to transform them into veritable force multipliers.