Addressing the Air Force, Bhadauria highlighted the force's achievements, commitment, future enterprises and ethos to continue to serve towards a self-reliant nation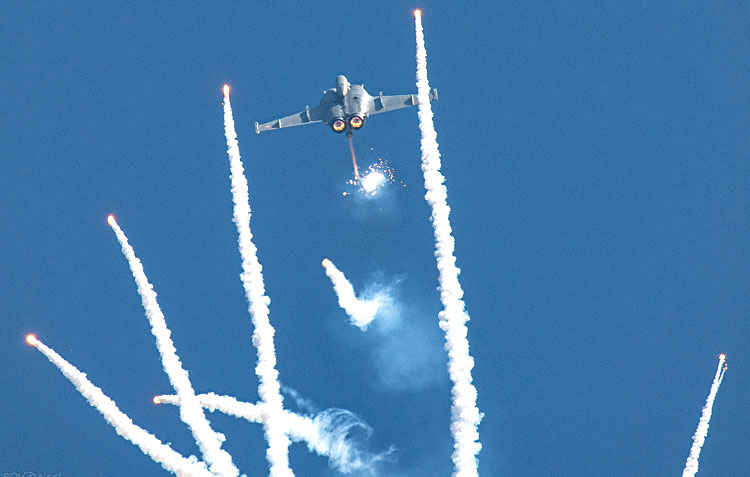 Rafale fighter aircraft of the Indian Air Force fires flares during the 88th Indian Air Force Day celebrations
The Indian Air Force celebrated Air Force Day on Thursday, October 8, 2020 at the Hindon airbase in Ghaziabad, Uttar Pradesh. While congratulating the parade officers and the award winners, alongside welcoming the esteemed gathering, the Indian Air Force (IAF) Chief, Air Chief Marshal Rakesh Kumar Singh Bhadauria, addressed the force after inspecting the parade on its 88th foundation day. He traced the force's achievements, commitment, future enterprises and ethos to continue to serve towards a self-reliant glorious nation.
The focus of the 88th Anniversary celebration was highlighted as to innovate, integrate and intimidate.
The IAF is undergoing a transformational change, remarked the Chief while highlighting the great honour he feels in commanding this elite force. "As we enter the 89th year, the IAF is undergoing a transformational change. We are entering an era which will redefine where we employ aerospace power and conduct integrated multi-domain operations," he said.
"The creation of CDS (Chief of Defence Staff) and DMA (Department of Military Affairs) have been a landmark step towards increasing triservice effectiveness, coordination and overall combat capabilities of the armed forces. We are working proactively towards setting up of joint command structures," said the Chief.
He expressed gratitude to the veterans for their invaluable contributions and the legacy built on valour, sacrifice and pioneering spirit. He also paid homage to the fallen braves who made the supreme sacrifice in the line of duty.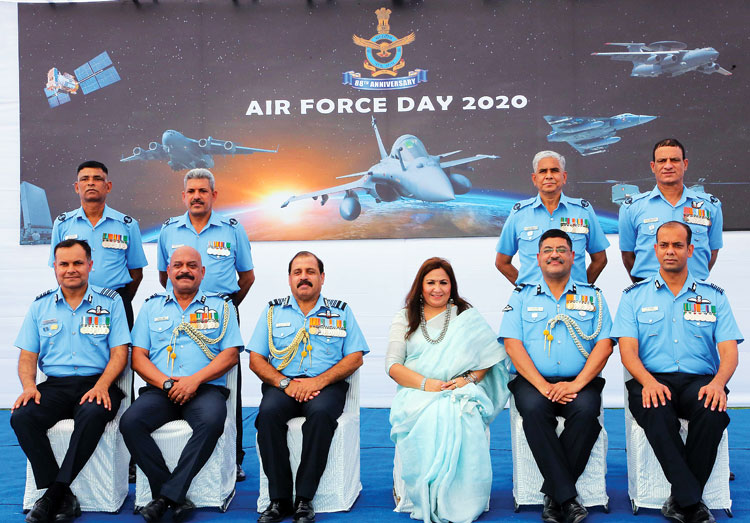 Air Chief Marshal R.K.S. Bhadauria ALONG WITH Award WINNERS ON THE IAF Day
Talking about the 'unprecedented year' that 2020 has been as COVID-19 spread across the globe, Bhadauria highlighted the nation's firm response and IAF's institution of various proactive measures to counter the spread and minimise the disruption. "The tenacity and resolve of our air warriors ensured that the IAF continued to retain its capability and capacity to undertake full-scale operations throughout this period," he said. In fact we deployed our transport and helicopter aircraft promptly during the lockdown to promote COVID-19 tasks pan India as well as abroad wherein we flew almost 750 hours including many missions to bring back stranded Indians from across the globe, added Bhadauria.
NEED FOR STRONG FORCE IN THE EMERGING SECURITY SCENARIO
Touching upon the ongoing standoff with China in Ladakh, Bhadauria said, "I commend all air warriors for a quick response in the recent standoff on the northern frontiers, when we deployed our combat assets at short notice to handle any eventuality and provided proactive support to all requirements of deployment and sustenance for the Indian Army. We have clearly demonstrated our resolve, our operational capability and the will to effectively engage the adversary should the need arise."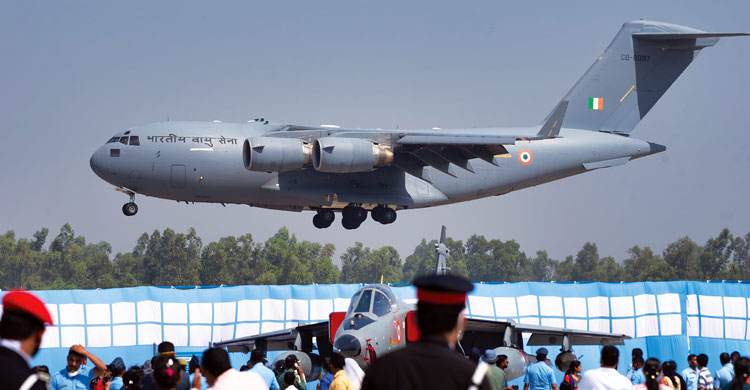 (Top) LANDING OF C-17 DURING THE FLYING DISPLAY ; (above left) Display by Air Warrior Drill Team; (above right) IAF PARAT ROOPERS OF THE Akash Ganga Skydiving Team.
He also called for greater attention to the sub-conventional domain owing to the complexity of the evolving set matrix in the region, ranging from aspirational adversaries with huge investment in military arsenal to those supported by non-state actors apart from growing sub-conventional threats emanating from terrorism and cyber space disruptive technologies as well as easy access to low-cost options like drones.

(Left) Akash Ganga Skydiving Team; (Right) Su-30 MKI Air Dominance Fighter.
SELF-RELIANCE AND VISION FORWARD
IAF' vision for this decade is to continue to comprehensively scale up combat capability and be a force to reckon with across the entire sphere of influence through careful force structuring, modernisation, operational training and acquisition of indigenous equipment to achieve substantial self-reliance, the Chief stated.
He also mentioned IAF's large strategic airlift capability and how the recent induction of state-of-the-art Rafale, Chinook and Apache aircraft have added significantly to the combat capability and the upgradation of aircraft with weapon system and sensors ably supported by a networked decision-making matrix has honed offensive strike capability.
In support of the Prime Minister's call for self-reliance, the chief stated that with Aatmanirbharta as the backdrop and the bedrock, IAF has been rapidly shifting to indigenous equipment. He listed successes of the home industry that are already operational in the IAF, including the LCA (Light Combat Aircraft), ALH (Advanced Light Helicopter), Netra, Akash surface-to-air missile system, BrahMos and a range of indigenous radars. Bhadauria also indicated the induction of 83 LCA Mk1A, HTT-40 (Hindustan Turbo Trainer-40), medium lift transport aircraft, many indigenous radars and numerous weapon systems in the future as IAF's commitment to the indigenous development of the fifth generation fighter aircraft.

(Top) An Indian Air Force fighter aircraft fires flares during THE Air DISPLAY ; (above left) Surya Kiran aerobatics display team performs; (above right) Indian Air Force Chinook helicopters fly past As they carry a huge cargo container and a gun.
"With the help of private sector, IAF has already graduated to an electronic maintenance management system for all our flying platforms and combat assets. This is virtually the world's largest such monitoring system across various types of platforms and our target now is to achieve enhanced automation and paperless workflow by this year-end with the help of our indigenous industry," said Bhadauria.
As for the future, IAF has initiated processes for the development of indigenous combat systems with sixth generation technologies including directed energy weapons, smart wing man concepts, optionally manned combat platforms, swarm drones, hypersonic weapons to name a few.
He emphasised the importance of the decade ahead and urged the air warriors to work proactively towards making the IAF, the engine of growth of our indigenous aerospace industry.
TRI-SERVICE COMMANDS
"The creation of CDS (Chief of Defence Staff) and DMA (Department of Military Affairs) have been landmark steps towards increasing tri-service effectiveness, coordination and overall combat capabilities of the armed forces. We are working proactively towards setting up of joint command structures. The formation of air defence command is spearheading the envisaged tri-service commands. It will further optimise all available air defence resources and supported with a robust decision making structure," said Bhadauria.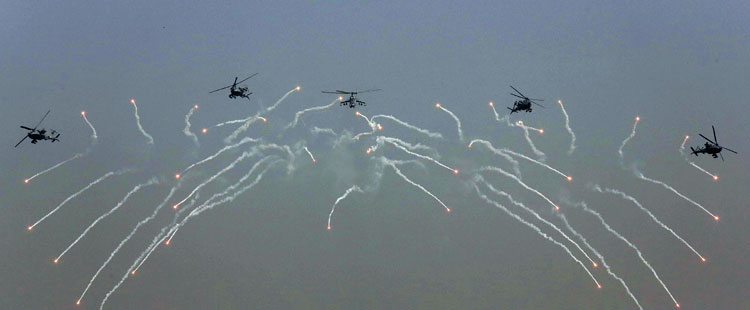 (Top) IAF'S COMBAT HELICOPTERS IN ACTION – APACHE GUNSHIPS WITH AN MI-35 IN CENTRE; (above left) LCA Tejas TOUCHING THE SKIES IN ALL ITS GLORY; (above right) FLY PAST BY Mi-17 Helicopters Bearing the IAF Flag.
He also added about IAF's enhanced maintenance efforts despite the COVID-19 constraints for the army, paramilitary organisations and civil organisations in challenging conditions. IAF also responded swiftly and surely to all calls of humanitarian and disaster reliefs on a number of occasions, Bhadauria highlighted.
"Our culture and ethos is built around team work and this must be firmly engrained as I want our capability and culture to reflect in each air warrior's action. I want to assure the nation that the IAF will evolve and be ever ready to safeguard our nation's sovereignty and interests in all circumstances," the Air Chief further assured as he concluded his remarks.
Chief of Defence Staff, General Bipin Rawat, Chief of Army Staff, General Manoj Mukund Naravane and Chief of the Naval Staff, Admiral Karambir Singh were present at the 88th Indian Air Force Day celebrations among other delegation. The celebrations also witnessed an astounding air display.