As bombers are large aircraft, they have large radar cross-section (RCS) and as such, are vulnerable to both airborne and ground based air defence (AD) weapons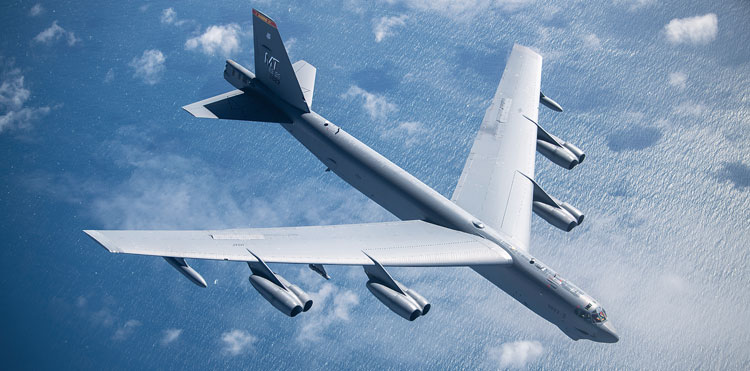 B-52 Stratofortress long-range strategic bomber
With the H-6 bomber aircraft of the People's Liberation Army Air Force (PLAAF) of China positioned in large numbers at Kashgar and also a few at Hotan, not too far from India-China border in Ladakh, it is time to understand the importance and role of strategic bombers. The major world powers have had strategic bombers since World War II. Even today the three largest air forces of the world of the United States (US), Russia and China operate strategic bombers. India, with the fourth largest air force has only fighter-bombers. It is also time to understand the implications of not having strategic bombers as also the need for the to have this aircraft on its inventory.
WHAT IS A STRATEGIC BOMBER?
A strategic bomber is a medium-to-long-range bomber aircraft designed to drop large amounts of air-to-ground weaponry on distant targets for impeding the enemy's capacity to wage war. Unlike tactical bombers, fighter-bombers and attack aircraft that are used in air interdiction operations to attack enemy combatants and military equipment, strategic bombers are designed to fly deep into enemy territory to destroy strategic targets such as major infrastructure, logistic establishments, military installations, factories and cities, as also to undertake nuclear strike missions. During World War II, both sides used bombers to wither enemy's ability to continue fighting. Later American Boeing B-29 Superfortress dropped atomic bombs on Hiroshima and Nagasaki in August 1945. Nuclear strike missions nowadays can also be carried out by fighter-bombers. In case of India, the Su-30 MKI, Mirage 2000, Jaguar and the Rafale, all have strategic nuclear delivery capability.
THE COLD WAR STRATEGIC BOMBERS
During the Cold War, the US and United Kingdom on one side and the Soviet Union on the other, kept strategic bombers ready to takeoff on short notice as part of the deterrent strategy. The Boeing B-52 Stratofortress bombers were kept in the air round the clock, orbiting some distance away from their fail-safe points near the Soviet border. The British produced three types of "V bombers" for nuclear delivery. The Soviet Union had the Tupolev Tu-4, Tu-16 "Badger" and China had Xian H-6 (a version of the Tupolev Tu-16). France had the Dassault Mirage IV and later the Mirage 2000N and Rafale fighter bombers for nuclear role.
CURRENT AND EVOLVING STRATEGIC BOMBER
The current bombers are the American Rockwell International B-1B Lancer, the Northrop Grumman B-2 Spirit designs incorporate various levels of stealth technology and the Tupolev Tu-160. B-52 (last produced in 1962) and Tupolev Tu-95 remain in service and can also deploy the latest air-launched cruise missiles and other "stand-off" precision weapons such as the JASSM and the JDAM. Some are being upgraded like the Tu-22M bombers. All these are also used for delivering non-nuclear, high explosive weapons, and have taken part in the wars in Iraq and Afghanistan. Typically, Tupolev Tu-160 can carry 45,000 kg of ordnance, and Northrop Grumman B-2 Spirit 23,000 kg. Northrop Grumman B-21 is an under-development stealth bomber. Also 2037 Bomber will be a stealth, supersonic, long-range, heavy-payload strategic bomber. Xian H-20 (20-tonne load) is a Chinese under-development stealth bomber to be ready by 2025. The Tupolev PAK DA is the Russian nextgeneration stealth strategic bomber.
As the American bombers are likely to be very expensive, India could join hands with Japan or some other country to develop bombers indigenously
THE CHINESE XIAN H-6 BOMBER
The Xian H-6 is a license-built version of the Soviet Tupolev Tu-16 twin-engine jet bomber that first flew in 1959. At least around 180 were built and China is estimated to currently operate around 120. Among the many variants, the H-6A is the nuclear bomber, H-6B the reconnaissance variant, H-6C conventional bomber, H-6E nuclear bomber with improved countermeasures and the H-6D anti-ship missile carrier. The H-6G acts as a director for ground-launched cruise missiles. The H-6H and H-6M carry land-attack cruise missiles and the H-6N can undertake aerial refuelling. The latest, H-6K, entered service in 2009. It has a glass cockpit and claimed combat radius of 3,500 kilometres. The six under-wing hard-points can carry YJ-12 ALCMs cruise missiles or the nuclear missiles. China also reportedly tested a roughly 20 ft long, 10-tonne bomb analogous of the American "Mother of all Bombs" carried by an H-6K.
INDIAN BOMBERS
India operated three squadrons of vintage American heavy bomber B-24 liberators till 1968, which were left behind by the British. The English Electric Canberra variants were inducted in 1957, and were the backbone of the Indian Air Force (IAF) for bombing raids and photo-reconnaissance for several decades. The fleet was retired in May 2007 after rendering 50 years of service. For some reason, the IAF never chose to replace its bomber fleet and preferred to induct fighter-bombers instead.
BOMBER STRENGTHS AND VULNERABILITIES
As bombers are large aircraft, they have large radar cross-section (RCS) and as such, are vulnerable to both airborne and ground based air defence (AD) weapons. They are also expensive to acquire and maintain. They have to be operated from airbases located in depth, but they are endowed with longer range capability. Of course they can carry electronic warfare equipment to support deep penetration missions. A bomber can carry large armaments including cruise missiles and as such is a great weapon platform. Presence of bombers can also exert psychological pressure on the enemy, but shooting down of even a single bomber would seriously dent morale of the side affected. Three or four modern fighter aircraft could do the job of a bomber and perhaps more efficiently.
DOES INDIA NEED A BOMBER?
The IAF was deliberately not used in offensive role in 1962 war with China reportedly because PLAAF had the Il-28 bombers that could attack Indian cities such as Kolkata and Guwahati. This had a psychological impact on the leadership of that time. Against Pakistan, India has used even the An-12 in bombing role and one squadron of the An-32 also has been assigned the bombing role. Does this indicate that the IAF misses a bomber?
A significant part of China is out of range of Indian fighter bombers. Aerial refuelling is not possible in enemy territory. Chinese bombers can reach much deeper inside India. The three major powers continue to develop future bombers. China will have a stealth bomber in near future. Larger bombers have greater real-estate onboard and will have greater power resource for both electronic warfare and to deploy directed energy weapons. A bomber can help India take the war deeper into enemy territory. Can India's fighter-bombers, surface-to-surface missiles and cruise missiles stand-in for bombers, remains a moot question. If it was so true then the major powers need not develop bombers. Also, both India and China are large countries, therefore it may be of interest for India to have a bomber of its own. The bombers will carry a large complement of cruise missiles, both for land attack and anti-shipping roles. They will be a great asset for dominance of the Indian Ocean Region. One can expect India and China to maintain adversarial relations for some time to come. China will continue to use surplus resources to befriend India's neighbours. A strategic bomber would be significant deterrent.
OPTIONS FOR INDIA
If India has to become a significant power in the long run, it must develop bombers. Bomber as a platform can combine more roles. The future is in Directed Energy Weapons (DEW). A bomber class aircraft will have greater potential. A bomber could also become a platform for launching small satellites. Currently the IAF is down to 32 fighter squadrons. With current defence budgets, it could take nearly two decades and heavy investments restore the strength of the combat aircraft fleet to the authorised level of 42 squadrons. India would also need funds for the fifth-generation fighters. Modern bombers are costly to acquire and maintain, yet major powers see the investment as important. As the American bombers are likely to be very expensive, India could join hands with Japan or some other country to develop bombers indigenously. India will have to consider acquiring some strategic bombing assets, at least 20 of them in the long run.