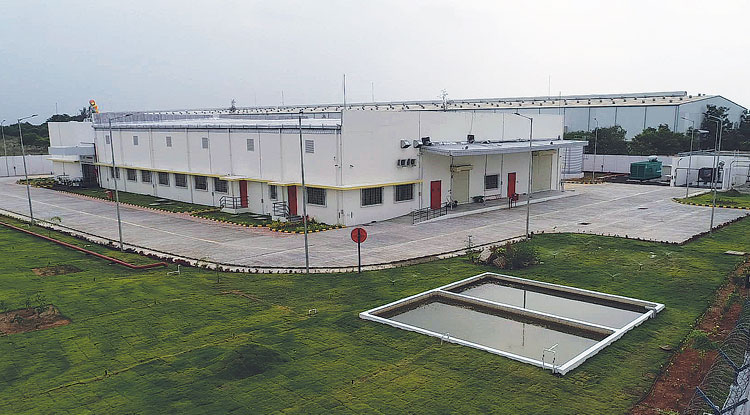 LTMMSL inert integration facility at SEZ in Coimbatore
L&T MBDA Missile Systems Limited (LTMMSL), a joint venture company between Larsen & Toubro (L&T), India's Multinational conglomerate, and MBDA France, a world leader in missile systems, has taken a leap into the future by commencing delivery of MICA missile air-to-air launchers, from its green field facility spanning over 16,000 sq. meters in an SEZ near Coimbatore. This is a dedicated missile integration facility for inert assembly, integration and testing of Missile Launchers and Missile Sub-systems.
This facility is a result of a deliberate and well thought-out strategy which involves developing capabilities within LTMMSL, enhancing the technology spectrum, and building capacities ahead of time so that when the opportunity arises, LTMMSL is firmly positioned to deliver missiles and missile systems. The facility is equipped with state-of-the-art Security systems and climate controlled dust free clean rooms.
On time deliveries, and first-time-right-every-time-right have been the driving forces of LTMMSL. This belief ensured delivery to the customer in shortest possible time in spite of pandemic by embracing change management & digitalisation. During the year, LTMMSL flagged-off the initial batch of MICA missile air-to-air launchers from its SEZ Coimbatore facility. It will be a moment of pride for us that the MICA air-to-air launcher would be fitted onto the Rafale aircrafts.
LTMMSL, will continue to leverage its strong parentage to bring in world class guided weapon systems technology for the Indian Armed Forces and will target prospects under the Buy (Indian – IDDM), Buy (Indian) and Buy & Make (Indian) categories of DAP-2020.
LTMMSL has offered the next generation local and point missile Air Defence system (Sea Ceptor) to equip the in-service warships of Indian Navy and is poised to respond to Indian Armed Forces' requirements of Missile systems including Anti-Ship Missiles and other Missile Systems including Anti-Tank Guided Missile (ATGM 5). The company has also identified a wide range of areas which will be explored in the medium to long term.
Aligning with the Make in India initiative, the creation of this joint venture is a commitment to India's long-standing goals of achieving self-sufficiency in defence machinery and strengthening India together to safeguard its geopolitical interests.