At the current pace of acquisitions and indigenous development, the Indian Air Force can at best restore the authorised strength of 42 fighter squadrons earliest by 2038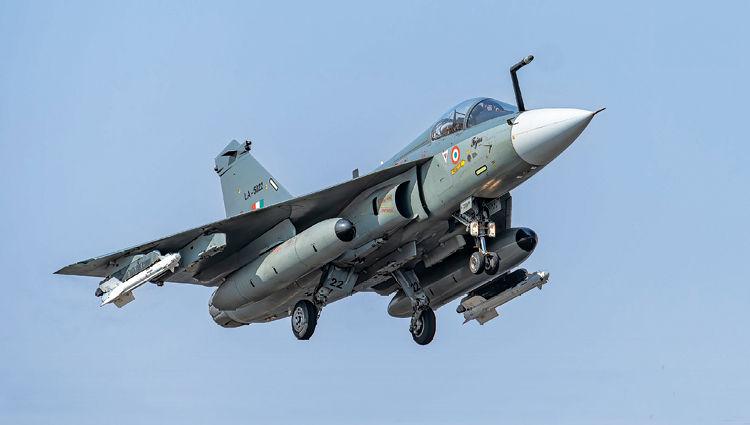 The LCA Mk2 is under development and would be an enlarged variant of Mk1. The 'roll out' of the first prototype is scheduled for December 2022 and IAF plans to induct 200 aircraft beginning in 2028.
In a media interaction in October 2021, after taking over as the Chief of the Air Staff, Air Chief Marshal V.R. Chaudhari said, "The Indian Air Force (IAF) is focused on future warfare. Offensive strike capability will become even more potent with the induction of weapon systems of cutting edge technology. With the upcoming induction of Tejas Mk1A and S-400 missiles, the IAF will be even stronger. Restoring the strength of fighter squadrons is a priority. Meanwhile, the serious showdown with China in Ladakh that continues has brought greater focus and discussion on the IAF's growth and its challenges.
STATE OF IAF FIGHTER FLEET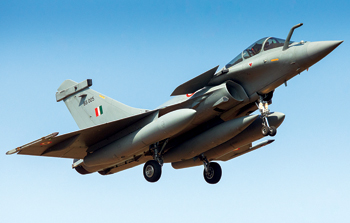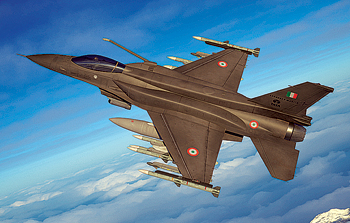 Contenders for the IAF MRFA programe: (Top) dassault Rafale; (Middle) Lockheed martin f-21; (Above) Mig-35.
The IAF is today at a low of 32 fighter squadrons vis-a-vis the authorised 42. The numbers would go down further when MiG-21 Bison are phased out. The Jaguar will be in service for at least another decade. The process to acquire 126 Medium Multi-Role Combat Aircraft (MMRCA) initiated in 2007 was finally cancelled. Instead, the government sanctioned emergency procurement of 36 Rafale jets from Dassault of France. Most of these have arrived and remaining will be inducted by mid-2022. Meanwhile, after 21 years since the first flight of the indigenous Light Combat Aircraft (LCA) 'Tejas', only around 32 LCA Mk1 aircraft of the 40 ordered have been delivered. Other than two LCA squadrons, the IAF today has two squadrons of Rafale, 12 of Su-30 MKI, three of Mirage 2000, three of MiG-29s, four of MiG-21 Bison and five of Jaguar.
THE AIR THREAT
China is investing heavily into the aerospace industry and today the People's Liberation Army Air Force (PLAAF) has two homegrown stealth fighters, the J-20 and the J-31 and is to induct the H-20 stealth bomber. It currently has 50 J-20s and targets to have 200 by 2027. It also has 24 Su-35, 500 J-10s and a large number of Su-27 and Su-30 variants. Pakistan has nearly 20 combat units, and is inducting the JF-17 Block III. It has also placed orders for 25 Chinese J-10C in fly-away condition. It is imperative that the IAF quickly rebuild its fighter fleet.
UNFOLDING FIGHTER INDUCTIONS
Delivery against the IAF's order of 40 LCA Mk1 will get completed by mid-2022. The Jaguar fleet is being modernised to DARIN III standard. The fleet of MiG-29 and Mirage 2000 have also been upgraded and 21 upgraded MiG-29s are being procured. The IAF is planning to acquire few second-hand Mirage 2000 to cater for the requirement of spares.
272 Su-30 MKI air-superiority fighters ordered have been delivered and 12 additional Su-30 MKI are being acquired, primarily to replace those that had crashed over the years. Initially, 40 Su-30 MKI aircraft will be upgraded to include the ability to carry the BrahMos cruise missiles and nuclear-capable Nirbhay missiles, get an Active Electronically Scanned Array (AESA) radar, more powerful on-board computers and a new Electronic Warfare (EW) suite. The process is still evolving.
THE LCA Mk1A
An operationally better, version called the LCA Mk1A has been evolved. It would have an advanced AESA Radar, an EW suite, mid-air refuelling capability and incorporate weight reduction along with easier maintainability. The order for 83 LCA Mk1A was placed in February 2021. The first flight of the Mk-1A aircraft was earlier scheduled for March 2022, is now rescheduled for June 2022.
LCA MK2
The LCA Mk2 under development would be an enlarged variant of Mk1 with the more powerful General Electric F-414-GEINS6 engine. The 'roll out' of the first prototype is scheduled for December 2022 with its first flight in 2023. The IAF plans to induct 200 aircraft beginning in 2028.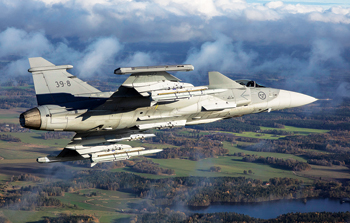 Contenders for the IAF MRFA programe: (Top) Boeing F-15 EX; (Middle) SAAB Gripen NG; (Above) sukhoi SU-35.
The Tejas Mk2 Medium Weight Fighter will have a compound delta wing with close-coupled canards. The longer fuselage will allow for more internal and external fuel. The weapon stations will increase from seven to 11, with carrying capacity increase from 5.3 to 6.5 tonnes. It will also feature an indigenous integrated life support system, a built-in integrated electro-optic electronic-warfare suite and other improvements to avionics. It will have an infra-red search and track system and a missile approach warning system and a modern AESA radar. It is said to be designed for swing role, with BVR and close-combat capability and precision strike.
The Aeronautical Development Agency (ADA) completed Mk2 Critical Design Review on November 15, 2021. From 62 per cent in Tejas Mark 1A, 70 per cent indigenisation is targeted for Mk2. Also, the Mk2 will imbibe some of the technologies being developed for Advanced Medium Combat Aircraft (AMCA). The aircraft is meant to replace the Jaguar, Mirage 2000 and MiG-29 in the IAF.
LCA PRODUCTION
HAL currently has a production capacity of 12 aircraft a year. HAL has indicated that they will be able to deliver 12 to 14 aircraft in financial 2021-2022. The Ministry of Defence (MoD) had set a target of 16 aircraft per year. The rate at which IAF squadrons are depleting, the desired rate is at least 18 to 20 per year. Even though the indigenous content of the Tejas is increasing, major systems such as engine and radar are still of foreign make.
AMCA – INDIA'S FIFTH GENERATION AIRCRAFT
The AMCA is the fifth generation fighter aircraft being developed for the IAF. Being designed by ADA, it is expected to be produced by a public-private joint-venture between the DRDO, HAL and the private sector. It will be a single-seat, twin-engine, stealth, all-weather, swing-role fighter aircraft. Two variants of AMCA are planned. AMCA Mk1 will come equipped with fifth generation technologies and Mk2 will have the incremental sixth generation technology upgrades. It would one day be a replacement for the Su-30 MKI.
The AMCA design will have shoulder-mounted diamondshaped trapezoidal wings and an all-moving Canard-Vertical V-tail with large fuselage mounted tail-wing. ADA is working on major technological issues like thrust vectoring engine, an advanced AESA radar and low radar cross section and supercruise capability. The AMCA will initially fly with two GE-414 engines. Eventually, it is planned to be powered by two GTRE, 90 kN thrust, K9 or K10 engines which are successor to the troubled Kaveri engine.
The project entered the detailed design phase in February 2019. The first flight is expected to be by around 2025 and serial production might begin by 2030. The IAF is planning for two squadron of AMCA Mk1 and five squadron of Mk2 variant. There is also plan for a light combat aircraft variant of AMCA. After consultations in November 2021 between IAF, HAL, DRDO, ADA, MoD and Ministry of Finance, the final design of AMCA prototype is getting ready for approval from Cabinet Committee.
RAFALE NUMBERS
Operationally, for a large air force, just 36 aircraft is too low a figure. The IAF has the infrastructure in place for two more squadrons. Also, considering India has made many one-time payments such as for India-specific modifications, that expenditure will get amortised and the cost of additional orders should be lower.
Many countries have ordered Rafale fighter jets recently, with Indonesia becoming the new entrant. One scenario could be that 36 more Rafale are acquired and thereafter, India puts all its energies on developing an indigenous aircraft. It is time to make the appropriate call.
114 NEW FIGHTERS
Responses for the IAF's Request for Information for 114 4th generation plus fighters were received in July 2018. The seven contenders are Dassault Rafale, Eurofighter Typhoon, Lockheed F-21, JAS 39 E/F Gripen NG, MiG-35 and Su-35. The Request for Proposal (RFP) has still to be issued. Even if the process is hastened, the earliest these aircraft can arrive is 2027. The US is pushing the case of Boeing F-15 EX. It is time that the RFP is sent out without further delay.
THE TASK AHEAD
At the current pace of acquisitions and indigenous development, the IAF can restore the authorised 42 squadrons earliest by 2038. If India were to succeed, the IAF's end state should be two squadrons of Mirage 2000, two of Jaguars, 14 of Su-30 MKI, two of Rafale, 14 of LCA MkI & II, two of AMCA and six of the newly selected fighter, making a total of 42 squadrons. The LCA and AMCA projects need to be hastened. The variables and anxieties will continue to hit the AMCA. Joint ventures or technology transfers may be required for the engine, AESA and EW systems. Time to act is now, lest India be left behind in its global ambitions.