With a local sustainment footprint, indigenous execution and local training, Boeing Defense India (BDI) ensures the high availability of platforms for missions at a competitive cost structure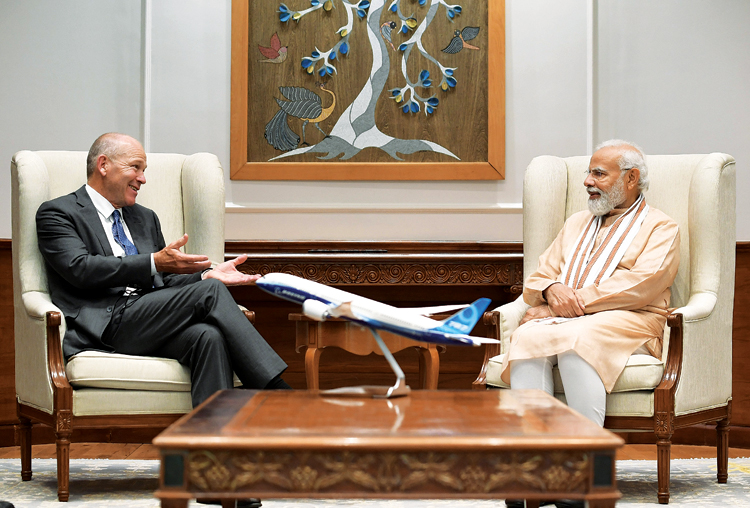 Boeing President and CEO Dave Calhoun met with India's Prime Minister Narendra Modi to discuss Boeing's commitment to his Atmanirbhar Bharat vision
In a recent development, on April 22, 2022, Indian Finance Minister Nirmala Sitharaman met Ted Colbert, CEO, Boeing Defense and discussed opportunities for investments and growth in maintenance, repair, and operations (MRO) and aircraft leasing in India. The Finance Minister was visiting the US to attend IMF-WB Spring Meetings 2022.
Last decade has witnessed increased Indo-US military engagement. Enhanced defence partnership has translated into Indian defence supplies from the US rising to approximately over $20 billion. Most of it has come from the US aerospace and defence major, Boeing Defense, Space & Security (BDS). It is emerging to be a key partner to Indian armed forces. It has been offering defence equipment for the Indian Air Force (IAF), Indian Navy (IN) and the Indian Army, across various domains of operations.
BOEING'S EXPANDING FOOTPRINT IN INDIA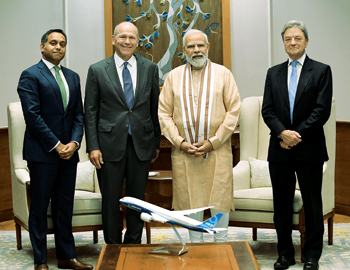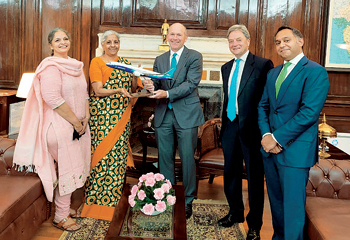 Dave Calhoun, President and CEO of Boeing met Prime Minister Narendra Modi on his recent visit to India and highlighted Boeing's continuing efforts to strengthen India's growing aerospace and defence industry through their investments in engineering, manufacturing and research, and the work to improve skills and grow the supplier-partner network across India and on a global scale.
Calhoun also met with India's Finance Minister and discussed Boeing's growing presence in India, the nation's innovative policy framework, and how Boeing can support the growth of India's leasing industry at GIFTCity.
C-17 GLOBEMASTER IIIS
In 2009 the IAF had selected the C-17 Globemaster IIIs for its requirement of 'very heavy lift transport aircraft'. The $4.5 billion contract was signed in 2011 and the first C-17 Globemaster IIIs was inducted in 2013. With the last aircraft delivered in 2019, the IAF now has a fleet of 11 C-17 Globemaster IIIs, becoming the biggest operator of these aircraft in the world, outside of the US.
The C-17 Globemaster III is the most flexible aircraft, capable of rapid strategic delivery of troops and all types of cargo to main operating bases or directly to forward bases in the deployment area. The aircraft can perform tactical airlift and airdrop missions and can transport ambulatory patients during aeromedical evacuations.
The C-17 Globemaster has proven to be the backbone of IAF's heavy lift capability. In recent rescue and evacuation efforts, the aircraft had carried a large number of passengers and huge quantities of material over large distances. Noteworthy has been the several sorties undertaken to evacuate Indian citizens from Afghanistan and most recently, during the Russian-Ukrainian war, the aircraft was deployed under Operation Ganga to evacuate thousands of Indian nationals stranded in the war-torn region. During COVID-19, the aircraft was employed for transporting Liquid Medical Oxygen cylinders and other medical supplies. Earlier, during the stand-off in Eastern Ladakh, the C-17 Globemaster III were extensively employed by the IAF to airlift heavy tanks, army personnel as well as armoured carriers to high altitude.
POSEIDON P-8I
Poseidon P-8I is an aircraft designed for long-range anti-submarine warfare, anti-surface warfare and intelligence, surveillance and reconnaissance missions. It was inducted into the Indian Navy's (IN) fleet in 2013 and is now the mainstay of IN and has undertaken numerous missions clocking more than 35,000 hours. IN had initially ordered eight aircraft and it was the first international customer of P-8I aircraft. Later, under the 'Options Clause' another four were ordered, with the last aircraft being delivered on February 23, this year, the fleet is now complete with 12 aircraft.
CH-47 CHINOOK HELICOPTERS
In September 2015, India placed a $3.1 billion order for 15 Chinooks and 22 Apache attack helicopters. All the platforms have been inducted.
Boeing completed the delivery of 15th Chinook helicopters to the IAF in October 2020. Prior to this, the IAF relied on a small fleet of Russian Mi-26 heavy transport helicopters for heavy-lift purposes.
Chinooks are being extensively employed by the US Army and by the militaries of more than 19 countries around the world. It is a twin-engine, tandemrotor, heavylift helicopter (payload capacity of 10 tonnes), capable of airlifting diverse military and non-military loads into remote locations. It has a fully integrated glass cockpit for mission management, a digital advanced flight control system to enhance aircrew safety and advanced cargo handling capabilities. All these systems enable aircrew to swiftly change roles from moving cargo to transporting army personnel, vehicles, and other material to meet the mission demands.
The Chinook has strategic airlift capability to deliver heavy payloads to high altitudes operations in the Himalayas. It can carry the Army's new M777 ultra-light howitzers as underslung load for swift deployment in the mountains.
On April 11, 2022, the Chinook helicopter set a record by flying more than 1,900 kms, non-stop, from Chandigarh to Jorhat. The IAF variant does not have mid-air refuelling capability and carried additional internal tanks.
AH-64E APACHE
The Apache attack helicopters were delivered in India by June 2020, thereby making India the 16th nation to possess this advanced multi-mission helicopter with the latest technology.
The Apache is equipped with the latest communications, navigation, sensor and weapon systems. It has an improved modernised Target Acquisition and Designation System that provides day, night and all-weather target information, as well as night vision navigation capability. It is a multi-role helicopter meant to undertake reconnaissance, security, peacekeeping operations and lethal attack, across different terrains, without reconfiguration.
During the stand-off with China in Eastern Ladakh, the AH-64E Apaches were deployed at the Leh air base as part of the forward movement of assets.
The IAF has 22 Apache attack helicopters. In early 2020, India and the US have signed a contract for the acquisition of six Apaches for the Indian Army.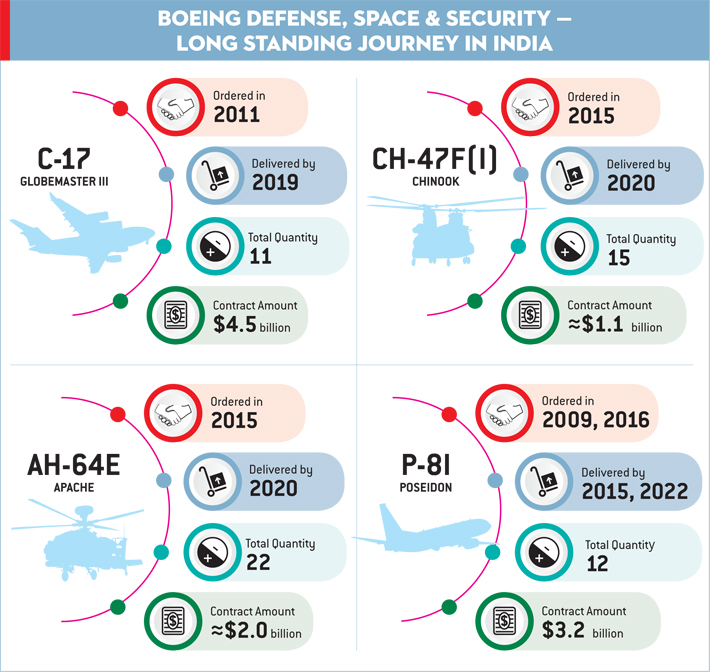 BOEING 777
The custom-made Boeing B777 VVIP aircraft, with call sign Air India One, was inducted in 2020 to replace the ageing 747. The state-of-the-art retrofitted Air India One is used to fly the President, Vice President and the Prime Minister on international state visits.
Two Boeing 777s have been retrofitted with two systems major self protection systems, viz. Large Aircraft Infrared Countermeasures and Advance Integrated Defensive Electronic Warfare Suites. Besides this, the aircraft has radar warning sensors, missile warning receivers, anti-missile flares, intruder detection systems and a countermeasure dispensing system. The aircraft has been fitted with the most advanced communication technology which will enable the VVIP on-board the aircraft to be connected to the outside world, at all times.
The aircraft is configured with a well-equipped conference room, an operation theater, a spacious bedroom and a special lounge for long duration international flights. The Air India One jet can fly from India to the US without the need to stop for refuelling. Once refueled, this aircraft will be able to fly continuously for 17 hours. The Air India One aircraft is operated by speciallytrained pilots from the Indian Air Force and maintained by Air India Engineering Services Limited (AIESL), which is a subsidiary of the Air India.
8,400 crore is known to be the total cost of purchase and configuration of these B777 aircraft.
FOLLOW ON SUPPORT, MAINTENANCE REPAIR OVERHAUL (MRO) AND LOGISTICS SUPPLY LINES
Various follow on support, logistics supply lines, training and other services for various platforms purchased by India are being offered by another division of The Boeing Company, viz. Boeing Global Services (BGS).
Boeing Defense, Space & Security (BDS) is emerging to be a key partner to Indian armed forces by offering defence equipment for the Indian Air Force, Indian Navy and the Indian Army, across various domains of operations
In February 2021, Boeing has signed a strategic collaboration with aviation services provider Air Works for the maintenance, repair and overhaul (MRO) of its VIP transport aircraft fleet operated by the IAF. This partnership is a first under the newly launched Boeing India Repair Development and Sustainment (BIRDS) hub initiative.
BIRDS hub is a Boeing-led 'in-country network and alliance of supplier' in India to provide engineering, maintenance, skilling, repair and sustainment services for defence aircraft operated by both the IAF and the IN. This partnership also includes MRO support to the IN operated Poseidon P-8I long-range maritime patrol aircraft.
114 MULTI-ROLE FIGHTER AIRCRAFT (MRFA)
In 2018, IAF had issued a Request for Information (RFI) for the procurement of 114 Multi-Role Fighter Aircraft (MRFA). The new fighters are expected to replace the aging MiG-21s, Mirage 2000s, and the Jaguars. In October last year, Chief of Air Staff (CAS), Air Chief Marshal V.R. Chaudhari had announced that the ambitious procurement must adhere to the 'Make in India' initiative.


(Clockwise from Top Left) Tata Boeing Aerospace delivers first AH-64 Apache combat helicopter fuselage; Boeing India Repair Development and Sustainment (BIRDS) SIGNS THE first BIRDS partnership with AirWorks India TO support the Atmanirbhar Bharat vision of India as a MRO hub; Boeing is contending the IAF's MRFA programme with their F-15EX fighter planes; Boeing has announced a partnership with HAL and Mahindra Defence Systems for manufacturing the Super Hornet F/A-18 E/F in India
The competition is tough with leading fighter aircraft manufacturers from across the globe participating in the programme, Boeing contending with their Super Hornet F/A-18 E/F and F-15EX fighter planes. Boeing has been proactive and has announced a partnership with HAL, along with Mahindra Defence Systems for manufacturing the Super Hornet F/A-18 E/F in India.
IAF is yet to issue the request for Proposal (RFP) for its 114 MRFA. It would be worth closely monitoring as to how this estimated $18 billion acquisition progresses.
TOWARDS ATMANIRBHAR BHARAT ABHIYAAN
It is worth mentioning that during his recent visit to the US for the 2+2 ministerial dialogue, Defence Minister Rajnath Singh met senior executives of Boeing Defense on April 11, 2022 and asked them to take advantage of policy initiatives in India to steadily march from 'Make in India' towards 'Make for the World'.
With reference to increased Indo-US military engagement, the Defence Minister said, "It's a reflection of the growing depth and scale of our defence partnership. In a decade, our defence supplies from the US rose from negligible to a cumulative amount of over $20 billion. We look forward to US companies investing in India and supporting the 'Make in India' programme."
Boeing is cognizant of the policies being steered by the Indian Ministry of Defence (MoD) and has taken certain proactive steps that provide impetus to the Indian Atmanirbhar Bharat scheme. Boeing has already made some good progress by taking a lead in supplying certain equipment to meet not only the Indian demand but to also meet global demand. In that Tata Boeing Aerospace Limited (TBAL), a joint venture between Boeing and Tata Advanced Systems Ltd (TASL), was established in 2016 over a 14,000 sqm facility at Hyderabad for manufacturing of fuselages for the AH-64 Apache (production commenced since May 2018) and vertical fin structures for the 737 family of aircraft. Estimated annual sourcing by Boeing from India currently stands at approximately $1 billion. This state-of-the-art advanced manufacturing facility hopes to eventually become the sole producer of AH-64 Apache fuselages in the world. There is certainly more scope for growth in this field, opening up more opportunities for micro small and medium enterprises in the Indian defence sector.
Boeing Defense partnership with Indian armed forces is a befitting saga of taking forward the Indo-US strategic partnership. How this long standing collaboration pans out in next few years would be interesting to watch.
BOEING AND AIR WORKS ACCELERATE MRO CAPABILITIES FOR THE INDIAN NAVY'S P-8I FLEET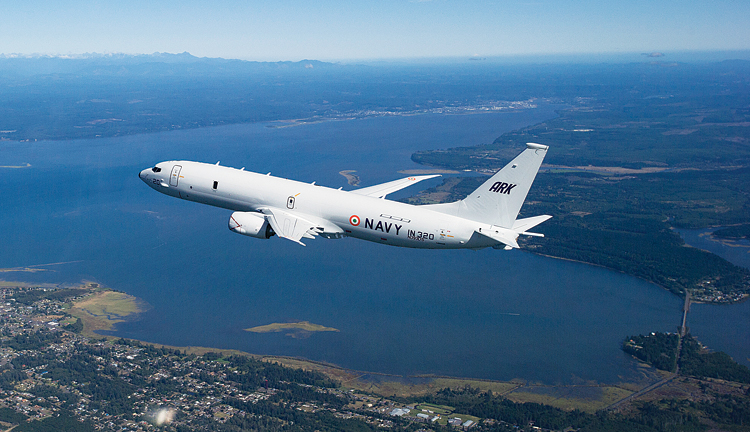 Boeing's P-8I aircraft of the Indian Navy
Boeing and Air Works are currently undertaking heavy maintenance checks on three P-8I long-range maritime patrol and anti-submarine warfare aircraft operated by the Indian Navy at Air Works, Hosur. This dramatically increases the scope and scale of Maintenance, Repair and Overhaul (MRO) undertaken in the country and demonstrates both the companies' commitment in making India Atmanirbhar in aerospace and defence.
Boeing India and Air Works will commemorate their collaboration at the Boeing India Atmanirbharta in Defence Conference being organised in New Delhi on Tuesday, May 10, 2022, with participation from dignitaries from the Indian Navy, Air Works Group, and other key supplier-partners.
Surendra Ahuja, Managing Director, Boeing Defence India, said, "We are proud to build on our existing collaboration with Air Works that enables us to generate significant value for our defence customers in India, and contribute towards the Government's vision of making India an MRO hub for the region. The ongoing satisfactory execution of heavy maintenance checks on three P-8I platforms concurrently by Air Works is a remarkable achievement."
Boeing's strategic collaboration with Air Works was an important first step under the Boeing India Repair Development and Sustainment (BIRDS ) hub launched last year. The BIRDS hub envisions a collaboration with key local companies and businesses to develop India into an aviation and defence repair and sustainment hub.
"The heavy maintenance checks on Indian Navy's P-8I complement our vision of creating stronger and sustainable MRO capabilities, within the country. Maintaining such mission-critical platforms for the nation's defence forces is a matter of immense pride for Air Works. At the same time, it also reflects the "coming-of-age" or maturing of indigenous MRO capabilities in aviation, defence and aerospace, which can deliver huge advantages for the country. We thank Boeing for their trust in us and look forward to expanding our strategic partnership to eventually deliver operational excellence on other critical platforms of our defence forces to their complete satisfaction," said D. Anand Bhaskar, Managing Director & CEO , Air Works Group.
The Boeing and Air Works collaboration has already been enabling faster turnarounds and enhanced operational capability within the country for the country's key defence platforms. The partnership began with the first P-8I aircraft Phase 32 checks, and has grown to include Phase 48 checks and MRO on the landing gear of the Indian Air Force's 737 VVIP aircraft.