The armed forces have recently signed contracts for drones with Indian defence companies and start-ups under the fast-track process for acquisition of newage weapons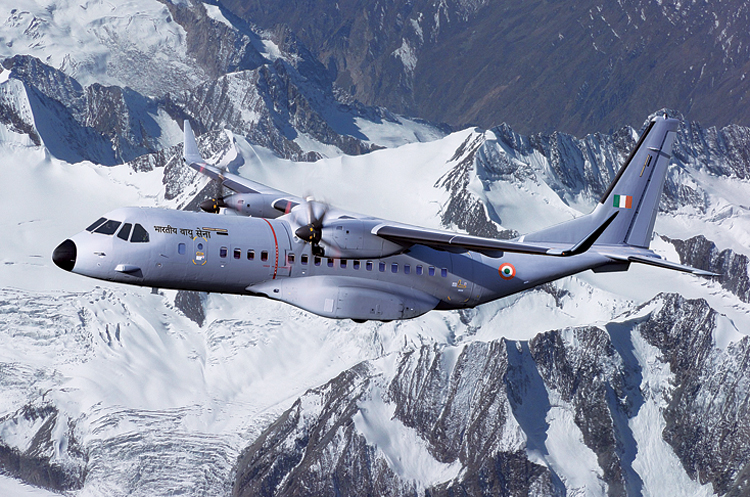 The C295W military transport aircraft will be the first time that a transport aircraft will be built in India and that too by an Indian private sect or company
In the annual budget for 2022-2023, the allocation for defence is 5.25 lakh crore, a 9.82 per cent jump from the previous year. It is 13.3 per cent of the total union budget of 39.45 lakh crore and 2.03 per cent of India's GDP for 2022-2023. The defence allocation excluding pensions is 4.05 lakh crore. Of this, 1.52 lakh crore is for capital expenditure for the modernisation of the armed forces. This is an increase of 12.82 per cent from previous year. A sum of 1.03 lakh crore or 68 per cent of the defence capital budget is allocated for acquiring locally produced weapons. This would thus give a boost to indigenous defence production and 'Atmanirbhar Bharat'. Major amounts would go towards Tejas Light Combat Aircraft (LCA) Mk-1A, Light Combat Helicopters (LCH), basic trainer aircraft HTT-40, Arjun Mk-1A tanks, missiles and other weapons.
BOOST TO DEFENCE INDUSTRIAL ECO SYSTEM
25 per cent of the defence research and development budget has been set aside for funding the academia, start-ups and private industry. There are additional amounts for the newly created seven Defence Public Sector Undertakings, an Emergency Authorisation Fund and funding of Innovations for Defence Excellence to support innovation and technology development. There is special funding for Defence Testing Infrastructure Scheme to create international standard testing infrastructure. Special Purpose Vehicles will be encouraged between DRDO and private players. Private industry would also be supported for testing and certification through a nodal umbrella. Simplified customs tariffs have been introduced. Existing exemptions on import of defence and security items will be petered off.
All this should support the target of 1,75,000 crore defence production by 2025, and achieve the $5 trillion economy by 2025. In the high technology areas, foreign equipment manufacturers would be more inclined to form Joint Ventures (JV) and bring in Foreign Direct Investment (FDI). Some of these JVs will also support defence exports. With defence manufacturing corridors already in place, the nation is getting seriously into defence production.
THE C295 CONTRACT GETS SIGNED
After nearly ten years of waiting, the 21,000 crore Airbus-Tata project for 56 C295W military transport aircraft for replacing the ageing HS-748 aircraft of the Indian Air Force (IAF) was cleared. An additional six may be acquired by the Indian Coast Guard. 16 C295W aircraft will be delivered in fly-away condition by Airbus Defence and Space (Spain) within two years. The rest 40 will be manufactured in India by the Tata Consortium. It will be the first time that an operational transport aircraft will be built in India and that too by an Indian private sector company.
INDIA'S SUCCESS IN BUILDING FIGHTER AIRCRAFT
The state-owned HAL began aircraft manufacturing as early as 1942. HAL has been involved in designing and manufacturing of fighter jets, helicopters, jet engine, avionics, software development, spare supply, overhaul and upgrade of Indian military aircraft. HAL licence-produced over 300 de Havilland Vampires, 800 MiG-21 variants, Folland Gnat, MiG-27 M, Jaguar, BAE Hawk and Su-30 MKI.

(Left) Indigenously manufact ured Light Combat Aircraft (LCA) "Tejas" is currently under product ion. 40 LCA Mk1 are already under delivery and 83 Mk1A have been ordered; (Right) Nearly 400 indigenous Advanced Light Helicopter "Dhruv" have been built by HAL
The HF-24 Marut was the first indigenous fighter-bomber of which 200 were built in India. ADA-HAL Light Combat Aircraft (LCA) "Tejas" is currently under production. It is a fourth generation plus aircraft for which the IAF has committed to procure over 300. 40 Mk1 are already under delivery and 83 Mk1A have been ordered. LCA Mk2 is under development and its first flight is expected by 2024. A fifth-generation stealth fighter, the Advanced Medium Combat Aircraft (AMCA) is under development with a targeted first flight around 2025. India has finally come of age in its fighter aircraft manufacturing eco-system.
HELICOPTER PRODUCTION
For many decades, HAL license-built over 300 Aerospatiale Alouette III variants called Cheetah, Lancer and Cheetal Variants, Chetak and Chetan. The big success came with the indigenous Advanced Light Helicopter "Dhruv" nearly 400 of which have been built by HAL. The weaponised variant is the "Rudra", with over 70 built. Also in production now is the Light Combat Helicopter, the attack helicopter variant. The Light Utility Helicopter variant is under trial. HAL is also developing an Indian Multi-role Helicopter. Clearly, India may not need to import military helicopters.
OTHER MAJOR AERO-STRUCTURE PROJECTS
Large private industrial houses have entered defence manufacturing in a big way. Tata Aerospace and Defence have been making the AH-64 Apache combat helicopter fuselage and aerostructures for Boeing's CH-47 Chinook helicopters. All C-130Js delivered to customers around the world have major aerostructure components from India where 24 C-130 empennages are produced annually. Sikorsky, a Lockheed Martin company, also relies on Hyderabad-based Tata Advanced System Limited (TASL) as the manufacturing base for its global supply of cabin for the S-92 helicopter. The Tata group is working with GE to manufacture CFM International LEAP engine components in India. Lockheed Martin selected TASL to produce F-16 wings in India. There are many private companies making defence electronics, large aero-components, advanced technology components and sub-systems. Dynamatic Technologies makes assemblies of vertical fins for Su-30 MKI fighters. They are also supplying aero-structures to Airbus for A320 aircraft and the wide-body A330 aircraft. Hyderabad's VEM technologies manufactures centre fuselage for LCA Tejas. Many Indian MSMEs and star-ups are entering defence production.
C295 PLATFORM
The CASA C295 is a medium tactical transport aircraft that was originally designed by the Spanish company CASA in the 1990s as Nurtanio CN-235. CASA joined the European aeronautical group EADS in 2000. The now designated C-295 made its first flight on November 28, 1997, and entered operational service in 2001. The aircraft has a rear ramp door for para-dropping of troops and cargo. All 56 aircraft will be installed with indigenous electronic warfare suites. The C295W is the enhanced performance version with winglets and uprated engines. It is powered by Pratt & Whitney PW127 engines, a part of the PW100 family. The C295 also has an AEW&C variant among many other roles.
Of the 40 C295s that Tata will build, eight will be from semiknocked down kits and another eight from completely knocked down kits. The remaining 24 are to be built with incrementally indigenising the assemblies and sub-assemblies. Before completion of deliveries, a D-level MRO facility will be set up in India which will act as a regional MRO hub for various variants of C295 aircraft. Over 165 C295 variants are in service in 30 countries.
INDIGENOUS TRANSPORT AIRCRAFT PRODUCTION
The Saras is the first Indian multi-purpose civilian aircraft in the light transport aircraft category designed by the National Aerospace Laboratories (NAL). The Saras prototype completed its maiden flight at Bengaluru on May 29, 2004. On March 6, 2009, as the first prototype crashed during a test flight, the programme was put on hold but revived in 2016. The new version is a 14-seater instead of 19 and has many improved features. The IAF has contracted with NAL for the purchase of 15 Saras aircraft and may need 45 more later. NAL is also engaged development of Saras Mk2, a 19-seater version of the airliner.
HAL successfully conducted ground-run and low-speed taxi trials of the made-in-India Hindustan-228 aircraft end August 2021. It is a look-alike of the 19-seater DO-228 aircraft which was so far being manufactured under licence from RUAG for Indian defence forces and European markets.
THE WAY AHEAD
The HAL/NAL Indian Regional Jet is an airliner being designed by NAL and to be by manufactured by HAL. The aircraft is planned to be a turboprop or a jet with a capacity of 80-100 passengers. The 90-seater variant of the aircraft is under design and is targeted to enter service in 2026. Unmanned systems are already being manufactured in the country. The armed forces have recently signed drone contracts with Indian defence companies and start-ups under the fast-track process for acquisition of new-age weapons. India would thus become a global player in all genres of aircraft building.