The Asia-Pacific region accounts for 40 per cent of commercial aviation and Embraer sees a lot of opportunity in this, already having garnered substantial business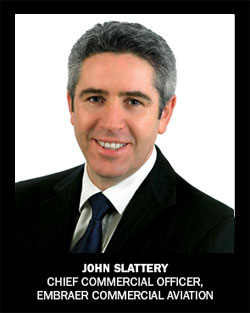 Every ten seconds, there is an Embraer aircraft taking off in some part of the world. In about 45 years of its existence, Embraer has delivered over 2,000 aircraft. Of that Embraer Commercial Aviation has delivered over 1,110 E-Jets to 65 airlines in 45 countries. By the fourth quarter of 2017, Embraer has set itself the goal of achieving 100 operators in 50 countries. The Chief Commercial Officer, Embraer Commercial Aviation, John Slattery, in an interview with SP's Aviation in Singapore, gives details of how the company is going about expanding its footprint across the globe.
SP's Aviation (SP's): Could you give an update on what is happening in India besides Air Costa's expansion plans?
John Slattery (Slattery): When I think about India, the first thing I think about is Air Costa. We have really close engagement and partnership with Air Costa and we are happy with the way it is progressing. Air Costa has announced operational profits and has been having 100 per cent dispatch reliability and we are excited about this news. For us Air Costa is going to be a very successful 'sharp window' to show other operators to look at regional aviation opportunities. We now have a dedicated senior sales executive for India which is a key market not just in Asia-Pacific but globally in the next 20 years and we would like to develop this further. It is my dream that Air Costa will be joined by others to bring in critical mass of E-Jets in India. The market dynamics in India and Brazil are similar, if we look at the geography and the exploding middle class who need to be served with frequency of aircraft, not big enough to be served by the Boeing 737 or the A320. The opening up of new markets, serving secondary and tertiary markets, operators need to look at the right equipment.
SP's: Air Costa has announced pan-India connectivity and also going international as and when the rule 5/20 gets relaxed. Would that mean they would go for a mix of aircraft in the fleet?
Slattery: The question should be directed to Air Costa. Nevertheless, in the near and medium term, we see E-Jets can fly internationally. In Europe, we see a number of airlines operating beyond their national boundaries – Air France, Lufthansa, Polish LoT, etc—are flying secondary and tertiary routes. That is where one should focus and I believe that the yields are going to be ten to 16 per cent higher when they move away from trunk routes which are saturated. It is a low-hanging fruit, ready to be picked.
SP's: We hear that a few airlines in India are planning to launch operations in 2015. Is Embraer on their radar?
Slattery: We have been in dialogue with some start-ups but will not be able to reveal any further. I think it is the right time for start-ups to go in for 'right-size' aircraft and I draw parallel with the success of Azul, Brazilian airline which has networked Brazil with a substantial fleet of Embraer jets.
SP's: Air Costa has plans of starting maintenance repair and operations (MRO). Do you think it would happen soon?
Slattery: We need a critical mass of aircraft to start an MRO operation and we are not there as yet. We are supporting Air Costa from Singapore.
SP's: Embraer has major plans with E-Jets E2. What is the kind of investment that has gone into the programme?
Slattery: It is a major programme for us and we have invested nearly $1.75 billion. Of that nearly $175 million has gone into the development of the wings which, along with other factors, will bring about substantial savings on fuel and improved performance. In 2014, we had 258 E-Jet orders, taking the total orders to 590 as of date. The world is getting wealthier and this is one of the factors driving growth.
It is not certainly re-engining programme. The avionics, fly-bywire everything is new. We are excited about this small wide-body aircraft. One advantage of E2 is that there can be easy transition for pilots from E190s with minimal training. As simulator training is expensive, this quick transition adds to airlines savings.
SP's: What is the outlook for Embraer in the region?
Slattery: The Asia-Pacific region accounts for 40 per cent of commercial aviation and Embraer sees a lot of opportunity in this, already having garnered substantial business.
SP's: What about global performance?
Slattery: Embraer is the market leader in the 70- to 130-seat segment. As of 2014 third quarter deliveries, E-Jets with 61 per cent market share has been dominating the segment, followed by Bombardier at 32 per cent and others at seven per cent. For the same period, E-Jets delivered over 1,100 and has 1,536 firm orders with a backlog of 476. These achievements have all happened in just about ten years of operation and the programme is just starting.