If there is one company that is clearly in the lead globally in the domain of regional jets it is Embraer of Brazil. Beginning with the Embraer ERJ 145 that was the first regional jet developed in the early 1990s, the company has delivered almost 900 regional jets worldwide. In a candid interview, Paulo Cesar Silva, President and CEO, Embraer Commercial, speaks to Jayant Baranwal, Editor-in-Chief, SP's Aviation on the company's plans to forge ahead.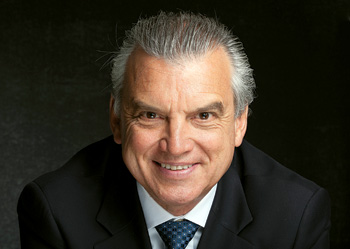 Paulo Cesar Silva
President & CEO, Embraer Comercial Aviation
Smile of Confident Leadership
Jayant Baranwal (JB): Can you briefly trace the history of Embraer and the company's record of manufacturing regional jets with specific reference to the E-Jets family of airliners?
Paulo Cesar Silva (Silva): The first regional jet developed by Embraer was the ERJ 145 family, in the early 1990s. That family achieved great success, starting in North America and spread to other parts of the globe like Europe and China. Even today, this family of aircraft still plays an important role in mature markets, in hub-and-spoke operations, and is helping to build connectivity in emergent markets, like Asia and Africa. Since 1996, almost 900 aircraft of this family were delivered worldwide.
Regarding the E-Jets, when Embraer launched the family, in 1999, we realised there was a gap and an opportunity in the jet market between 70 and 110 seats. So, we introduced a whole new family of aircraft, along with the right-sizing concept, offering a seamless comfort for passengers in this category of aircraft, redefining the entire segment of regional aircraft, even creating a new one, which we call the E-Jets segment. I believe the hallmark of Embraer's success lies in the fact that around 70 airlines in 50 countries are flying that family of aircraft. In my opinion, that is a statement that the market embraces Embraer's vision set more than 15 years ago. Also, the E-Jets have been selected by many of the world's leading aircraft lessors. Since 2004, over 1,100 E-Jets were delivered by us and more than 1,600 units were ordered.
JB: What in your view are the reasons for the phenomenal success of the Embraer E-Jets family of airliners?
Silva: First and foremost, Embraer makes a huge effort to understand the needs of its customers. The reasons lie at the core of our values. In a nutshell, it's about vision and the integration between commercial and product development teams. The commercial aviation industry is very cash intensive and with long cycles, we have to get it right from day one – we need to understand what airlines will want in the future and deliver accordingly. That means we are close to our customer base, put in a lot of effort anticipating their needs, and make sure we deliver a great product and excellent support.
"Compared to the current generation E-Jets, the E2 family will offer opportunities to increase revenue with an even more comfortable cabin and at the same time achieve significant cost reduction"
JB: Kindly explain the essence of 'The rule of 70 to 110' as propagated by the company when the E-Jets were launched over a decade ago. From 70 to 110, the seat pitch now has gone up to 70-130; do you think there will be further upward revision of seats as markets mature? When do you think this will happen?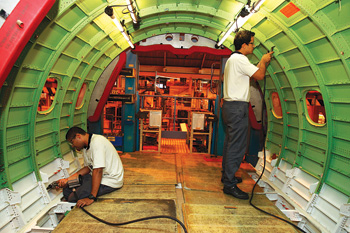 Riveting Work in the Fuselage of E-Jet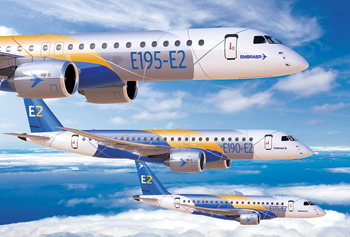 The E2 Family is Changing the Way the World Flies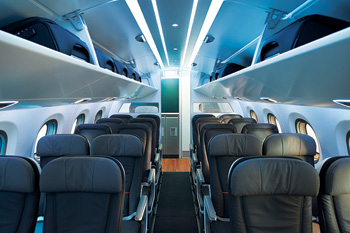 E2 Cabin Designed for Supreme Comfort
Silva: The essence of the rule of 70 to 110 was based upon maximising profits by right-sizing fleet in the untapped (at the time) 70 to 110 seat market. Our vision at the time was that airline industry rules were being re-written. We had addressed four big issues that airlines were facing at that time and some are still facing today.
The need to adequately match capacity demand.
Right-size fleets.
Explore new markets.
Replace ageing fleets.
At that time, airlines had no choice but to use the aircraft available in the market and there was room to further optimisation. Embraer identified the need to 'tap the gap' from 70 to 110 seats, creating then the E-Jets family.
More recently we identified a change in the centre of gravity of narrow body orders shifting upwards in capacity mainly to the lack of efficient product in the 130-seat segment. So, when we defined the E-Jets E2 capacities, it was natural to use the E-Jets platform to tap that gap as well.
JB: In the airline business, there is room for large, regional and small aircraft, and accordingly the aircraft are deployed. Do you believe the deployment of wrong aircraft in regional aviation leads to a bad business sense? Can you share an example of a specific airline which later replaced its aircraft (whichever it may be) with the 'right size' aircraft and became a profitable venture?
Silva: Recent history has shown us that airlines are most profitable when the industry is disciplined with capacity deployment. Let's take the US carriers as an example. Capacity discipline has been around for five years and is one of the underlying reasons behind the great earnings North American carriers have been enjoying recently. As a matter of fact according to IATA (International Air Transport Association), 53 per cent of the airline earnings worldwide in 2015 will come from North American carriers. EJets were a piece of that history in North America, where regional jets play an important role in feeding passengers to hub systems allowing them to connect to world. We also have a strong presence in high density, high frequency markets, called shuttle markets, where frequency and comfort are rewarded with high premiums.
It makes sense to avoid overcapacity, improve unit revenues and earnings and therefore make a great use of the assets — which happens when airplanes have the right-size for the market they serve.
JB: What has been the safety record of the Embraer E-Jets family of airliners since its entry into service 13 years ago?
Silva: Since the first E-Jet unit entered service, in 2004, two E190s were involved in fatal accidents. In both cases the investigation authorities detected NO problems with aircraft design.
JB: What are the salient features of E2 which give them competitive edge over other aircraft? How does the Embraer E-Jets E2 compare with the E-Jets? What are the major upgrades in the new generation aircraft? What is the position of orders for the Embraer E-Jets E2?
Silva: Since we launched the programme, we decided to invest more than a simple re-engine programme. The application of advanced technologies for engines, wings, and avionics distinguishes the E-Jets E2 by providing airlines with maximum efficiency gains and no compromises. This allows us to offer more benefits to our customers, exploring all the advantages of the new engines, new wings and fly-by-wire, but still avoiding the inherent risks of a 100 per cent new design. In addition, we maintain commonality with current E-Jets, which makes the E-Jets E2 appealing to current E-Jets operators. The currently E-Jets E2 backlog has 267 firm orders plus 373 options and purchase rights.
JB: What is the percentage of composites in the construction of the airframe of the E2 Jets?
Silva: E-Jets E2 will continue to be a mostly metallic aircraft with some composites structures such as the wing fuselage fairing, radome and control surfaces (flaps, spoilers, ailerons, rudder and elevator), representing 12 per cent of the total aircraft structural weight. We did several studies and aluminum was clearly the most cost effective low risk alternative for the E-Jets E2, considering the aircraft sizes and mission ranges. For short range/midsize aircraft and a non-disruptive fuel price, composites represent higher risk and higher costs.
JB: What will be status of the first-generation Embraer E-Jets after the arrival on the scene of the E2? Will their production continue and if so for how long?
Silva: The current generation of E-Jets will continue to be delivered at least 2020, when the latest model of the second generation comes into operation, the E175-E2. However, it is difficult to determine a date, as this ultimately depends on market demand. This year, for example, we are getting orders for aircraft of both current as second-generation.
JB: For what reasons do you feel that the E2 family of airliners will provide better return on aircraft assets (ROaA) as compared to the E-Jets family?
Silva: The ROaA measures the amount of annual profit in relation to its value as an asset. Compared to the current generation E-Jets, the E2 family will offer opportunities to increase revenue with an even more comfortable cabin and at the same time achieve significant cost reduction. Those two movements combined leads to higher profits and ultimately to higher return on aircraft asset.
JB: Could you explain how reduced life-cycle cost has been brought about and if you could quantify the same? What measures have been adopted to achieve significant reduction in life-cycle cost in respect of the E2 Jets over the E-Jets?
Silva: The E-Jets E2 will have up to 25 per cent saving in maintenance costs. This will come from the engine's longer time on wing and lower maintenance costs, from the aircraft longer maintenance intervals and lower check costs, and from improved systems for higher reliability and components cost reduction. In terms of the innovations, Embraer is investing in the e-Solutions platform of web-based tools on the FlyEmbraer website, which is a single connecting point for Embraer's customers to find a digital portfolio of services any time, on any device. It is designed to maximise flight duration and avoid unnecessary operating costs and delays, serving as both corrective and preventive maintenance. One example is the eSRM web application based on SRM (structural repair maintenance) approved data to allow E-Jets operators to increase damage assessment reliability, reduce structural repair costs, and to more quickly and conveniently perform repair management and traceability. The AHEAD-PRO (Aircraft Health Analysis and Diagnosis) system analyses and diagnoses aircraft health by continuously monitoring the E-Jets performance, in real time, while increasing the fleet availability. The E2 Jets will also feature onboard maintenance computers. The Honeywell Primus Epic 2 integrated avionics system on the second-generation of E-Jets will be an evolution of the existing Primus Epic on current generation E-Jets. The continuous Embraer effort to provide the best maintenance service drove to a redesigned central maintenance computer (CMC) even more capable, precise and powerful. This CMC includes health-monitoring, which is designed to improve/speed-up troubleshooting. E-Jets E2 will be a more e-enabled aircraft for maintenance, flight operations and passenger entertainment.
JB: Please give an example of a start-up airline which exclusively flies your aircraft and has been doing financially well.
Silva: Since the E-Jets entered into service, in 2004, many airlines discovered the potential of the segment from 70 to 130 seats. Azul, in Brazil, started their operations with two E190s, back in late 2008, and now has more than 80 E-Jets in its fleet, and is now one of the top three in the country. Another good example is Fuji Dream Airlines in Japan. The airline started in 2009 with two E170s and nowadays operates an all E-Jets fleet with eight aircraft, growing very carefully and managing the capacity. JetBlue from US uses the E190 to explore new markets with lower risk and greater profitability. This is a good example of how the E-Jets helps airlines, right-size and complement larger narrow bodies, as JetBlue does. About 45 per cent of E-Jets fleet is deployed in markets complementing or replacing larger aircraft.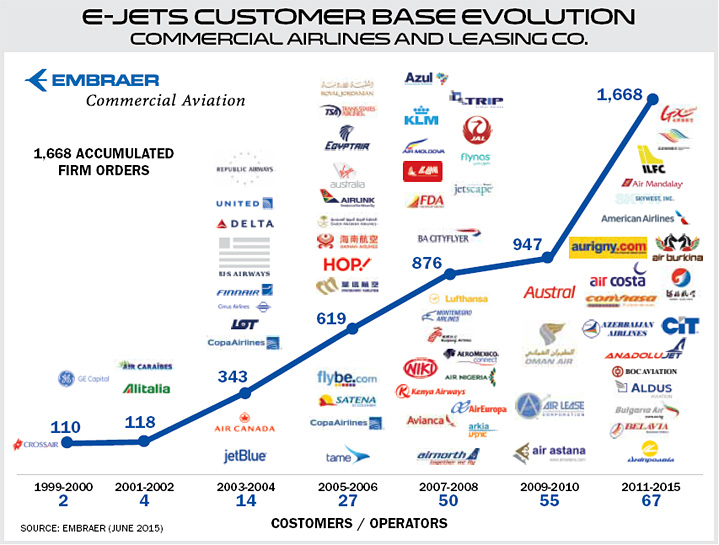 JB: In May 2011, Embraer announced that it was considering building a larger airliner than the E-jets, with fiveabreast seating. What is the current status of that plan?
Silva: At that time, we didn't see a sound business case to launch a larger-capacity clean-sheet aircraft. At this stage, we are committed to maintain leadership in segment of jet up to 130-seats. Our strategy is to concentrate in our core market and make sure we have the best products in the segment we are in. In this regard, the second-generation of E-Jets will be a significant step in Embraer's commitment to continuously invest in this line of commercial jets.
JB: Embraer has so far focused largely on the regional aviation market. Do you have any plans to foray into the mainline commercial aviation market and compete with the major global players such as Airbus and Boeing?
Silva: We assess the market all the time, looking out for future trends, but, as I answered in the previous question, we don't see, at this moment, any sound business case to build a larger aircraft.
JB: What is your perception of the global commercial aviation market over the next two decades and the prospects for investors in the highly volatile business environment that overshadows the airline industry?
Silva: Specifically related with our segment, from 70 to 130-seats, we project deliveries of 6,350 jets in the next two decades. The 70- to 130-seat jet world fleet-in-service will increase from the current 2,590 aircraft to 6,490 by 2034, the fastest growing among all aircraft seat segments. Replacement of ageing aircraft will represent 39 per cent of new deliveries and 61 per cent will represent market growth. One of the drivers for this growth will be the capacity discipline strategy.
We've seen how too much capacity and a strategy to capture more market share can, in some cases, be a tradeoff for weak yields and low return on assets. The airline business is very capital intensive which makes it all the more imperative to have a business model that is sustainable since short-term strategies may carry undue risk. We welcome the emerging trend among airlines to focus on generating return on shareholder- invested capital as their main goal. It's one of the reasons why we continue to see new opportunities for the 70- to 130-seat jet segment. Across the globe, there is a continuous need for more network connectivity and frequency: the tremendous traffic growth in Asia, greater disposable income among a rising middle class in Africa and Latin America, continued strength in the United States and economic recovery in Europe. Planning for the future is always a tough challenge. Not only do airlines need to estimate their capacity requirements far in advance, they must also ensure that their investment in new equipment earns an acceptable return on those assets. Understanding how 70- to 130-seat aircraft influence that return is critical, especially as we enter a period of new growth.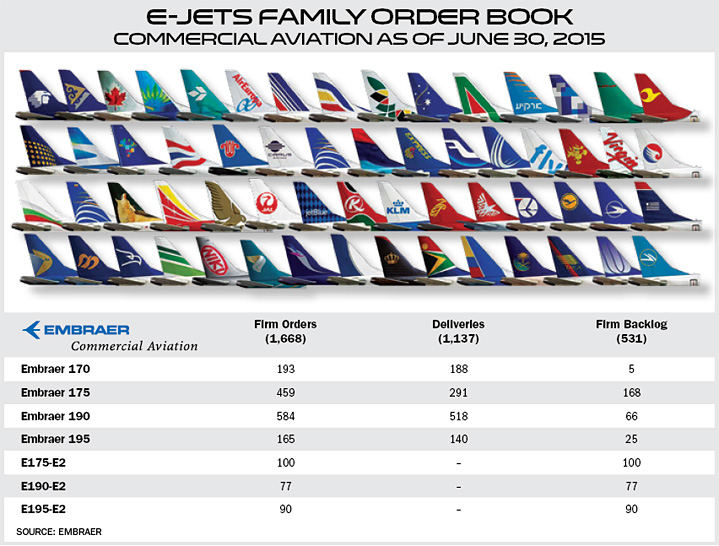 JB: The 'New Metrics of Success' begins with Warren Buffet's statement on how investors have lost money in airlines, yet Embraer is confident that airlines can make money. Could you substantiate how?
Silva: First of all, the airline business is no longer a hobby, it's a complex, sensitive and cash intensive business which sells the most perishable good there is – an airline seat. Mr. Buffett's claim is due to the fact that few companies can get it right, and it is hard to keep a good streak going. For many years, the industry's return on invested capital has been lower than cost of capital, therefore eroding shareholder value. For the first time in 2015, this has changed as some airlines started to pay more attention and have more concrete actions towards a better return on invested capital, simply being profitable was no longer enough, and airlines had to create shareholder value, as any other business. Our hope is that as airlines improve return in invested capital by managing capacity correctly, avoiding overcapacity and low profitability it brings, airline investors will achieve superior returns.
JB: You have advocated a switch in the investment criteria from a cost per seat perspective to profit per seat, could you explain this in layman's terms?
Silva: We advocate a wider perspective – look at higher profits, which is a combination of higher revenues and lower costs. Look at both costs and profits, not only costs. When there's overcapacity, there's a limit for cost savings, but no limit to how low fares can go, therefore profits can suffer.
JB: Can this 'Metrics' be deployed in mature Western European markets where there is substantial traffic density and higher capacity requirements? If yes, please substantiate with examples?
Silva: The concept works very well in the US, and there is no reason not to work in Europe. It works in Brazil with Azul, and there is no reason not to work in other emerging markets. It is a matter of business strategy, focused on creating shareholder value – it works in any business. The E-Jets operate in high and low density markets, complementing, adjusting or even exploring new markets. See the cases of KLM Cityhopper and BA CityFlyer, in Europe, two airlines that explore the most of its geographical locations of the airports were they operates, the infrastructure available and their fleets (E-Jets) to bring convenience and connectivity for passengers and generate value to shareholders.
JB: How can this 'Metrics' beat the economics of a turboprop on a short to medium haul sector, particularly in emerging economies such as India where the passenger traffic from smaller towns is yet to be developed?
Silva: Jets have a superior revenue potential than turboprops. As emerging economies develops there is a trend for more competition among airlines and a desire for more convenience by passengers. The clear preference for jets against turboprops generally commands higher revenues and profits.
JB: You have mentioned that special attention has been given to leasing company requirements for a very liquid asset. Could you explain the same?
Silva: We have four pillars of the liquidity of the E-Jets:
Flexibility – different business models.
Global reach and customer base – around 70 airlines some 50 countries in all continents.
Market confidence – support from the leasing/financial community.
Sustainability – customer support structure supporting the fleet (more than 45 years of experience).
Some examples that reflect this philosophy in the product; minimising transition costs; are: predefined structural and electrical provisions for the most common options, modular cabin monuments and a first-class staggered-seating option that uses the same bins and seat tracks as the economy class.
JB: In an Embraer aircraft where there is no middle seat, airlines cannot really unbundle seat selection to make revenue as passengers are comfortable sitting anywhere (mostly). Do you think this could mean 'no additional revenue' from seat selection option when we are talking of increasing profit per seat?
Silva: It is quite the opposite! With the E-Jets you can introduce the economy plus, which is a trend in many airlines, therefore being able to charge a premium for these seats, offering more space and amenities for passengers – being an excellent source of ancillary revenues.
JB: Who are your competitors in the regional aviation segment of the global commercial aviation market?
Silva: Embraer is the leader in its segment, with more than 60 per cent market share by deliveries, and with the E-Jets E2 we expect to maintain similar levels. Our objective is to offer the best products and services in the marketplace, assuring our continued leadership in the 70- to 130-seats jet market. The closest competitors to the E175-E2 in the 70- to 90-seats market are the CRJ700/900, MRJ90, ATR 72 and Q400. The closest competitors to the E190-E2 and E195-E2 in the 90- to 130-seat market are the CS100, SSJ100, ARJ21 and CRJ1000.
JB: What is the role of 'Ancillary Revenues' in the currently prevailing market dynamics of low-cost carriers?
Silva: Ancillary revenues have been a strong driver for airlines to growth, even outstripping scheduled revenues. However, the segment has slowed significantly since most everything that can be charged extra for is already being monetised.
To build customer loyalty there are appropriate strategies of bundling ancillaries, offering packages according to the passenger or the market profile. Airlines are building smarter revenue strategies, and despite the growth in ancillary revenues, many of them recognise that ticket revenue still is the most important source of revenue.