While we wait and see how the Trump presidency will play out in the months to come, the NBAA-BACE in Orlando was a 'huge success' by various measures, according to the NBAA President, Ed Bolen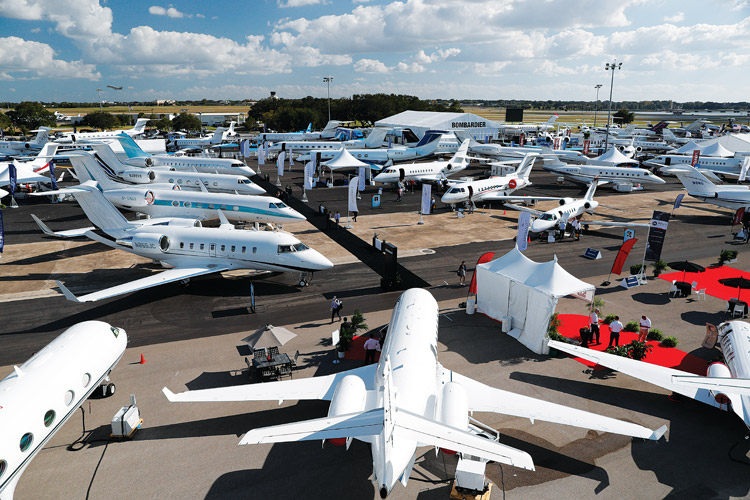 It was the last week of the frenetic US presidential campaign, a campaign that everyone wanted to end at the earliest, particularly those in the battleground state of Florida. It was during this last-ditch week, both Donald Trump (who eventually won Florida by a squeaky margin and the US presidency) and Hillary Clinton were in Florida campaigning hard. One could feel the buzz at the 2016 Business Aviation Convention and Exhibition of the National Business Aviation Association (NBAA). The elections were on everyone's mind and the business aviation community was kind of divided. Aptly, authors and political analysts James Carville and Mary Matalin provided insights into the presidential election at the convention.
Now that Trump has won, the dust is expected to settle down soon and the business aviation community is hopeful that a Trump presidency could help the sector as he himself owns a fleet of aircraft (four now, at one time he owned 17 planes) – Boeing 757-200, a Cessna Citation X and two Sikorsky S-76B helicopters. Though there are some sceptics who think otherwise. After Trump won the election, Robert Stallard, analyst at Vertical Research Partners, said: "Bizjet OEMs have long blamed uncertainty as one of the issues that…has been holding down new bizjet demand, and the uncertainty level has arguably moved up another notch."
While we wait and see how the Trump presidency is going to play out, the NBAA-BACE in Orlando from November 1 to 3, 2016, was a 'success, by a host of measures', according to the event organisers. The event was also a tribute to industry legends Bob Hoover and Arnold Palmer.
Resounding success
"At the convention centre and the airport alike, exhibitors and attendees have told us that this year's NBAA-BACE was a resounding success," said NBAA President and CEO Ed Bolen. "The activity level was high, and the enthusiasm was strong. Equally important, the show provided a reminder of the industry's size and significance in the US and around the world."
Bolen pointed to several additional noteworthy attributes to this year's convention, which were likewise illustrative of its success. The sold-out static display of aircraft featured 114 aircraft at Orlando Executive Airport (ORL) and the largest-ever indoor static display at the convention centre, showcasing nine fixed-wing airplanes and six helicopters.
All three days were packed with well-attended education sessions, including several held at NBAA's Innovation Zone, in which experts discussed lithium-battery concerns for aviators, considerations related to the emergence of drones, and other timely topics. The next year's convention in Las Vegas, Nevada, will be from October 10 to 12.
Dassault Unveils "Falcon Sphere II" Integrated EFB Solution
Dassault Aviation introduced a new integrated Electronic Flight Bag (EFB) solution that will greatly reduce the time and effort necessary to prepare and manage business jet missions while moving operators ever-closer to a paperless cockpit. Known as Falcon Sphere II, consists of a Dassault-designed second-generation software suite embedded in a lightweight ultra-thin electronic portable display.
Falcon Sphere II comes with a vast array of new apps, including Mission Folder, Aircraft ID, Falcon Flight Manuals, Weight and Balance Module, Electronic Performance for Cruise Computations, Falcon Performance for Take-off and Landing Operations, along with interactive charts and weather services. "Falcon Sphere II offers a fully customised integrated EFB solution that enables flight crews to minimise workload and gain access to data that is automatically updated on a continuous basis, optimising paperless cockpit operations," said Frédéric Leboeuf, Vice President, Falcon Operational Support. "It will yield a substantial time and cost savings and a considerable improvement in operating safety and efficiency while providing an innovative and unique user experience." It is being offered as an option on the new Falcon 8X trijet as well as Falcon 900LX and 2000 Series aircraft.
Embraer unveils new version of Legacy 650
Embraer Executive Jets unveiled a new version of its Legacy 650 large business jet, the Legacy 650E. Featuring automation and technology updates, the aircraft, which already has exceptional operational costs and the largest cabin in its class, now carries an unprecedented 10-year or 10,000-flight hour warranty, which is the longest in the business jet industry. The entry into service is scheduled for 2017 at the list price of $25.9 million. "As a testament to our confidence in the Legacy 650's heritage of robustness and near-perfect dispatch reliability, this new aircraft carries the longest warranty available in the business jet industry," said Marco Tulio Pellegrini, President & CEO, Embraer Executive Jets. "Whether for commercial or private operations, there is no large-cabin aircraft that is more economical, durable and comfortable. This is truly a well-rounded value proposition."
DEBUT: Super Versatile Pilatus PC-24
Phenom 100EV makes global debut
The Embraer Phenom 100 EV also made its global debut with a special livery, representing technological advancements. The Phenom 100 EV, which has already logged over 100 hours in its flight test campaign, is an evolution of the entry-level Phenom 100 business jet, featuring a new avionics suite with the Prodigy Touch flight deck, based on the Garmin G3000, and modified Pratt & Whitney Canada PW617F1-E engines. The new version offers more speed with superior hot-and-high performance. With even greater performance and operational capabilities, this aircraft preserves its recognition for low operating and maintenance costs. The Phenom 100 EV is scheduled to enter service in the first half of 2017. As of today, close to 350 Phenom 100 jets are operating in 37 countries.
Cessna bags order for three Citation X+ aircraft
Cessna announced it had received an order for three Citation X+ midsize business jets from Schweitzer Engineering Laboratories (SEL) during the show. SEL has owned and operated a fleet of aircraft exclusively comprised of Citation business jets since 1999, purchasing its first Citation X in 2002. "The X+ provides a total cost of ownership that makes good business sense," said Dr. Edmund O. Schweitzer III, President and Chairman of the Board, Schweitzer Engineering Laboratories.
Cessna showcases cabin
Cessna debuted a full-scale Citation Hemisphere cabin at the show. The company also announced its large-cabin business jet that will be powered by Safran Aircraft Engine's latest-generation Silvercrest engine, operated with Honeywell Aerospace's advanced Primus Epic cockpit technologies and integrated with full fly-by-wire flight control system incorporating components provided by Thales. "For the first time in more than 20 years, the large-cabin segment will see a clean-sheet design aircraft with the Citation Hemisphere," said Scott Ernest, Textron Aviation President and CEO.
ACJ offers turnkey cabin outfitting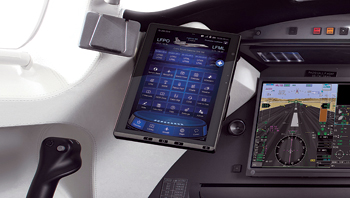 INNOVATIVE: Dassault Unveils "Falcon Sphere II" Integrated
EFB Solution
Airbus Corporate Jets has won a new commitment for an ACJ-320neo from an undisclosed customer. The deal includes turnkey cabin outfitting – a first for the new ACJneo Family. Airbus' ACJ319neo and ACJ320neo feature new-generation engines, sharklets and a collection of other improvements to deliver most of the benefits of an all-new design. These include better range and a 16 per cent fuel saving, combined with the best corporate jet cabin in the sky. Turnkey cabin-outfittings, managed by Airbus on behalf of customers, deliver peace of mind for aircraft performance, as well as the interior. Airbus leads the top-end of the market in turnkeys, having successfully completed more than 70 with a variety of cabin-outfitters. The ACJ320neo can fly 25 passengers 6,000 nm (11,400 km) or more than 13 hours, while the ACJ319neo can transport eight passengers 6,750 nm (12,500 km) or more than 15 hours.
Honda expands Sales to Middle Americas
Honda Aircraft Company announced that it has expanded sales of the HondaJet to Middle Americas with the appointment of SYI Aviation, based in Panama City, as the newest HondaJet dealer. SYI Aviation will provide sales, service and support for the world's most advanced light jet throughout Central America, the Caribbean and South America, including Ecuador, Colombia, Venezuela, Guyana, Suriname and French Guiana.
"Our well-received expansion in Brazil last year further solidified the Middle America and South American regions as potential growth markets, and for that reason we appointed SYI Aviation as our HondaJet dealer. With its strong focus on outstanding quality and customer service, SYI will be a valuable addition to the HondaJet dealer network," said Honda Aircraft President and CEO Michimasa Fujino.
Bombardier Global Aircraft Equipped with Ka-band Connectivity
Bombardier announced that it has begun deliveries of the first new Global aircraft equipped with the fastest in-flight Internet access in business aviation. Bombardier's Ka-band system, powered by Honeywell JetWave Satcom system and featuring Inmarsat's worldwide JetConneX broadband solution, is the only truly high-speed Wi-Fi network in the industry today to provide seamless onboard coverage from a single operator across the globe. Bombardier's Ka-band system allows Global aircraft customers to browse the Internet, stream online media or stage a videoconference as quickly and effortlessly as they would in the office or at home.
Boeing Business Jets Unveils BBJ MAX 7
Boeing Business Jets unveiled the BBJ MAX 7, the newest addition to the BBJ fleet. The BBJ MAX 7 has a range of up to 7,000 nautical miles, opening up key city pairs between Asia, the Middle East and the United States. The BBJ MAX 7 is longer than the original BBJ, providing more space in the cabin while also creating additional volume for cargo in the lower lobe. Because of its new, more fuel-efficient LEAP-1B engines, the BBJ MAX 7 has reduced fuel burn and emissions and requires less cargo volume be reserved for auxiliary fuel tanks, regardless of mission length.
"We are thrilled to introduce the BBJ MAX 7 to the market," said David Longridge, President, Boeing Business Jets. "We know customers are going to love this airplane. In terms of range, cabin space, cargo volume and operating economics, the BBJ MAX 7 cannot be beat."
Pilatus PC-24 first appearance in US
Pilatus brought it's "super versatile" PC-24 to the show, the first public display of the twinjet in the US. The aircraft has undergone testing, ncluding extreme heat testing in Phoenix, Arizona; hot and high testing in Angel Fire, New Mexico; water spray testing in Cranfield, UK; and ice testing in Iqualuit, Canada. At this point, the aerodynamic design has been finalised and the jet is on track for EASA and FAA certification in the third quarter of next year.
Gulfstream displays G500 cabin
The Savannah-based airframer is developing two new models, the G500 to replace the outgoing G450, and G600, which will sit slightly below its top of the range G650 with similar performance. Both have brand new cockpits with 'active' side sticks and touch screen control panels. Gulfstream showed a cabin mock-up of the 19-seat G500 and emphasised the aircraft's flexibility of cabin configuration. The G500 is well into its flight testing with type certification due in 2017 and entry into service later in the year. Gulfstream also announced that it's G280 super mid-size jet has recently been testing for approval at London City Airport, with its steep approach and short take-off.
Since it is the world's largest civil aviation trade show, the OEMs were at their very best at the Mecca of business aviation with several launches of products and solutions.