Johnnie Johnson had a relentless desire to fight, a cool mind, an incredible eye and impeccable judgement once he got behind an enemy aircraft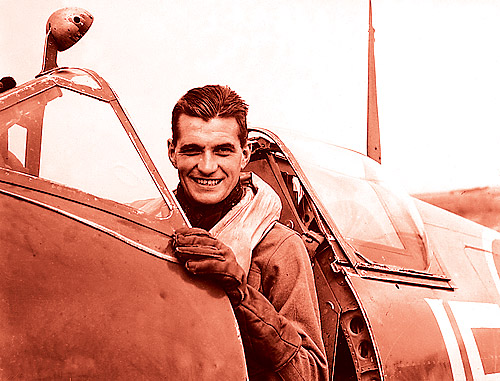 There is often just a hair's breadth between success and failure or between victory and defeat. In 1940, had Johnnie Johnson taken his Station Commander's suggestion of coping with a troublesome injury by switching to instructional flying, the Royal Air Force (RAF) would have got a good instructor. Instead, Johnson opted for an operation to reset his collarbone. As a result he was soon fit enough to resume combat flying against the German Luftwaffe and went on to become a fighter ace.
Through 515 combat sorties flown, he notched an amazing tally of 34 enemy aircraft shot down, as well as seven shared victories, three shared (probable), ten damaged, three shared damaged and one destroyed on the ground. This score was more than that of any other Allied pilot. And what is remarkable is that practically all these victories were against single-seat fighters, easily the most daunting opponents. He himself was never shot down.
Born on March 9, 1915, in Leicestershire, James Edgar "Johnnie" Johnson developed a keen interest in aviation from his youth. His other passion was rabbit hunting, a sport he credited with his emergence as a deadly shot on fighter aircraft later. On coming of age, he applied to join the Auxiliary Air Force (AAF) but his humble family background and a rugby injury kept him out. Undeterred, he started taking flying lessons at his own expense. However, by early 1939, war clouds began gathering over Europe. As a shortage of pilots began to bite, the RAF had no choice but to relax its strict medical standards and some of its snobbishness. Johnson eventually began training at 22 Elementary Flying Training School, Cambridge, in December 1939. He became a Pilot Officer in 1940. However, the injury which had seemed under control, returned to haunt him under the stress of flying the Spitfire. The last straw came when he stalled and crashed his plane and severely wrenched his shoulders. Unbearable pain kept him out of the Battle of France and the Battle of Britain later that year. That's when Johnson's mates began to suspect him of the deadly defect of "lack of moral fibre", feigning pain because he was scared of losing his life in combat.
The Station Commander probably assumed Johnson would take the easy way out and withdraw from the front for "safe" instructional flying. Instead, Johnson's operation succeeded and he was soon fit to resume combat flying. He never looked back.
World War II was now in full swing and Johnson took part in some of the most famous aerial campaigns of the period, including the Dieppe Raid, the Combined Bomber Offensive, the Battle of Normandy, Operation Market Garden, the Battle of the Bulge, and the Western Allied invasion of Germany. His skill in gunning down lively rabbits made him a natural at the art of deflection shooting, essential to hit a violently manoeuvring enemy aircraft.
In February 1941, Johnnie Johnson's squadron became part of the Tangmere Wing which was under the leadership of the famous Douglas Bader. Bader had two artificial legs; but that didn't stop him from being an excellent fighter pilot and he immediately took Johnson under his wing. In June that year, their formation was suddenly attacked by deadly German Messerschmitt 109 fighters. Many RAF planes were shot down, but Johnson found himself alone behind a Messerschmitt 109. He seized his chance and fired an accurate burst, hitting the German plane. It was the first of many aerial victories. By September he had increased his tally to six and became an official flying ace and recipient of the Distinguished Flying Cross.
In July 1942, Johnson assumed command of No. 610 Squadron and of No. 144 Wing (Canadians) based at RAF Kenley in December. This Wing was equipped with the new and improved Spitfire IX and Wing Commander Johnson's initials were painted on his machine. The Canadians had yearned for an aggressive leader and they found one in Johnson. Indeed he had a relentless desire to fight, a cool mind, an incredible eye and impeccable judgement once he got behind an enemy aircraft. He decided to abandon the defensive and ineffective line-astern tactics and switch to the finger-four formation. This enhanced combat safety against enemy pilots and enabled quicker surprise attacks as well. Another important decision was to avoid ground attack missions whenever possible because they represented a waste of highly trained fighter pilots and took a heavy toll of them. In April 1944, Johnson became the highest scoring ace of the War. By the time World War II ended in May 1945, his individual score had reached 38. As he modestly explained, "Great pilots are made not born. A man may possess good eyesight, sensitive hands, and perfect coordination, but the end result is only fashioned by steady coaching, much practice, and experience."
Johnnie Johnson again saw action during the Korean War, flying the North American F-86 Sabre and the Lockheed F-80 Shooting Star. He retired as Air Vice Marshal in 1966 and died of cancer at the age of 85 on January 30, 2001. This was the glowing tribute paid by Air Chief Marshal Sir Christopher Foxley-Norris, Chairman of the Battle of Britain Fighter Association: "Johnnie Johnson's performance was even more creditable because he largely missed the Battle of Britain and won his 'kills' in fighter-tofighter combat rather than against heavy bombers. If they numbered less than the German fighter aces this was because the Germans included their hits against the less-skilled Russians. Johnnie's kills were hard-earned, but then Johnnie had the two skills needed to be successful: he was a good shot and a good pilot."