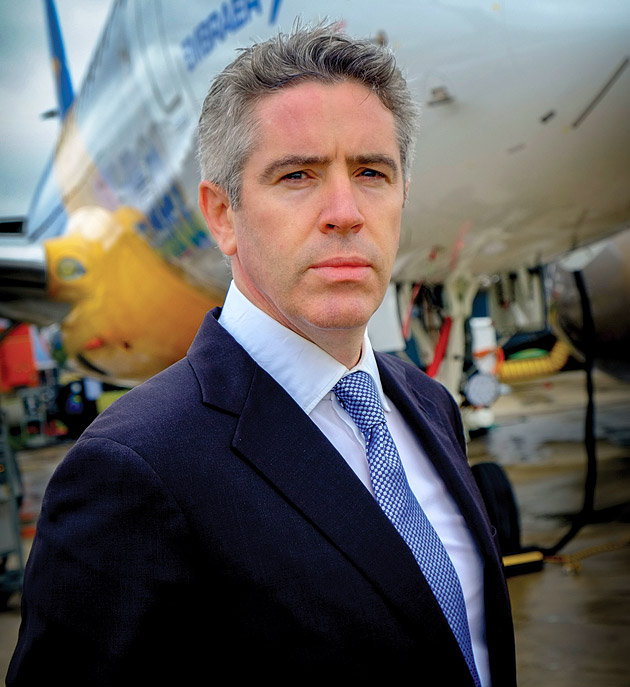 John Slattery, President & CEO Embraer Commercial
Jayant Baranwal (JB): As President & CEO, what do you think is the most difficult challenging task you need to deal with as you head one of the most progressive regional aircraft manufacturers in the world?
John Slattery (Slattery): These are exciting times for Embraer – the development of our E-Jets E2 jets is on time, on budget and on schedule for their test programme and the first of the E2s, the E190-E2, is due to be delivered next year, in 2018. The most recent updates of the test programme are that the fourth E190-E2 has made its first flight, and the first E195-E2 prototype performed the first flight by the end of March.
What is key for us now is to keep our momentum and maintain our leadership position in the 70-130 plus seat segment. To date we have delivered more than 1,300 current generation E-Jets to 70 airlines in 50 countries. We also have 690 commitments for E-Jets E2, which we are expecting to grow in the near future.
JB: According to you, what is the most important feature unique to offerings of Embraer Commercial Aviation making it different to the competitions?
Slattery: Over the years, we have demonstrated that we are innovative! For example, we were quick to spot and seize the gap in the 70-110 seats market 17 years ago, when we started the E-Jets programme. We found a niche where our aircraft would add value to airlines. Since then, other manufacturers have also joined this space.
Our aircraft are known for their performance and reliability — E-Jets have an average service reliability of 99.5 per cent. Last year, Fuji Dream Airlines in Japan achieved a 12-month service reliability average of 99.83 per cent — that is the highest among all E170/E175 operators. Air Costa's 2016 average service reliability was 99.45 per cent.
The E-Jets E2s will feature improved capacity, range, maintenance costs and fuel efficiency, which will add value to operators. Embraer also collaborates very closely with its customers, keeping our ears tuned to what the customer wants. Our can-do attitude have enabled us to attain very high customer satisfaction ratings.
"WHAT IS KEY FOR US NOW IS TO KEEP OUR MOMENTUM AND MAINTAIN OUR LEADERSHIP POSITION IN THE 70-130 PLUS SEAT SEGMENT. TO DATE WE HAVE DELIVERED MORE THAN 1,300 CURRENT GENERATION E-JETS TO 70 AIRLINES IN 50 COUNTRIES."
JB: What is the market share of Embraer Commercial in Americas, Europe, Middle East, Central Asia, South East Asia, Australia/Pacific Rim and China?
Slattery: Embraer is the third largest commercial aircraft manufacturer. Globally it has a market share (in terms of delivery) of more than 60 per cent in the 70/130-seat segment. In China, for instance, Embraer holds more than 80 per cent of market share in the 100-seat jet market.
JB: Which is the most important market for Embraer Commercial today in the world as of today? And which is the most promising market in the world for coming years?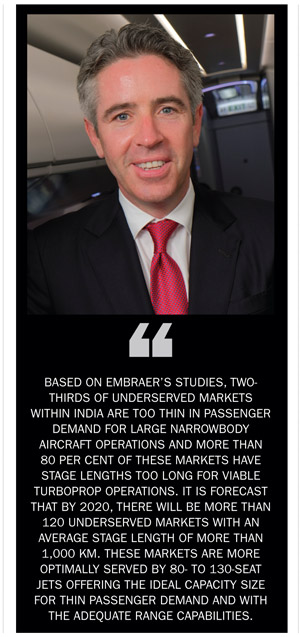 Slattery: We are a global organisation today. We have 100 commercial jet customers in over 50 countries around the world and we have a core objective of continually broadening our franchise footprint in terms of operator base and geography. We have very large markets in the United States and in Europe, but I would say that one area we will have a lot of focus on in 2017 and 2018 is Asia-Pacific, including China.
It is a market that we are spending a lot of time understanding the customer requirements in that region, and are investing a lot of human capital resources into our regional offices in both Beijing and Singapore in addition to local onsite warehouse and logistics support. I'm excited about the opportunities for Embraer in Asia-Pacific. The insightful China regional aviation policy issued by the CAAC looks to develop aviation links to the secondary and tertiary cosmopolitan areas. There are similar initiatives in India, and are part of the government's increasing focus on the proven benefits of regional aviation.
Thanks to the operating cost per seat and per trip of the E195-E2 and its enlarged size (three extra rows), I believe we now have a very competitive proposition to present to the LCCs. As the LCCs continue to develop, we expect they are going to look for new markets to serve. As this model demands continued capacity growth, I believe these airlines will now look to serve secondary and tertiary cosmopolitan areas that can be done more profitable and sustainably by right-sizing the aircraft.
With the E195-E2, which is a profit hunter, we have changed the paradigm of operating costs that exists and coupled with the extended range and operating performance of the aircraft, therefore, I believe we now have a very attractive offering for the LCCs.
Based on Embraer's studies, two-thirds of underserved markets within India are too thin in passenger demand for large narrowbody aircraft operations and more than 80 per cent of these markets have stage lengths too long for viable turboprop operations. It is forecast that by 2020, there will be more than 120 underserved markets with an average stage length of more than 1,000 km. These markets are more optimally served by 80- to 130-seat jets offering the ideal capacity size for thin passenger demand and with the adequate range capabilities.
"WE HAVE VERY LARGE MARKETS IN THE US AND IN EUROPE, BUT I WOULD SAY THAT ONE AREA WE WILL HAVE A LOT OF FOCUS ON IN 2017 AND 2018 IS ASIA-PACIFIC, INCLUDING CHINA."
JB: Can you elaborate a little on the cutting-edge technologies Embraer Commercial must be working towards, relentlessly?
Slattery: The E-Jets E2 aircraft will feature new aerodynamically advanced, high-aspect ratio, distinctively shaped wings, improved systems and avionics, including fourth-generation full fly-bywire flight controls, and Pratt & Whitney's PurePower Geared Turbofan high bypass ratio engines (PW1700G on the E175-E2; PW1900G on the E190-E2 and E195-E2). All these improvements will result in a reduction in fuel consumption by over 24 per cent and more than 20 per cent lower maintenance costs, improved emissions, noise and increased aircraft availability.
JB: Can you elaborate on the plans/initiatives on the part of Embraer Commercial addressing the need of Greener Skies?
Slattery: Embraer and Boeing have been working on the Boeing ecoDemonstator programme. The programme is designed to test technologies to improve airplane environmental performance and accelerate their introduction into the marketplace.
An Embraer E170 served as the flying testbed and features advanced environmental technologies that will underwent operational testing in Brazil. The ecoDemonstrator flights has been testing test several technologies designed to reduce carbon emissions, fuel use and noise.
Also, Embraer has been working with industry partners and airlines for years to advance biofuel production. In March 2016, KLM Royal Dutch Airlines launched a series of around 80 biofuel flights from Oslo to Amsterdam operated with an Embraer 190. On these flights, Embraer had been conducting measurements to gauge the efficiency of biofuel in comparison with kerosene.
JB: According to you, what kind of economy of the cost of operations E-Jets offer to its operators?
Slattery: The E-Jets E2 has a very high commonality (A/A/A) with the current E-Jets and a transition training of less than three days, without the need for a full flight simulator or highlevel flight training device is required.
The E-Jets E2 aircraft will feature new aerodynamically advanced, high-aspect ratio, distinctively shaped wings, improved systems and avionics, including fourth-generation full fly-by-wire flight controls, and Pratt & Whitney's PurePower Geared Turbofan high bypass ratio engines (PW1700G on the E175-E2; PW1900G on the E190-E2 and E195-E2). All these improvements will result in a reduction in fuel consumption by over 24 per cent, 25 per cent lower maintenance costs, improved emissions, noise and increased aircraft availability.
The E-Jets E2 is capable of achieving similar costs per seat of larger reengined narrowbody aircraft, with significantly lower costs per trip, thus creating new opportunities for lower risk development of new markets and fleet right-sizing by airlines.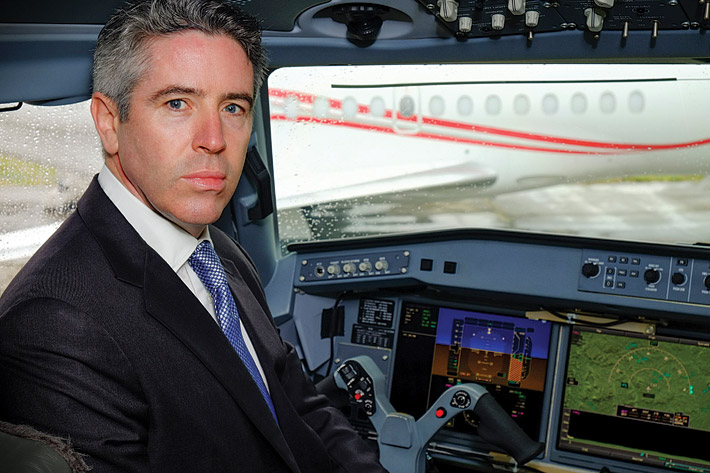 SPEARHEADING GROWTH: John Slattery brings a host of pragamatic plans and strategy for the company
JB: And what kind of comforts being offered to the passengers, the enduser of the E-Jets?
Slattery: With no middle seats, E-Jets family has given each passenger an unprecedented level of personal space, setting a benchmark. E-Jets E2 brings an evolution of the benchmark. Increased space for passengers, new levels of connectivity and ingenious seat configuration options (like staggered seats in business class) delivers an experience that is more comfortable and more memorable. The E-Jets E2 have been designed in partnership with award-winning design firm PriestmanGoode, with its interior cabin design recognised for Best Interior by the Crystal Cabin Award.
JB: Survival, Sustenance and Growth — these factors remain more or less challenging for the airlines industry today. Do you agree on this? Where do you see the industry heading through the prism of these crucial factors?
Slattery: In an environment of oil price uncertainty, airlines are looking for more efficient aircraft as well as a more environmental-friendly technologies. The E2s are the most efficient platform with an optimised range to open up new routes and revenue streams. The E-Jets E2s are built on the proven efficiencies of the E-Jets family and have the lowest operational costs in the segment. The E195-E2, for example, has 24 per cent better fuel consumption per seat compared to the E195-E1.
"THE INSIGHTFUL CHINA REGIONAL AVIATION POLICY ISSUED BY THE CAC LOOKS TO DEVELOP AVIATION LINKS TO THE SECONDARY AND TERTIARY COSMOPOLITAN AREAS. THERE ARE SIMILAR INITIATIVES IN INDIA, AND ARE PART OF THE GOVERNMENT'S INCREASING FOCUS ON THE PROVEN BENEFITS OF REGIONAL AVIATION."
JB: As you know the airline industry is showing a steady decline in passenger fares and yields are forecast to be lower through 2017; how will this affect the demand of smallercapacity aircraft such as E-Jets according to you?
Slattery: Many airlines are growing but few are delivering the appropriate return to shareholders. They need a new tool that allows them to uncover new opportunities to achieve higher profitability while keeping competitive unit cost. That is what the E195-E2 was designed for. It is a Profit Hunter!
Embraer has applied the lessons learned from over 17 million flight hours of experience we have with current generation, which resulted in 20 per cent lower trip cost than larger new generation NB (MAX8 and A320neo) with similar seat cost. That means much less risk and a lot of opportunity to develop new markets with better yields. It has 10 per cent more seats than the direct competitor (CS100) and is still able to keep the same trip cost. The E195-E2 will be the ideal aircraft for regional business growth as well as lowcost business plans and complementing existing mainline fleets.