Motivated by patriotism and love of flying, Nancy proposed that if women could not be employed on active flying, they could ferry new aircraft from factories to military bases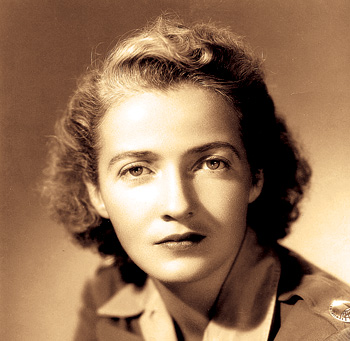 "Nice young ladies don't do such things!" retorted Nancy Harkness's mother when the girl begged her parents for flying lessons. A visiting barnstormer had taken the twelve-yearold daughter of a wealthy physician for a joyride and thereafter she wanted nothing more from life than to fly. Nancy persisted till her parents rather reluctantly, sent her to flight school. She was the first pupil of an 18-year-old who barely knew to fly himself. Yet she completed her first solo after just four hours and thirty minutes of flying. And in November 1930, she was awarded her private pilot's licence when she was only sixteen. She promptly leapt off on a trip with two passengers, only to encounter bad weather and severe technical trouble. That is when she realised that she could not even read the compass. Somehow she brought the aircraft down without damage or injury. The incident had a salutary effect on Nancy as for the rest of her career, she was a cautious pilot, preparing meticulously for each flight and never taking things for granted. She earned pocket money conveying passengers to various surrounding destinations or by offering joyrides. She gained her commercial pilot's licence in 1933.
Nancy had been born in Houghton, Michigan, on Valentine's Day 1914 and by a happy coincidence, she married Robert Love of the United States Air Corps Reserve in 1936. Her flying activities now increased and diversified. She operated as a pilot in a Boston-based aviation company, Inter City Aviation, which she and her husband established. She dabbled in air racing, including the National Air Races in Los Angeles and Detroit. Although she performed creditably on both occasions, finishing second in Detroit, she decided that racing was not suited to her disciplined temperament. For a couple of years, she flew as a test pilot for the Gwinn Air Car Company.
In September 1939, the Second World War broke out in Europe. Although the US did not enter the conflict for many months, it began to increase the strength of its warplanes. In May 1940, Nancy Love felt the need to do something about the general shortage of male pilots for routine tasks. Motivated by patriotism and love of flying, she proposed that even if women could not be employed on active flying, they could at least help ferry new aircraft from factories to military bases. But her plan met with stiff resistance. In 1942, the idea was finally accepted and the Women's Auxiliary Ferry Pilots (WAFS) was established with Nancy as a Commander.
As compared to a male candidate, a WAFS pilot needed to have a higher educational qualification and many more flying hours, yet women could fly only the smallest trainer and liaison aircraft. But the chief injustice was that while men could be commissioned after their 90-day training period, women remained as civilians. Nancy felt that suitably qualified women could serve in the forces together with men, simply to get the job done. It is this model that was ultimately accepted by the Americans and all over the world as the ideal for women in the military. But the lack of commissioned status made it impossible for WAFS pilots to be accepted as equals with the men. The women were not even entitled to death benefits. If a woman pilot crashed, they had to appeal for donations to fly her body home. However, Nancy steered clear of confrontation over the issue.
In August 1943, the WAFS merged with another all-female unit to form the Women's Airforce Service Pilots (WASP) with Nancy the executive for ferry operations. WASP pilots now began to fly almost every type of military aircraft in the inventory. Nancy herself qualified on 19 different types. She was the first woman to fly the latest planes such as the Douglas C-54 Skymaster, North American B-25 Mitchell and Boeing B-17 Flying Fortress. Between September 1942 and December 1944, WASP pilots delivered 12,650 aircraft of 77 different types to various bases. However, some male pilots publicly attacked the reputation of the women, alleging that they were undertrained and were stealing jobs from men. With the conflict entering its closing stages and jobs becoming increasingly scarce, the Civil Service Committee recommended that the WASP be disbanded, and so they were in December 1944.
When the War ended, Nancy Love and her husband were decorated simultaneously. He received the Distinguished Service Medal and she got the Air Medal for "operational leadership in the successful training and assignment of over 300 qualified women fliers in the flying of advanced military aircraft." She died on October 22, 1976, just three years before the WASPs were finally accorded military recognition. She was once asked, "Do you think that women make good pilots?" She replied, "Subject to the same qualifications as men, yes. But many women are unfitted physically and temperamentally – as are many men."