Air Marshal R. Nambiar Assumes the Command of Western Air Command as AOC-in-C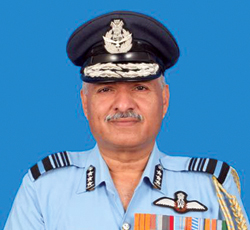 Air Marshal Raghunath Nambiar took over as Air Officer Commanding-in-Chief of Western Air Command, Indian Air Force on March 1, 2019. The Air Marshal is an alumnus of National Defence Academy, Khadakvasla. He was commissioned in the Flying Branch of Indian Air Force as a Fighter Pilot on June 11, 1981.
The Air Marshal is an Experimental Test Pilot and has flown about 42 types of aircraft. He has the distinction of having the highest number of flying hours to his credit on Mirage-2000 in the IAF, with over 2300 flying hrs on the aircraft and a total of 5100 hrs of flying experience. He is a member of the Society of Experimental Test Pilots and was the Project Test Pilot for the Light Combat Aircraft "Tejas".
Air Marshal D. Choudhury has taken over as Senior Air Staff Officer, Western Air Command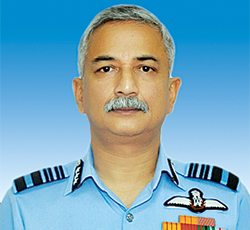 Air Marshal D. Choudhury is an alumnus of National Defence Academy and was commissioned on December 22, 1983. The Air Officer is a Fighter Combat Leader and an Instrument Rating Instructor and Examiner. He is an alumnus of Royal College of Defence Studies UK, a Post Graduate in Strategy and International Security from King's College London and Master of Philosophy on Defence and Strategic Studies.
He has over 5000 sorties of flying on operational fighter ac and is Fully Ops and MG on MiG-21(all variants), MiG-27, MiG-29 and Su-30 aircraft. He has commanded 15 Sqn, Tactics and Air Combat Development Establishment (TACDE) and two frontline bases as the AOC. He has served two tenures at TACDE – first as an Instructor and then as Commandant.
General Dynamics Appoints Smith as Executive Vice President; Paddock as President of Jet Aviation; Casey to Retire
General Dynamics has appointed Robert E. Smith as Executive Vice President of the Marine Systems segment, effective July 1. Smith succeeds John P. Casey, who has informed the company of his intent to retire on June 30. David Paddock, Jet Aviation's Senior Vice President and General Manager of U.S. aircraft services, will succeed Smith as President of Jet Aviation.
Raytheon Company Announces Executive Appointments
Wesley D. Kremer and Ralph H. Acaba Appointed to New Leadership Roles; Dr Taylor W. Lawrence to Retire.
Raytheon Chairman and CEO Thomas A. Kennedy announced the appointment of Wesley D. Kremer as President, Raytheon Missile Systems (RMS), succeeding Dr Taylor W. Lawrence, who informed the company of his intention to retire from Raytheon on July 14, 2019. Additionally, Kennedy has appointed Ralph H. Acaba President, Raytheon Integrated Defense Systems (IDS), succeeding Kremer. The new appointments are effective March 30, 2019.