General Electric UK, QinetiQ, Collins Aerospace, Thales, Martin-Baker, GKN and Bombardier come on board the Team Tempest, a future combat air system being developed for RAF & other European forces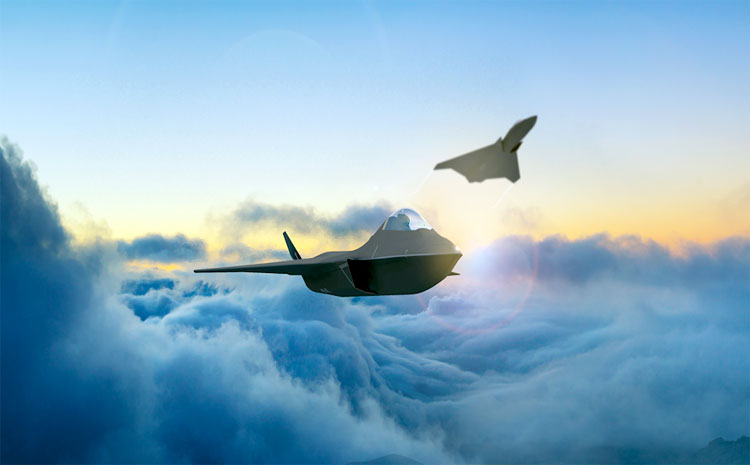 CONCEPT IMAGERY OF THE TEMPEST AIRCRAFT. (CROWN COPYRIGHT). LAUNCHED IN 2018, TEAM TEMPEST IS A FUTURE COMBAT AIR SYSTEM BEING DEVELOPED FOR RAF & OTHER EUROPEAN FORCES.
United Kingdom Secretary of State for Defence Ben Wallace confirmed during the FIA Connect event that seven new companies had signed agreements to collaborate on the Team Tempest, which is said to be developing a future combat air system (FCAS) for the Royal Air Force (RAF) and other European air forces and for export.
The United Kingdom (UK)'s FCAS is the £1.9-billion project working to develop the next generation combat aircraft, known as Tempest, which will replace the Typhoon. Launched in 2018, Team Tempest is a group of industry partners working in collaboration with the UK's Ministry of Defence (MOD) on FCAS project.
The alliance is quickly gaining recognition for its work and notched up a world's first within two years of launching by designing a generator that delivers unprecedented levels of electrical power.
"I'm delighted seven more companies have joined this mission to work in collaboration with the MOD, under the Team Tempest banner. They will bring the ambition, invention and expertise that will deliver the breakthroughs we will depend on for decades to come. These pioneers will strengthen our ability to develop a next generation aircraft and allow us to continue making vital contributions to UK, European and global security," said Wallace.
UK's Defence Minister Jeremy Quin said, "The announcement demonstrates further progress in delivering the UK's combat air strategy, with more companies collaborating on the future of the UK's Air Defence. This is a highly innovative project based around cuttingedge technology and drawing on a skills base where the UK excels."
Since its creation in 2018, Team Tempest has already employed more than 1,800 highly skilled engineers and programmers. Set to increase to 2,500 by next year, the programme is securing the UK's position as a global leader in combat air.
"The companies who have signed a partnership are General Electric UK, QinetiQ, Collins Aerospace, Thales, Martin-Baker, GKN and Bombardier. The addition of these seven new firms would be bolstered by contributions from small-to-medium enterprises (SME's) and universities that are also involved in the development effort," Wallace added.
The new members of Team Tempest will join forces on established projects and development work with core members BAE Systems, Leonardo UK, MBDA UK, Rolls-Royce and the Ministry of Defence, bringing the best of British expertise and ingenuity on designing, manufacturing and operating combat air systems, the UK government stated.
Announcing the new Team Tempest partners Wallace also said, "At Farnborough 2018 we unveiled our plans to deliver FCAS (Future Combat Air System) and strengthen our military capability with the formation of Team Tempest. Two years on I am proud to announce that that vision is becoming a reality. Over the next five years, I can announce we will be testing out a suite of new novel concepts that are likely to form our Future Combat Air System." Quin further acknowledged that the success and strengths of Team Tempest are being enhanced through drawing on UK expertise; working with industrial partners and highly capable international team we are configured for future success. "Together the companies will develop more than 60 technology prototypes and demonstration activities. New processes will also deliver technology and intellectual property in half the time and at significantly lower cost than previous complex combat air programmes," he added.
Wallace also stated that at present the RAF fleet is made up of a mix of around 90 per cent manned and 10 per cent unmanned aircraft and by 2040 he expected to see a 'major reversal of these proportions'.
The seven companies join British, Italian and Swedish firms already working on the project led by the Royal Air Force's Rapid Capabilities Office building on the existing industry team of Rolls- Royce, BAE Systems, Leonardo and MBDA .
Wallace said: "There is a real opportunity here, not just because of the technological spin-offs that will inspire the wider civilian sector, not just because of the boost we are giving our UK skills base, but because of the potential we have to break into lucrative global markets."
The UK is keen to see more international partners get involved with the programme as a chance to share technology, experience and R&D costs, to strengthen existing alliances, and help establish new ones, Wallace pointed out. The resultant aircraft of Team Tempest will replace the in-service Eurofighter Typhoon and serve in the RAF alongside the Lockheed Martin F-35.
GLOBAL PARTNERSHIP ON FUTURE COMBAT AIR CAPABILITY ADVANCES
This announcement came on the same day as SAAB announcing, it is opening a £50m centre in the UK for the development of Future Combat Air Systems. "Saab took the decision to create a new FCAS center so that we can further develop the close working relationship with the other FCAS industrial partners and the UK MOD. This emphasises the importance of both FCAS and the United Kingdom to Saab's future," said Saab's President and CEO, Micael Johansson.
Sweden had formally joined Team Tempest in 2019, with Saab leading Swedish industrial involvement with the UK-led programme. UK, Sweden and Italy have also started trilateral industry discussions to enhance collaboration between the three nations to develop world-leading future combat air capability.
The new trilateral framework sees industry from the three nations bringing together their skills and expertise in the combat air sector to collaborate on the research and development of cutting-edge technologies, stated BAE Systems.
Charles Woodburn, Chief Executive Officer, BAE Systems said, "International partnering provides the best opportunity to deliver a capable, flexible and upgradeable combat air system. We've made good progress with Saab and Leonardo in identifying shared goals and expertise and through this new framework, we can build on this collaboration to unlock the huge potential across our three nations."
The three national industries comprise leading defence companies from the UK (BAE Systems, Leonardo UK, Rolls-Royce and MBDA UK), Italy (Leonardo Italy, Elettronica, Avio Aero and MBDA Italia) and Sweden (Saab and GKN Aerospace Sweden). Alessandro Profumo, Chief Executive Officer, Leonardo, said, "All three national industries fully grasp the historic nature of this moment. Tempest will be the cornerstone of a cross-border system of common defence which will extend far beyond combat air. It will secure enormous economic benefits and vast industrial and technological progress for Italy and our partners. Together, we share an understanding that if we get this right now, our respective aerospace and defence industries will thrive for a generation."
Together, the companies aim to assess common routes to future combat air capability using their know-how, expertise and technology development activities across current and future combat air systems.
Saab's Johansson said, "Combat Air is a key component of Sweden's defence policy and it is defined as a national security interest. Saab is therefore taking these important steps to remain at the forefront of System of Systems development and the advanced technologies within Combat Air. We welcome the leadership by the Swedish and UK government and are pleased to deepen our relationship with Italian industry."
The UK has existing co-operation with Sweden and Italy. All three nations' industries and militaries are partners in the joint development and operation of the Meteor beyond visual air-to-air missile that is arming Gripen, Eurofighter Typhoon and F-35.