The F-35 production line has delivered 540 aircraft, and more than 1,000 pilots and 10,000 maintainers are now trained to fly and work on the aircraft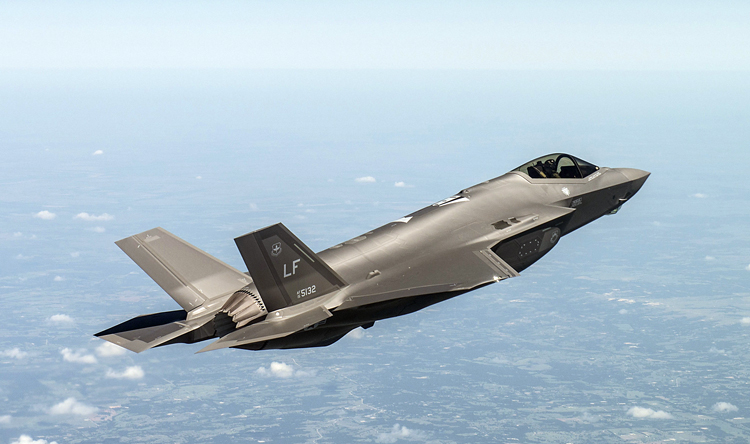 LOCKHEED MARTIN'S F-35 IS BELIEVED TO BE ONE OF THE LARGEST GLOBAL DEFENcE PROGRAMMES CURRENTLY UNDER WAY IN THE SUPPLY CHAIN TIERS
With a wide range of suppliers from domestic to international, the Lockheed Martin F-35 is considered as one of the largest global defence programmes currently under way in the supply chain tiers. The F-35 production line has delivered 540 aircraft, and more than 1,000 pilots and 10,000 maintainers are now trained to fly and work on the aircraft. Eight countries have F-35s operating from their territories, and six services have declared initial operational capability (IOC).The US Air Force, Navy and Marine Corps are buying different variants of the aircraft. The programme also includes eight international partner nations and five foreign military sales customers. Lockheed Martin, the prime contractor, hopes to eventually sell more than 3,000 platforms worldwide.
However, like the large impact that COVID -19 has had on industries worldwide, the pandemic has also affected the production rate of F-35. Lockheed Martin's Vice President of F-35 production, Darren Sekiguchi said during an FIA Connect session that F-35 delays of two to three months are further expected before the production rate can return to pre-COVID -19 rates by hopefully the late summer or early fall this year. "At this time, we expect to see impacts of 18 to 24 aircraft in 2020. However, we will accelerate production when we return to pre-COVID -19 conditions to recover as many delayed aircraft as possible. This year's delivery target is 141 aircraft, and we continue to work towards that goal."
Lockheed Martin designed the F-35 production system to be as flexible and resilient as possible so that alternative sources can cover single-point supply problems, but the worldwide effects of COVID -19 have inevitably affected the supply chain, Sekiguchi added.
To maintain its major defence contractors and their key programmes during the crisis, the US government introduced an accelerated programme payment scheme that released more than $1 billion in F-35 payments to Lockheed Martin, all of which has cascaded into the supply chain to ensure that it remains intact.
Meanwhile, the aircraft continues to expand its capability and is currently undergoing a programme known as Tech Refresh 3, which provides additional computer capacity, informed Santi Bulnes, Vice President of F-35 engineering and technology. "That computational capability allows us to have additional new software modes, to be able to use new information and fuse it in different ways from the sensors. It will enable interoperability, new datalinks, and the connectivity that is so important in the modern warfare world. All those things will be enabled by that additional throughput," he said during the session.
New weapons are also coming, highlighted Bulnes while adding, "We are going to be easily adding upwards of 20 new weapons over the next few years. That gives the warfighter the flexibility needed when they go into theater. Not only can they penetrate where others can't, but they'll have the right weapons to do it. The automatic ground collision avoidance system, which has been operational in the F-16 for some time, has proved an important addition from a safety standpoint. We have been able to pull that capability up five years early with our new software processes on the F-35," said Bulnes.
The upgradation of the aircraft's data information system, which lies at the heart of logistics, maintenance, training, operations, and technical support planning is one of the most important upgrade. The original Autonomic Logistics Information System (ALIS) design emerged in the mid-2000s and has not benefitted from any technological refreshes, although it continues to receive updates on a quarterly basis. Hence to replace it, a Joint Program Office-led team has developed the Operational Data Integrated Network (ODIN), to leverage the huge advances made in digital technology over the last decade and create a system that can handle far more data. ODIN is expected to reach full operational capability in 2022.
The price tag for the fifth-generation aircraft has long been a concern for acquisition officials and lawmakers. In recent years, Lockheed and the F-35 Joint Program Office have worked to drive that down. The procurement cost of the F-35A is now about $80 million per unit, making it more competitive with legacy aircraft.
"We continue going after the O&S cost of the aircraft. That is very high," said Stephen Sheehy, Lockheed's vice president for sustainment business development. However, he noted that over the past five years there has been a 38 per cent decrease in the operations and sustainment costs that Lockheed Martin is responsible for. A further reduction of 50 per cent is expected in the next five years, he said.
The company also estimates that it controls 39 per cent of the programme's O&S costs, with other programme partners responsible for the rest. Lockheed executives say they are working with the US government to achieve similar savings on the remaining 61 per cent, with the goal of lowering the cost per flying hour for the F-35A to $25,000 by 2025. The company has also proposed making a $1.5 billion upfront investment in performance-based logistics, which would save F-35 customers $1 billion over the first five years of the deal and $18 billion in savings by 2040 if that work continues, Sheehy noted.