The regional airlines have to pick the right aircraft according to their business model and they have fairly decent options available from both turboprop and regional jet players such as ATR, Bombardier, Embraer, Mitsubishi, Comac and Sukhoi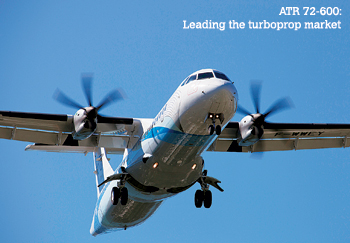 In a country as big as India, no one single aircraft type can fulfil the various needs of a growing economy. It has to be a complete mix of wide-body, narrow-body, regional aircraft, business aircraft and helicopters to give momentum to economic development. While commercial airlines have got priority, the importance of other segments – regional aviation and general aviation – was never felt till recently. The National Democratic Alliance (NDA) Government has in right earnest started looking at the aviation scenario holistically, factoring in different players. The draft National Civil Aviation Policy, which is presently under the government's consideration, lays emphasis on enhancing regional connectivity in the country. It is making efforts to facilitate aviation development by way of improving airports in far-flung areas; incentives for operators; and above all an aviation friendly approach. This has certainly enthused the industry and we have seen in the recent past a few airlines, including regional airlines hitting the skies and making it good. There is indeed room for more.
In such a scenario, we look at the regional aircraft options for those entering this segment, a segment that is going to play a complimentary role to the mainline airlines. While there is no regional aircraft which is made in India (though there are murmurs that there will be one some years down the line in association with other airframe manufacturers, it still is on paper), the probable operators have a fairly good choice of turboprops and regional jets which can meet their business plans.
In this article we look at the players in this segment such as ATR, Bombardier, Embraer, Mitsubishi, Comac and Sukhoi and their product offerings. Presently in India, only ATR, Bombardier and Embraer are present.
ATR leads in short-haul market
ATR, a joint partnership of the Airbus Group and Alenia Aermacchi (a Finmeccanica company), is the world leader in the market for regional aircraft up to 90 seats. It is the only company which manufactures only turboprops. Till date it has sold over 1,500 aircraft and has more than 190 operators in about 90 countries. India is one of them with Jet Airways, Air India Regional, Air Pegasus and TruJet (Turbo Megha Airways) operating the turboprops.
It is a short-haul use aircraft and it is claimed that every eight seconds, an ATR turboprop takes off or lands somewhere around the world.
ATR manufacturers two sizes of turboprop aircraft, the 70-seat ATR 72 and the 50-seat ATR 42. Both aircraft benefit from fuel, emissions and cost efficiencies provided by turboprop engines. According to www.aircraftcompare.com the price of ATR 42-500 is $12 million; ATR 42-600 is $15 million; ATR 72-500 is $14.40 million; and ATR 72-600 is $19 million.
Bombardier's turboprop and jet offering
The Canadian airframe manufacturer – Bombardier Aerospace – is in the business jet, regional jet and commercial airline segments. The CRJ Series family of aircraft is the benchmark for regional efficiency in the 60/100-seat segment, ideal for medium-haul applications. The company states that the CRJ Series offers up to a 10 per cent cash operating cost advantage, reduced environmental impact and enhanced cabin interiors.
With nearly 1,900 CRJ Series aircraft ordered worldwide, Bombardier's CRJ Series family of regional jets is recognised as one the most successful regional aircraft programmes in the world. The CRJ Series performance on reliability is over 99.5 per cent thanks to its mature systems and robust technology. Every 10 seconds a CRJ Series aircraft takes off or lands somewhere in the world.
There are three models in the CRJ Series family of aircraft, each with its own distinct advantages. The CRJ700 is the lightest aircraft in its category, delivering impressive efficiency, performance and fuel burn savings. The CRJ900 offers tremendous flexibility and is ideally suited for growing markets, while the CRJ1000, with the highest capacity in the family, delivers the lowest seat-mile cost in the regional jet market and burns up to 13 per cent less fuel than its competitors.
The price of CRJ700 is $24.39 million; CRJ900 is $38.93 million; CRJ100 is $46.37 million.
Embraer Performs First Metal Cut of the E195-E2 jet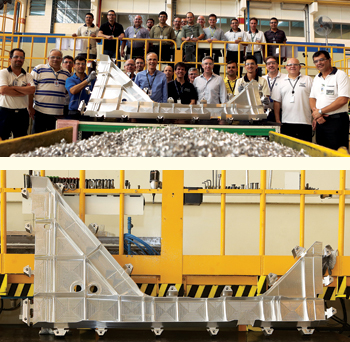 Embraer has started the parts production process for the E195-E2 jet, second model of the new generation of the E-Jets family. The first part of the E195-E2 prototype is a lateral rib of the stub, which is on the Central Fuselage II section. This structure is made of aeronautical aluminium and was manufactured at one of the modern high-speed machining centres of the metal structures factory at the Embraer unit in São José dos Campos, Brazil.
"Just as the roll out and the maiden flight are milestones in any aeronautical programme, so is the first metal cut. And it is no different with Embraer. It's the moment when the aircraft begins to take shape, validating the thousands of hours of engineering development and the virtual drawings made in computers. The programme is within the timeline set forth, and with this event, we begin to manufacture the first E195-E2 that will fly in 2017, with first deliveries taking place during the first half of 2019," said Paulo Cesar Silva, President & CEO, Embraer Commercial Aviation.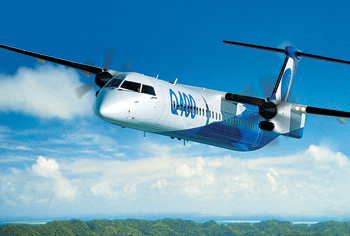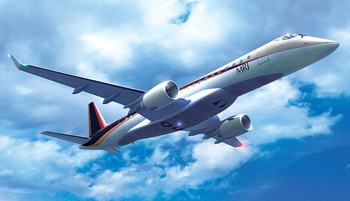 (Top) Q400 from Bombardier (Above) Mitsubishi Regional Jet
Q400, versatile turboprop
Designed as a modern, 21st-century turboprop, the Q400 aircraft is the most recent development in the Q Series family of aircraft. It provides unmatched performance, operational flexibility and passenger comfort. While it's nimble enough for a steep approach, the Q400 aircraft is also tough enough to land on unpaved run It's a certified performer at high altitude airports too, like that of La Paz, Bolivia, one of the world's highest. Thanks to its combination of turboprop attributes, jet-like features, industry-leading passenger experience and environmental footprint, the Q400 aircraft is exceptionally versatile and can be adapted to a variety of business models.
The Q400 aircraft family includes over 60 owners and operators in almost 40 countries worldwide and the worldwide fleet has logged more than 6 million flight hours. With a dispatch reliability rate of over 99.5 per cent, the aircraft has transported more than 370 million passengers worldwide. In India, SpiceJet operates Q400 with 78-seat capacity. The price of a Q400 is $27 million.
Bombardier is also blurring the line between regional airline and a mainline airline with the CSeries which is 100 per cent new from nose to tail, optimised for the 100/150-seat market segment, opening up new opportunities for single-aisle operations.
Embraer jets, new metrics of success
The Brazilian aircraft major Embraer is making strong headway in the regional aviation markets. It currently has over 90 customers worldwide and its aircraft are distinctly known for their seating configuration. It has no middle seat and is a hit among passengers who have flown in these jets – ergonomic comfort takes precedence.
Embraer's aircraft offerings have been ERJs (Embraer Regional Jets) ERJ135; ERJ140; ERJ145 and ERJ14 XR. Around 900 regional jets from the ERJ 145 family are currently flying on five continents and are operated by over 30 airlines. They have surpassed the impressive mark of 13 million cycles and 15 million flight hours. This 37/50-seat segment reached maturity and has become established due to aircraft originating from smaller cities and airports that feed passengers to main flights in larger airports. Following this is the E-Jets family in the seat segment of 70-130, helping airline companies to maintain competitive edge in a growing market. The E-Jets family includes E170; E175; E190 and E195. Over 85 airlines from more than 50 countries are flying Embraer jets.
The E170 has high capacity of 78 seats and are designed for fast, efficient, simultaneous, multi-point ground servicing thanks to four main cabin doors and two easily accessible cargo holds. The E-Jets boast of a turnaround time of less than 15 minutes. Embraer believes that less time on the ground means greater productivity and higher daily utilisation which helps keep seat mile kilometre costs low.
Tapping the gap between regional and mainline airline aircraft with an E-jet means the airline can pick its starting point. The E175s flexible configuration lets the airline determine the optimal number of seats it needs to match capacity to market demand. Moreover complete family commonality makes it easy to introduce larger E-jets to serve the 70/120-seat segment any way the airline wants. The E190 has a high capacity of 88 seats, while the E195 has a high capacity of 124 in single class and 100 in dual class. The price of E170 is $26.50 million; E175 is $28 million; E190 is $32 million and E195 is $40 million.
E-2, the next-generation regional jets
The Embraer E-Jet E2 family is a family of narrow-body medium-range twin-engine jet airliners, replacing the predecessor Embraer E-Jet family. With an investment of $1.7 billion, the E-Jets E2 programme was launched in June 2013. Since then, the E2s have achieved a backlog of 267 firm orders, in addition to 373 options and purchase rights, having airlines and leasing companies among its customers. Currently, the family of E-Jets is in operation with some 70 customers in 50 countries. India's Air Costa has also ordered E2s.
Since 2013, the E2s have achieved a backlog of 267 firm orders, in addition to 373 options and purchase rights, having airlines and leasing companies among its customers.
E-Jets E2 are scheduled for first deliveries in 2018. The company has announced that it will roll out the first jet of E190-E2 and has its first flight scheduled for the second half of 2016 and entry into service in 2018. The other two aircraft of the second generation, the E195-E2 and E175-E2, are scheduled to enter service in 2019 and 2020, respectively. The E2 programme reaffirms Embraer's commitment to continuously invest in the company's line of commercial jets and to maintain its leadership position in the 70- to 130-seat aircraft segment. The seating is E175 –E2 80 dual class and 88 seats single class; E190-E2 dual class 97 seats and single class 106 seats; and the E195-E2 is dual class 120 seats and single class 132. According to reports in the media the 2013 price is E175-E2 is $46.8 million; E190-E2 is $53.6 million; and E195-E2 is $60.4 million.
MRJ plagued by delays
The MRJ (Mitsubishi Regional Jet) is the next-generation regional jet which will offer both top-class operational economy and outstanding cabin comfort. By featuring a game-changing engine, state-of-the-art aerodynamic design, and noise analysis technology, the MRJ will significantly cut fuel consumption, noise and emissions.
The MRJ will have a four-abreast seat configuration, with large overhead bins, and also feature a slim seat that offers heightened comfort to passengers. The MRJ family consists of the MRJ90 (90-seat class) and the MRJ70 (70-seat class).
Mitsubishi Aircraft Corporation and Mitsubishi Heavy Industries Ltd. (MHI) announced in late 2015 that the first delivery schedule of the MRJ has been postponed from the second quarter of 2017 to approximately one year later.
The 90-seater MRJ is said to have a price tag of $46.8 million and the 70-seater $45.8 million.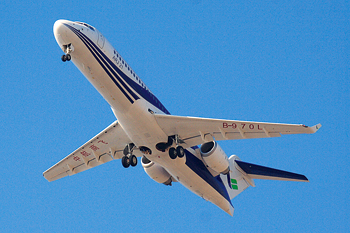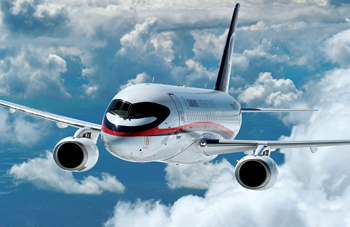 (Top) ARJ21 including two fuselage-mounted CF34-10A GE engines (Above) Sukhoi Superjet 100
ARJ21, China's offering
The ARJ21 (advanced regional jet) is a twin-engined regional jet, manufactured by Chinese company Comac. On November 29, 2015, Comac delivered the first ARJ21-700 jet plane to Chengdu Airlines. It had its first flight in November 2008 and was also affected by delays.
The development of the ARJ21 is a key project in the 10th Five-Year Plan of China. It began in March 2002 and was led by the state-owned ACAC consortium. The maiden flight of the ARJ21 was initially planned to take place in 2005 with commercial service beginning 18 months afterward but the programme kept getting postpone. The ARJ21 is said to cost $30 million as of 2015.
Sukhoi Superjet going strong in Russia
Sukhoi Civil Aircraft Company (SCAC) which is making the Sukhoi Superjet 100 (SSJ) has found an encouraging market in domestic market – Russia while there are reports that Iran may be looking at acquiring 100 such jets. The SSJ100 is a 100-seat regional jet designed, developed and built by SCAC, in partnership with Finmeccanica-Alenia Aermacchi. On May 19, 2008, SSJ100 successfully accomplished its first flight. The Sukhoi Superjet 100 cruises at a maximum operating speed of Mach 0.81 and 40,000 feet. All models of the Sukhoi Superjet 100 are equipped with the same engine, two SaM 146 turbofans. Today the SSJ100 is certified by EASA, IAC AR and multiple National Aviation Authorities. In 2011 the first production SSJ100 entered into service. Sukhoi Superjet 100 ranges from $27.80 million for the 100-60 SSJ to $32 million for the SSJ100-95.