The need for a deal has recently become more pressing since its European rival, Airbus, took control of Bombardier's C-Series regional jet programme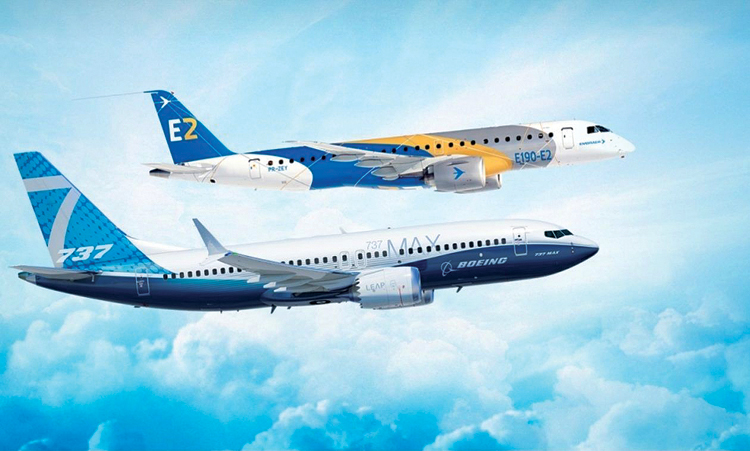 Boeing has struck a deal that will give it control of Embraer's commercial jet business. Under the proposed deal, Embraer's commercial business will be placed in a new joint venture, with Boeing holding an 80 per cent stake worth $3.8 billion (£2.9 billion). Embraer is a Brazilian industrial champion and a major manufacturer of military systems and small commercial jet aircraft. The proposed joint venture will give the US aerospace giant a significant stake in the market for smaller passenger planes. The need for a deal has recently become more pressing since its European rival, Airbus, took control of Bombardier's C-Series regional jet programme. Airbus deal with the Canadian company had threatened to give Airbus a significant advantage in the global marketplace. The agreement, which values Embraer's commercial aircraft operations at $4.75 billion, will restore parity between Boeing and Airbus. It now represents the biggest realignment in the global aerospace market in decades, strengthening established Western aircraft makers against newcomers from China, Russia and Japan, analysts say.
Boeing said that the deal is expected to close by the end of 2019 pending the necessary approvals. This deal, if it goes ahead, will restore the cosy duopoly between Boeing and Airbus. In the past, they had the market for large jets to themselves. In the segment below them are Embraer and Bombardier, equally fierce rivals in the market for smaller 'regional' jets. The segment is about regional jets and passenger planes with about 100 seats and ranges up to 5,000 km. Neither Airbus nor Boeing make such planes – the former's A318 and the latter's 717 went out of production during 2013 and 2006 respectively.
Bombardier has developed the C-series, a highly efficient aircraft family capable of competing directly with smaller versions of the Boeing 737 and the Airbus A320. Embraer, meanwhile has developed the E-195 E2, slightly smaller, but still capable of playing in the same segment. Boeing had accused Bombardier of using Canadian subsidies to unfairly compete for a Delta Air Lines Inc. contract, despite the fact that Boeing wasn't a legitimate contender for that deal in the first place, as illustrated by its need to gain control of Embraer's regional-jet line-up. It persuaded the US Department of Commerce to slap hefty tariffs on Bombardier. Boeing tried to kill off the C-series, protesting unsuccessfully about its funding at the US International Trade Commission. The Trump administration tried to help out by threatening massive tariffs against Bombardier, but the United States' own International Trade Commission turned them down. This had simply pushed Bombardier with Airbus, which bought a majority stake in the C-series programme, strengthening its position in the market. Boeings announcement of its intention to form a joint venture with Embraer, which happens to be the world's other source of regional jets calls for Embraer's commercial planes to be tossed into the JV, of which Boeing will own 80 per cent. A Boeing-Embraer deal should restore parity — with both of the big players having extended their reach into the market for smaller planes.
Embraer is a government-supported entity, just the thing Boeing objected to for Bombardier. That now implies Brazil will not let the company fly away. The JV leaves Embraer's military activities untouched. Boeing's has offered the deal as good for Embraer because it will give the Brazilian company more sales and production scale than it could not have achieved alone in the shortto-medium term. This should be good news for the company's Brazilian operations. That Boeing muscle will also be put behind the KC-390, a jet-powered transport which Embraer is currently developing. The partnership, which adds a 70- to 130-seat family to Boeing's line-up, is expected to boost the U.S. firm's earnings per share from 2020, generating annual pre-tax cost savings of about $150 million by the third year, the companies said. Embraer CEO sees $1 billion boost to cash position from the Boeing deal. Chief Executive Paulo Cesar Silva told employees that consolidation in the aerospace supply chain had also forced Embraer's hand. "This has been happening with both our suppliers and our clients. They have started to organise in big blocs, making it harder for companies of Embraer's size to negotiate," he said.
Airlines around the world probably won't like this deal, as it will mean less competition and higher aircraft prices. But travellers may not mind, as regional jets let airlines fly routes that can't be flown profitably with larger aircraft. With both big plane-makers pushing regional jets, new routes will become a possibility, as does jet-powered replacements for routes currently served by turboprops. "The Boeing-Embraer announcement confirms the strong market potential in the 100- to 150 seat category," Airbus said through a spokesman. "Boeing and Embraer are following Airbus and Bombardier."
ONE KEY ATTRACTION FOR BOEING IS EMBRAER'S STRENGTH IN AFTERMARKET SERVICES, AN AREA WHERE BOEING AIMS TO EXPAND ITS ANNUAL REVENUE ALMOST THREEFOLD TO $50 BILLION
Embraer will hold the 20 per cent of the Boeing joint venture and keep control of its defence and business jet operations. Concern over U.S. influence in military programs had raised flags in the Brazilian government, which holds a strategic veto at Embraer dating back to its privatisation. The Brazilian government is unlikely to support a foreign entity controlling the defence portion of Embraer's business. However, recent signals from Brazil's President Michel Temer and military officials suggest the government is satisfied with the new structure of the tie-up, as long as Brazilian jobs are maintained and Embraer continues to develop new technology. In addition to the passenger jet deal, Boeing and Embraer will deepen a sales and services partnership on the new KC-390 military cargo jet through a separate defence venture that is likely to eventually receive a joint investment.
The Embraer transaction doesn't do that much for Boeing's goal of building a $50 billion business focused on higher-margin sales of parts and after-market services. Perhaps the biggest benefit on this front is Embraer's lower-cost manufacturing capabilities, which Boeing could take advantage of as it brings more parts work in-house. That's an interesting value proposition for a company that earned a "God Bless Boeing" acclaim from President Donald Trump about a year ago for its American manufacturing and hiring efforts. Boeing Co.'s plans to form a defence-focused joint venture with Embraer SA will test whether the two aerospace companies can overcome the Brazilian scepticism toward the US aerospace giant. Boeing was stunned five years ago when Brazil selected Sweden's Saab AB in a $4.5 billion deal for 36 Gripen fighter jets over its own F/A-18 Super Hornets. Embraer is helping Saab AB to build the Gripens in Brazil. Boeing is also now competing with rival Lockheed Martin by striking a separate JV to market Embraer's KC-390, which could adversely affect sales from Lockheed's C-130 Hercules.
One key attraction for Boeing is Embraer's strength in aftermarket services, an area where Boeing aims to expand its annual revenue almost threefold to $50 billion. About 60 per cent of Embraer's E jet customers are signed to maintenance programs, and Embraer is aiming for 80 per cent penetration with the E2. Potential losers from the Embraer-Boeing deal include United Technologies, which is making the engines, auxiliary power unit and other electrical systems for the E2, as well as wheels and brakes, and avionics supplier Honeywell.
For suppliers, Bombardier and Embraer's tie-ups with the big two in the aircraft industry promises to further erode margins at a time when both the heavyweights have been squeezing them for cost savings, and Boeing has ramped up in-house parts production. Regional jets only account for about 5 per cent of the OEM aircraft market, but the regional jet makers have taken more of a partnership approach with suppliers, who they've depended on to fund more of the development cost on their aircraft.
Regional jets have long been the small end of the airliner market. Now the sector is getting taken over by the heavies. Will Airbus and Boeing's leverage make regional jets a better business? Historically 100 to 120 seat jets have been a backwater, largely due to their relative higher costs. "We're about to test the thesis that they would be more competitive to produce with more aggressive supply chain management."